I am so happy to be back again to participate in this month's Point of View reveal. I love the challenges each month to come up with something that fits the theme. I always seem to find something on my "I've been meaning to do this forever" list that seems to fit and it's nice to get it crossed off. Without further delay- here's this month collage:

Wow! These projects are awesome! To get the details on them, click through to the blog using the links below:
Gwen: Gwenny Penny
Leanne: Organize and Decorate Everything
Jonie: Just Between Friends
Ashlee: I'm Topsy Turvy
And you can find details about my project below.
If you're here to link up your own amazing projects- scroll to the bottom of the post to find this month's link party. Don't forget- it shows up on all 5 blogs- and that's a lot of views, so come make new friends and get your projects seen. 🙂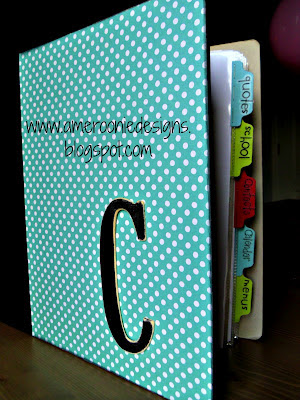 Now that there are 7 of us in our family, I am finding that it's a lot harder to get in the swing of things. This week marked the start of another school year and with it comes a schedule, homework and a need to be organized so things don't fall through the cracks. While I still have a lot to figure out (and I'll be sure to share posts when I do get a few more things finished) there are a couple of things that I have done that work for our family.
The first is this family binder. My friend had this unfinished binder she let me have and I added some scrapbook paper and a chipboard monogram. Inside there are page protectors that I simply stapled a paper tab to. (I have a punch that makes the tabs) I used stickers to create the categories and made sure I stapled close to the edge of the page protector so I could still slide papers in and out.
You would definitely want to personalize this for your family, but I'll share what my categories are and why. The quotes section is for sayings that inspire me. Sometimes it's nice to have them handy to read when you need a boost. The school section holds papers from school I need to have handy- menus, disclosure forms, etc. Contacts are neighbors, friends, community lists- any numbers and addresses I might need. Calendar is more like school calendars of days off, things that won't change or need to be edited. Menus are from local restraunts that we order take-out from and coupons/ discounts to places we like to go. I also have a few other page protectors in the back to hold various other odds and ends I want to have handy. It's nice to keep the papers off the counter and accessible when I need them. I store the binder in an out of the way corner of the counter where I can grab it when I need it.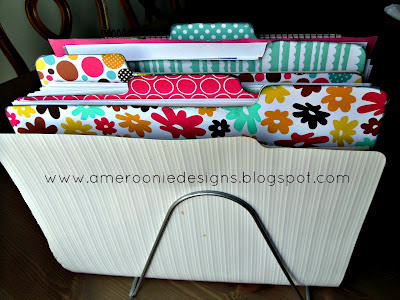 This is my second organizing tip: I have a file folder for each member of the family. I wanted to add a bit of color, so I took scrapbook paper and lined the inside of the back on each of them- this also helps with figuring out which folder belongs to which person. I keep papers specific to that person in their folder- extra homework practice pages, sports schedules/information, anything that we want to save for that person. This is not for daily homework, but I do keep monthly reading calendars and other longer-term papers here.
As the weeks go on and I start to figure out more about how to get my family organized and our schedule on track I will be sure to share. In the mean time- I'd love to hear about how you keep your family organized- please feel free to include links to posts you have written about it. I'll take all the help I can get. 🙂
And don't forget to link up to our Point of View link party too- any post that you feel is related to "Family". Also, get your wheels turning, and your posts ready for next month's theme: Orange! Perfect for fall, Halloween and all the goodness that comes with the cooler season. 🙂
Have a great weekend!
xoxo,
Amy