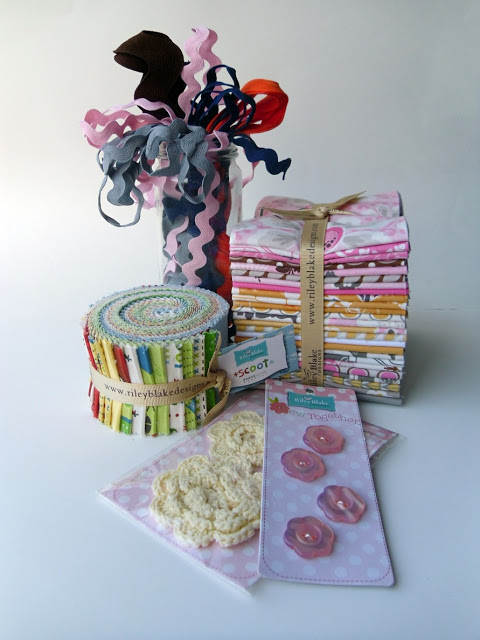 ********THIS GIVEAWAY IS NOW CLOSED*******Winner announced here.
When I was given the opportunity to host a giveaway for Riley Blake Fabric, I had no idea how hard it would really be! When I opened the package to see what they were offering to you my fabulous readers, I honestly had to just remember how awesome you are to find the willingness to give this much gorgeousness away! Everything you see in the picture (minus the glass jar holding the Ric Rac) is part of the giveaway! Want a run down of what's included? First: A Fat Quarter Bundle of Daisy Cottage Cottons– all 25 of them!
A 2.5″ roll of Scoot strips. Crochet flowers and flower buttons from the Sew Together line of notions. And last but not least Yards and Yards of ric rac! Brown and Orange Jumbo Ric Rac, pink, gray, navy and black of the medium Ric Rac! Can you believe it? All of this amazing stuff will go to one very lucky person!! (did I mention already that I wish that was me? I did? Well, I do. 😉 )
Now for the Details:
How to Enter:
1. Anyone can enter. Just leave a comment letting me know what your favorite line of
Riley Blake Fabric
is. If you are anonymous, please make sure to leave an e-mail in the comment, otherwise I won't be able to contact you about your win. (one entry)
2. Follow my blog through Google Friend Connect or RSS feed. (one entry)
3.
Follow Riley Blake Designs on Facebook
or
follow their blog
. ******EDIT***** I have just learned that it is against Facebook Policy to have liking a page be a condition of entering a giveaway. In order to comply with that policy an entry will no longer be given for liking Riley Blake's Facebook page. If you would like to follow their Fan page- they always have wonderful information and links, it would def. be worth your while if you like their fabric at all. This entry will now only be available if you would like to
follow their blog
,
Pinterest account
, or
my Pinterest account
.(only one entry for this though- so feel free to do all three, but it will only grant you one more entry.) I am SOO sorry about the confusion, but I'd really hate to lose my FB page or have Riley Blake lose theirs. If you are interested in more clarification about the Facebook policies, Tauni wrote a
wonderful post
on the SNAP Conference blog.
That's a total of 3 entries per person! I'll leave the Giveaway open for a week (through next Friday Feb 24) and draw a winner on Saturday morning Feb 25!
Best of Luck everyone!!
And while I do really wish I could keep all this lovely fabric, I do know that I have the very best readers on the planet and you all deserve to win mounds of lovely stuff!
Happy Friday!
XOXO,
Amy