This month marks the 1 year anniversary of Point of View! I can't believe we've already been doing this for a whole year- crazy how time flies! 🙂 When you reach an anniversary like this it's not unusual to stop and look back and reflect on how it's gone, what you like, what you want to change. So here we are- reflecting and looking back- and CHANGING!! 🙂
Up first Reflection:
These are a couple of the reveal collages from the past year: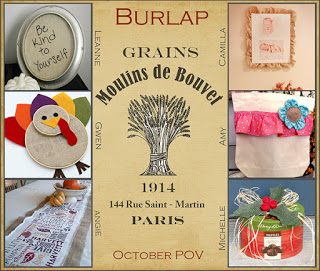 October 2011 Reveal- theme: Burlap
And on a personal note, some of my very favorite projects have been Point of View projects, especially my very first Point of View project, my Scalloped Skirt: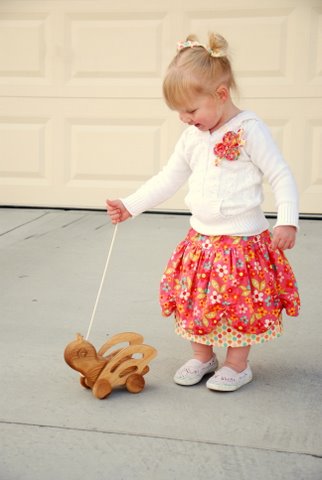 And I'm pleased to report that my daughter still loves this skirt and wears it all the time. 🙂
It has been a fun year full of amazing projects and challenges. And I'm really looking forward to the year ahead. But, with reflection comes the realization that while Point of View has in some ways been exactly what I wanted it to be, in other ways it has fallen short of its potential. When Jonie and I first discussed the concept over lunch one day last year, we had both recently participated in craft competitions. What we loved about the competition was the challenge- the opportunity to push ourselves out of our comfort zone and try new things, or perhaps finally find the motivation to make something that had been on our list to make forever, but we just never had the need. What I didn't like about the competition was the judging. I didn't like having my project, that I loved and worked hard on, compared to the others in the contest. I didn't like losing. 😉 So, we came up with Point of View- a chance to push ourselves, to try new projects and to create projects regularly. (let's face it, sometimes we need a little external motivation 😉 ) But I also wanted it to be more than just our group's projects- I really want to create a platform for everyone to participate, so we can all benefit from the motivation, the excitement and the opportunity to let our own "Point of View" be seen and heard.
It's really that last bit that I feel we've fallen short on. The missing piece of the Point of View puzzle- is YOU!
So, now on to the changes.
In order to make this more about you, we are opening up the selection of themes to you! Leave a comment on this post with your suggestions for themes you would like to see us use. Do you have a project you LOVE that you'd like to share? Give us a theme that goes with it and then come link it up! Do you have a project on your to-do list you've wanted to get to FOREVER but never seem to have the motivation? Give us the theme and then make it happen! We want themes YOU want, so we can all be motivated and inspired. 🙂 And with that change comes another adjustment- we are actually going to publish the themes for the whole year as soon as they are decided on! That way you can get going on them and look forward to sharing them with everyone.
And, just like we did last year, we are going to continue to invite guests to post with us each month- so you can have the chance for a little extra motivation if you like. If you want to be a guest poster, please send me an e-mail with your blog URL and we'll get you on the list. If you have previously contacted me about guest posting, and haven't yet had your turn- don't worry- you're still on the list and I'll be in contact with you shortly! 🙂 (but it might not hurt to send me a note again. Mom-brain and all.)
One last bit of news- certainly not the least bit of news- is that we have a new member of our Point of View group. Ashlee from I'm Topsy Turvy has agreed to join us!! I could not be more excited- she has amazing projects and seemingly limitless energy and creativity and she also happens to be one of my real-life friends- I'm a lucky girl, I know. 🙂
So hit us with your best shot, open up the floodgates of suggestions and we'll make this year bigger and better than ever! 🙂
Have a great Friday!!
XOXO,
Amy
p.s.- I will have a better post about this next week, but I wanted to give you a sneak announcement of our next theme: PINTEREST!! Anything that has inspired you from Pinterest (and if you're not on Pinterest, it can be anything inspired by a blog/ magazine/ picture whatever!) Recipes, crafts, pictures- get started and we'll share more details next week! 🙂 Can't wait for this one!!!