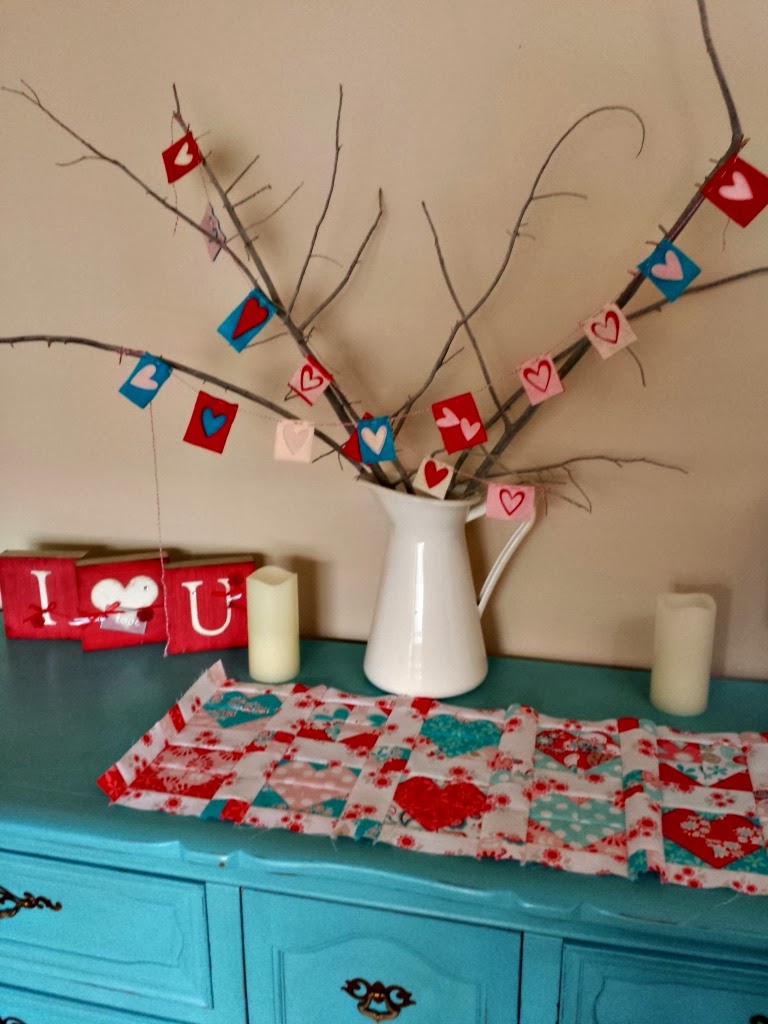 I'm late to the party as usual. Friday is Valentine's Day and I'm just now getting around to posting anything remotely related to the holiday. I've got a couple of projects for you today that are easy enough you could pull them off if you're like me and just a smidge behind the times.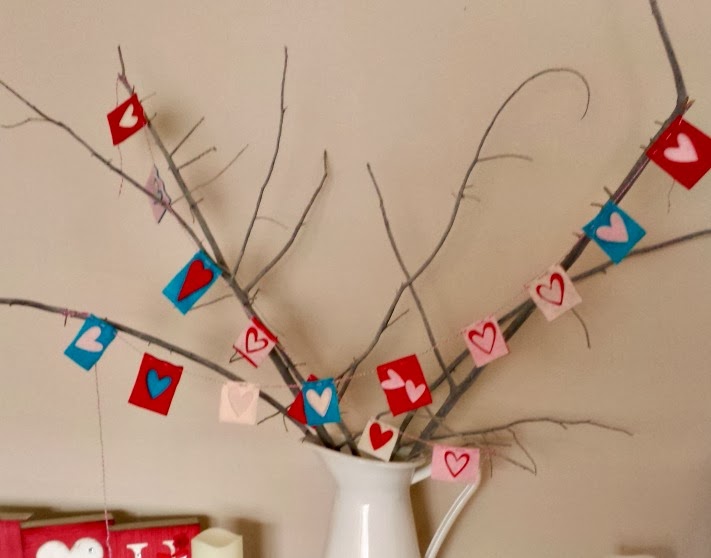 The first is this simple Valentine banner. I used hearts cut out from felt and hot glue to make them, then I used twine and sewed them with a simple stitch. I used some cuttlebug dies to make the hearts. In order to get the felt through my cutting machine, I had to cut them into these small squares. After pulling out the hearts they were these cute squares with a heart cut out of the middle. I couldn't just throw those away, so I used them as well. My daughter and I made them in about an hour.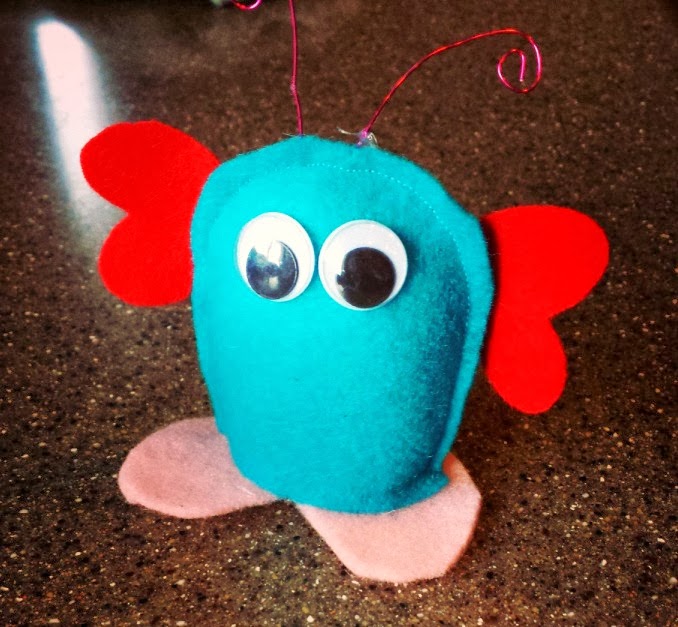 The reason I was cutting hearts out in the first place was so we could make these little love bugs in Cub Scouts. I'm in charge of the Wolf Den, and I had 6 8 year old little boys coming over who needed a project to do. I wanted them to think about giving service this week in their families so I decided we would make these love bugs. Once they boys do a service for someone, they will leave the bug for that person. The next person then needs to do a service and pass the bug along. It's the kind of bug you want to see go through your whole family. 🙂 They were really simple to make. I cut 2 U shapes out of felt and a whole bunch of hearts. I sewed around the curved edges of the U shape, but you could hot glue as well. The boys stuffed the body with stuffing and brought it back to me. I put hot glue around the entire rim of the body and some in the middle over the stuffing as well then pressed the body onto some felt. I trimmed away the extra felt on the bottom then gave it back to the boys to decorate. We added heart feet and wings then the boys went to town. I wish I would have thought to take a picture of their creations, they really got creative. One bug had a jet pack, another had 8 eyes. They were all darling. The boys used tacky glue to add their extra touches. If you have any questions, please don't hesitate to ask me. I didn't take process pictures because I was trying to keep the boys from gluing everything to my table, so if you need clearer instructions, let me know.
I wrote a little poem for the boys to read to their families to explain how it worked. I heard back from a few of the parents how excited the boys were to sit their families down and share it with them. There's still time to get a couple bugs going around your house before V-day. 🙂
Here's the poem:
Our Family has caught the LOVE BUG!
Maybe from a kiss, or maybe from a hug.
But, unlike a cold bug, this one we WANT to share.
To let those around us know we care.
Do a service for someone, make their bed, leave a note.
Or maybe hang up somebody
'
s coat.
Leave the bug where he can be found
And have fun spreading the LOVE BUG around!

Hope your week leading up to the big LOVE day is going well. Hopefully I'll be back tomorrow with more fun stuff. 🙂

xoxo,
Amy