When I went to SNAP there were many things I loved learning about and tons of great information. But, the thing that struck me the most was the message given to us by the closing Key-note speaker, Matt Townsend. You'll be hearing from him more here on the blog, because I think he has some really important things to say, and he's a lot funnier and smarter than I am. One of the points he made about the power of blogging was encapsulated in this quote, "You can count the seeds in an apple, but you can't count the apples in a seed." I changed the quote slightly for this art piece, but the meaning is the same. (You can watch a short clip of his address, which includes the apple seed quote here) I feel the same power applies to teaching. You can quantify how many topics you have taught, and how many students have passed, but the real rewards of teaching can't be measured.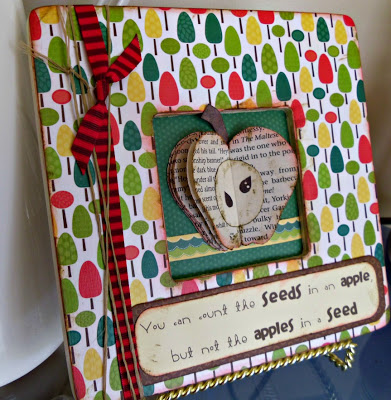 Using pages from a book, I created this dimensional apple to fit inside a $1 frame from Michaels, that I covered with scrapbook paper. (I got this paper and ribbon from the American Crafts Warehouse sale, I just got an e-mail today that they have just opened an online store– so excited!!)
I am learning that really more than money or rewards, most often, people just want to be told that they are doing a good job. That you recognize their efforts and that they are appreciated for the work they are doing. I hope these pieces of art will let my children's teachers know that the work they have done for my family this year is immeasurable and greatly appreciated.
xoxo,
Amy
Linked up to The 36th Avenue Party Time. Also linked up to Topsy Turvy Tuesdays on I'm Topsy Turvy.