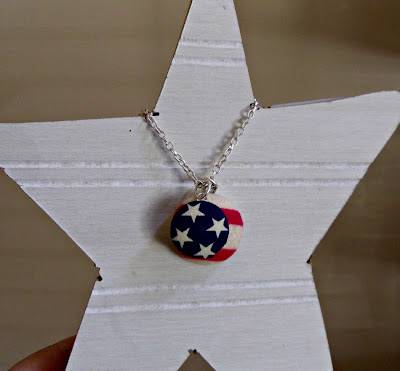 I love when I have the chance to play with new products and tools. I was able to get to see these great Imaginisce products up close at SNAP this past spring. After chatting with them about all the possibilities for projects using these products, they agreed to send me some to try out. I have a few more projects coming up, but I wanted to get this one out there before um, well, tomorrow. 😉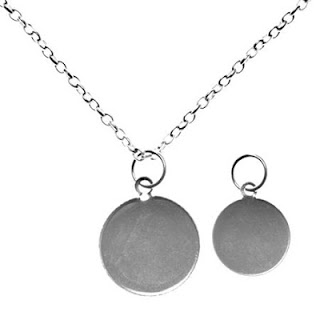 This necklace was made using the Magni-top necklace kit, which comes with two sizes of pendants. You will also need the two different sizes of magnet daddies to create the pendants. What I love about these products, is how versatile they are. You can change out the pendants as often as you like, since they are held on with magnets- it's pure genius I tell you.
I also used the I-top tool to create the pendants- it's pretty slick too, and I can't wait to make even more covered buttons, brads and magnets with it.
Now on to my necklace, I just covered the large pendant with a red striped fabric, and the smaller one with a blue fabric with stars. I kept both pendants on the necklace at the same time. You will just want to pay attention to the polarity of the magnets when you put them in the daddies- you will want them in the same way so they hold together and not the opposite way so they repel all the time. 😉 Other than that, it's really easy.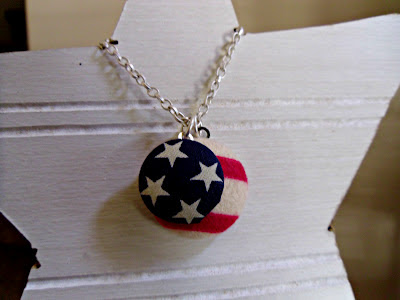 My daughter is loving wearing her new necklace, and I'm looking forward to making her more tops to change it out when the holiday is over.
If you want to see more ideas the design team at Imaginisce came up with you can go to their blog here and check them out.
*disclaimer- I was given product to try, but the project and opinions are 100% my own, and I was not compensated in any other way for this post.*
I hope you have a wonderful- and SAFE 4th of July celebration. We're going to be working in the basement and praying people don't set the mountain on fire again. 🙂
XOXO,
Amy