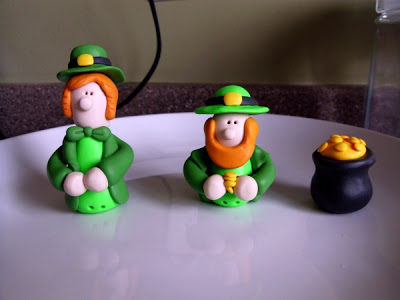 I know it's the first Thursday of March, and it should be time for "Theme"-day Thursday. But, I have been swamped this week with these guys. These are my latest sets of clay figurines that I created just for St. Patrick's Day. My cousin asked for them, so I got creating. 🙂
Then, I posted a picture on Facebook. Well, that sent things in motion- and now instead of making 2 leprechauns, I am making 22. Plus pots of gold (11) and blocks that say "Luck 'O the Irish" (130 individual blocks). I am blessed to have so much love and support- especially from my family who are solely responsible for this influx of work.
So, today's post will introduce the theme for this month, with a little idea- and then we'll resume full-stop next week. I hope that works for you. 🙂
The theme I thought I would choose for March is Spring. Yes, I'm trying to hurry the season up! I'm ready for blossoms, green plants and sunshine. Warmer temperatures wouldn't hurt either. I have a darling pillow to share as well as some ideas for around the house. Then, of course, the St. Patrick's Day ideas. So please stay tuned there will be some fun stuff.
The little idea for today has to do with St. Patrick's Day and the picture above. While I was making the leprechauns (which aren't finished in the pictures- they have little dangle legs with feet attached) it reminded me of the elf idea that floats around during Christmas. I decided that this year I'm going to start a leprechaun tradition with my kids where I hide the leprechaun and the kids can try to find him. If they are good, he will leave his pot of gold near a "treasure" for them to find. If they are naughty- he'll make messes and mischief instead. I think it will be fun. But, I'm only going to do it for the week before St. Patrick's Day- so it doesn't get too involved. I will share some of the things I use as treasures as it gets closer. In the mean time- there are some great printables at Eighteen 25 and it is what it is– that I plan to use with some of the goodies.
Have a great Thursday! Mine's going to be busy. 🙂
xoxo,
Amy