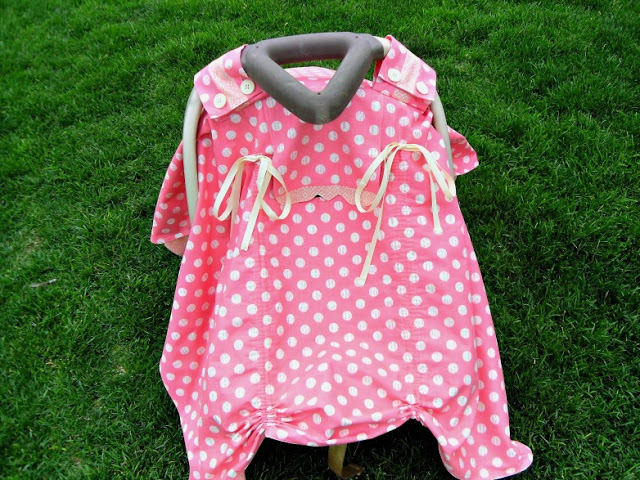 Baby will be here officially next week. If she doesn't come on her own before next Wednesday, I am scheduled to be induced. My babies tend to be big (like my last three were 9 1/2 pounds or bigger) so my Dr. is kind enough to let me have them a week early. (and yes, all 3 of them WERE 7 days early- even the 10 lb 6 oz. one) I have not had a car seat canopy with any of my children, but I love the idea of them, so I decided to make one. I bought this fabric from Pick Your Plum when they had a deal on this gorgeous Riley Blake fabric. I'm so glad I did- it worked just perfectly. But, since it's summer, I wanted to be able to add some ventilation and let some air flow through it so she wouldn't get so hot. That's when I decided to add the ribbons to allow me to cinch up the canopy if I need/ want to.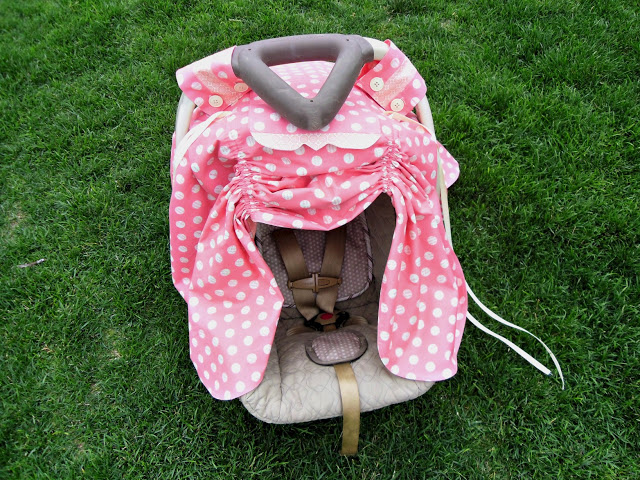 Here it is cinched up all the way. When baby is awake, I can open it up so she can have fresh air, but it still shades her more than just the cover that came with the seat. I can adjust how much it's cinched if she's asleep and I just want to give her more air.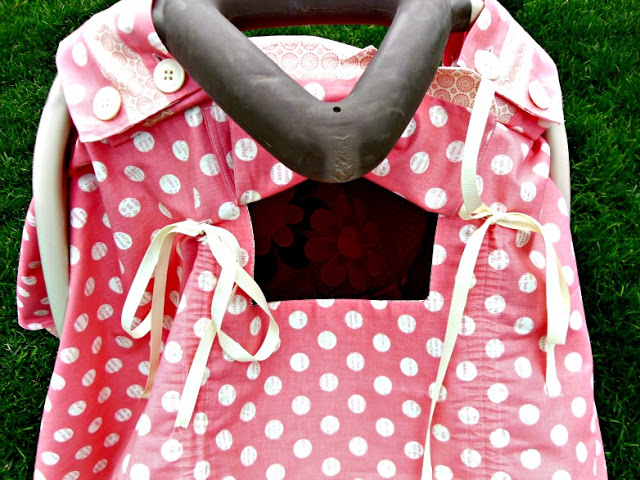 The other thing I added was this little peek-a-boo window so I could peek in on her while she's sleeping without disturbing her.
I'm so happy with how it turned out. Now to get her here to enjoy it! 🙂
So, what do you think? Is this something you'd like a tutorial on? Have you modified a car seat canopy? I'd love to see your projects- leave me a link in the comments and I'll check them out.
Hope you have a wonderful weekend.
xoxo,
Amy
Linked up to Get Your Craft On at Today's Creative Blog