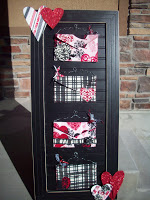 So, there have been quite a few wordy posts around here this week. Mostly because my main project for this week was this beauty- My Love Notes Board for the American Crafters competition. And with 2 kids with the flu and me with a cold, there hasn't been a whole lot of time left after that.
So, I have been patiently waiting until today so I could reveal this project! I made the envelopes using ideas I gleaned from a tutorial
here
. I wanted them to be small enough that one small piece of candy would still seem like a lot. But mostly I wanted to have a place to leave them a note every day, telling them things I love about them. I think the notes are my favorite part- and I think even though the candy gets the loudest response- the kids love the notes even more! 😉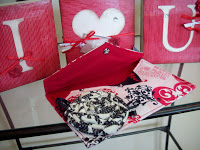 This is my living room set up now. I got the red lanterns from
IKEA
for 50% off after Christmas! The bead board frame is a left-over hand-me-down from my mom. It had some heart shaped wreaths that I ripped off, but I didn't know what I was going to use the board for until this week! (glad I hung onto it all these years!
lol
)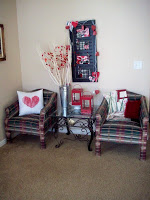 XOXO,
Amy
Linking up to Whatever Goes Wednesday at Someday Crafts and Whipperberry's Friday Flair Linky party. Also linked to Wendy's Craft Goodies link party!