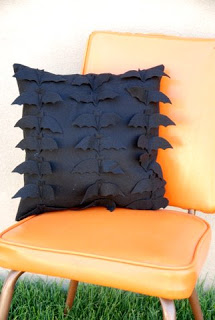 I have promised a giveaway for a while. And, now, it's finally here!
This pillow is the post heard round the world for me. It continues to be one of my very most popular posts, and one of my favorite pillows as well.
So, to thank you for being wonderfully patient with me, my craziness, my lack of regular posting as of late and for simply being the most awesome people on the planet- I offer you YOUR VERY OWN BATTY FELT PILLOW COVER!
I am only giving away the cover so I can cram the rest of the box with other Halloween goodies and fun- but if you would just like the pillow and nothing else, I would be happy to cram the entire pillow in the box, just for you. 🙂
All you have to do to win? be a follower, and leave a comment. Simple as that. And you don't even have to follow through Google Friend Connect. Just tell me how you like to get my blog- RSS, e-mail or GFC, or even Facebook and you're entered. Just for kicks- you can say what your favorite part of Fall/ Halloween/ autumn is, but it's not required- I just like hearing what you have to say. 🙂
Have A Wonderful Day!
XOXO,
Amy
The giveaway will close Saturday night at 9 p.m. MST so I can shoot off an e-mail to the winner and hopefully get it shipped out Monday!