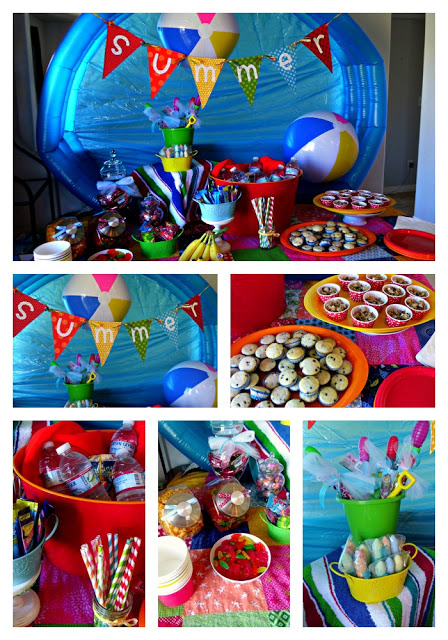 I'm not always the most fun mom on the street, but once in a while, I do manage to pull something together that's pretty fun. 🙂 This year I wanted to do something for my kids' last day of school. They only go for 1 1/2 hours (I have no idea, don't ask) and get out for the day at 9:30, so a brunch-type of party was in order.
Now, budget is always a consideration. Ours was not large for this event, but I thought that by combining some purchases I was going to make anyway, I could increase the impact of the party, without spending money we didn't have. So, the main focal point of the set-up became the new wading pool I saved for the party. I added in 2 $.97 beach balls and the Summer banner I made last year, and Instant backdrop. 🙂 I have been collecting some brightly colored serving pieces for a while so that I would have them on hand for birthday parties and such. I used the summer quilt I made last year as the table cloth, so I didn't spend anything on the rest of the set-up. One thing I have realized is that cute party supplies really add a lot to a party without adding a lot of expense. I got most of the ones I used for this party from Bake it Pretty. I met Brittany at a blogging retreat and she was kind enough to let me try out some of the supplies from her darling shop, but it would have been less than $20 for everything I got and I will definitely be spending money there in the future. 🙂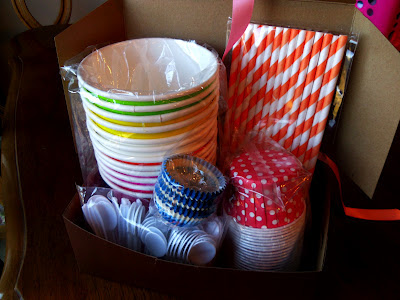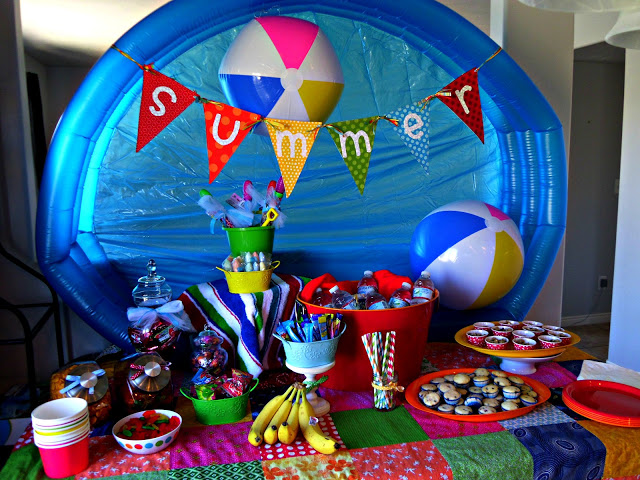 Here's a big pic so you can see all the details. The favors included water shooters from the dollar store and packs of sidewalk chalk. As soon as the food was consumed, the kids were out with buckets of water having a water fight- the perfect end to a great party. 🙂
And these baskets were ready for the kids when they woke up first thing in the morning. Again, they were things I would have purchased anyway for entertaining the kids during the summer, but this way they were presented in a fun way and the kids had a blast going through them.
I'm not sure how we're going to make it through this summer between finishing the basement, getting ready for the baby and actually having the baby- but I know we started things off in style. 🙂
How do you guys plan on surviving the summer? I'd love any tips and ideas.
XOXO,
Amy