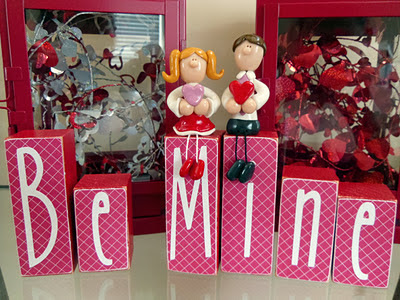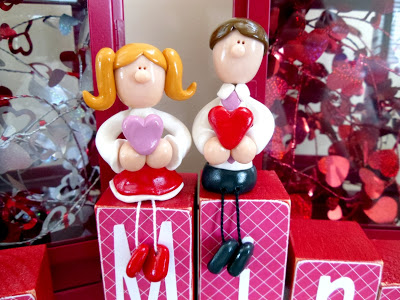 I just finished my newest block/figurine set. I have been wanting to do a Valentine's set for a while, but I wasn't really sure what figurines to make. I DO NOT like cupid- somehow the idea of making a man in a diaper just didn't appeal to me. 😉 My sister suggested to just do a boy and girl and I think she was spot on. 🙂
And in honor of the upcoming LOVE day- Here are 14 things I am loving:
1. I am loving that I can actually drink Diet Coke again. Very rarely, but still- it actually tastes good again which is nice.
2. Love that I have enough energy to actually get the laundry done in one day. I didn't realize how much I enjoy my one day of laundry per week-then forget about it the rest of the time routine.
3. Love having close in-laws who welcome my children over to their home whenever they want.
4. Love a husband who will run and get me a breakfast burrito just because I cried. 🙂
5. Love having so many kind and wonderful friends. (even though I do NOT love when they move away- I'll miss you Erin)
6. I love that my kids are so excited about having a new baby in our family.
7. I love my religion and the peace and direction it provides in my life.
8. I love fabric. enough said
9. I love blogging, meeting new people, sharing great ideas and improving my life through the inspiration I find on the web.
10. I love an extended family who loves, nurtures and supports me and my family.
11. I love pinterest.
12. I love that my basement is getting finished even though it means the rest of my house is a cluttered, dusty mess.
13. I love the homemade laundry detergent my neighbor sent over for me to try. And I love that she sent me the recipes she has been collecting for homemade cleaning supplies as well! 🙂
14. I love that so many good friends are finding success with their handmade businesses (Way to go Vintage Rose Wraps on hitting 10,000 Facebook fans!)
What are you Love-ing today?
XOXO,
Amy
p.s. I am also, of course, loving all of you- and appreciate so much your stopping by!
Linking up to Look What I Made at Creations by Kara.