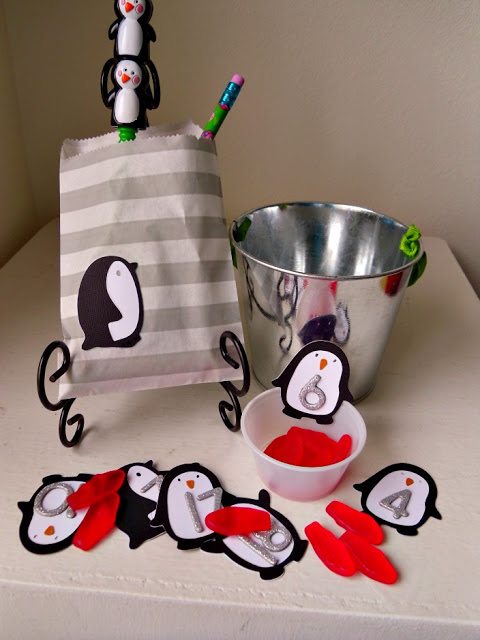 I told you yesterday about our Letter 'P' party. This is one of the games we played. We are working on helping the children understand the correlation between numerals and the actual number of objects. I used my Cricut again to cut out these darling penguins. They are from the Zooballoo cartridge. There are 6 children in our group- and I wanted each of them to have 3 turns, so I made 18 penguins. I used number stickers to put the numerals on each penguin. The children drew out a penguin from the bucket and I taped it to a cup. Then the children 'fed' the penguin with the Swedish Fish, counting out the number on the penguins tummy. When we were all done, they got to eat them as part of their snack.

I used the extra penguins to decorate the favor bags. What's a party without a goodie bag right?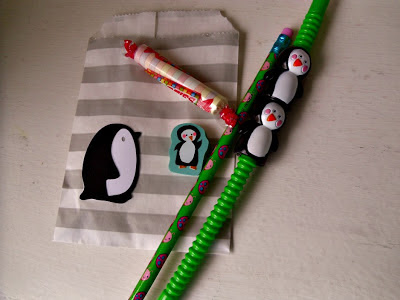 I filled the bags with things I have picked up on clearance over the past couple years. They loved the straws/whistles- even though all of them blowing in them at the same time was enough to make a sane person crazy. 😉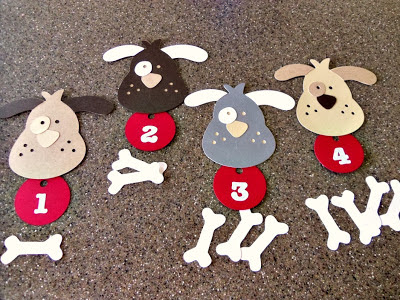 This is another version of a similar game. Back when we did the letter D, we fed a dog a bone. The number on the tag was the number of bones the dog got to eat. I used my Cricut again, but this time used the Doodlecharms cartridge.
Hopefully they are starting to understand that the numeral 4 means 4 of something. I know I have it down. 😉
linked up to Friday Flair at Whipperberry.