I was provided with fabric from Poppy Cotton to participate in the Woodland Songbirds fabric tour. The project and opinions are all my own.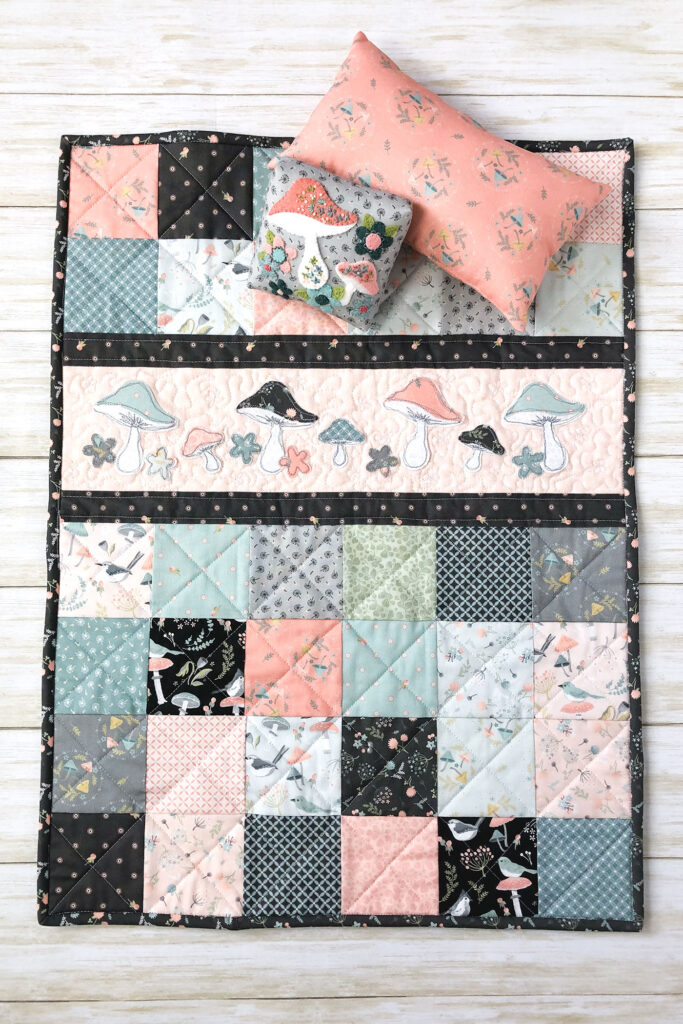 Do you know a sweet little girl who loves her dolls? This charming patchwork doll quilt would make a perfect gift! Measuring at 18″ X 24″ it fits an 18″ doll perfectly. Add an applique accent strip to create some fun and extra detail. I couldn't help but play off the mushrooms in this Woodland Songbirds fabric and add some mushroom details to my doll quilt.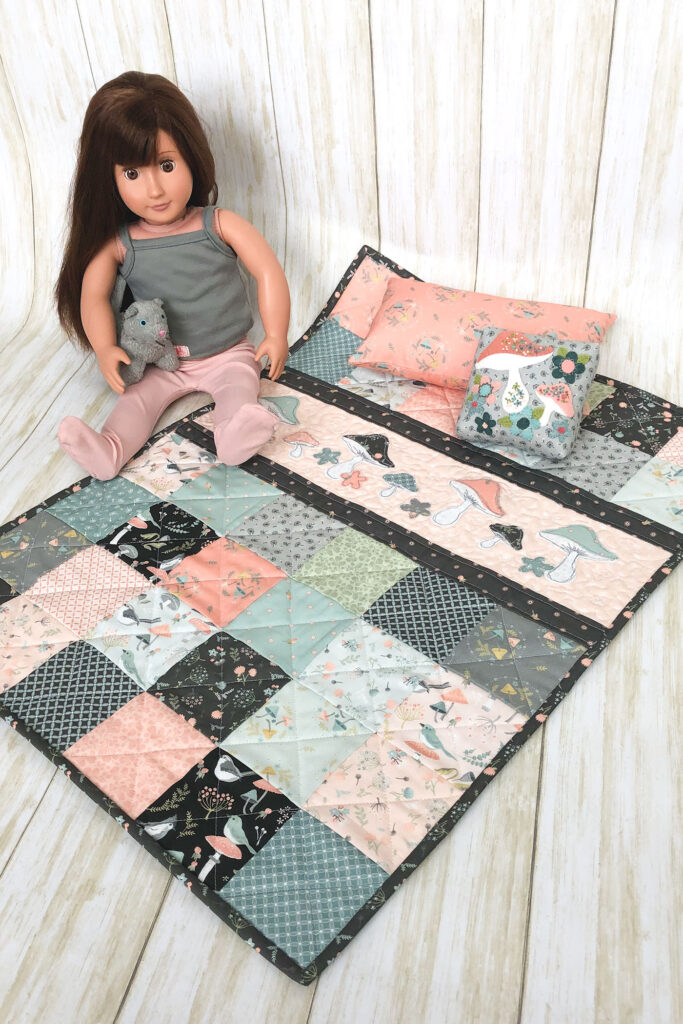 This doll quilt is so fun to sew up and would thrill any little girl who unwrapped it.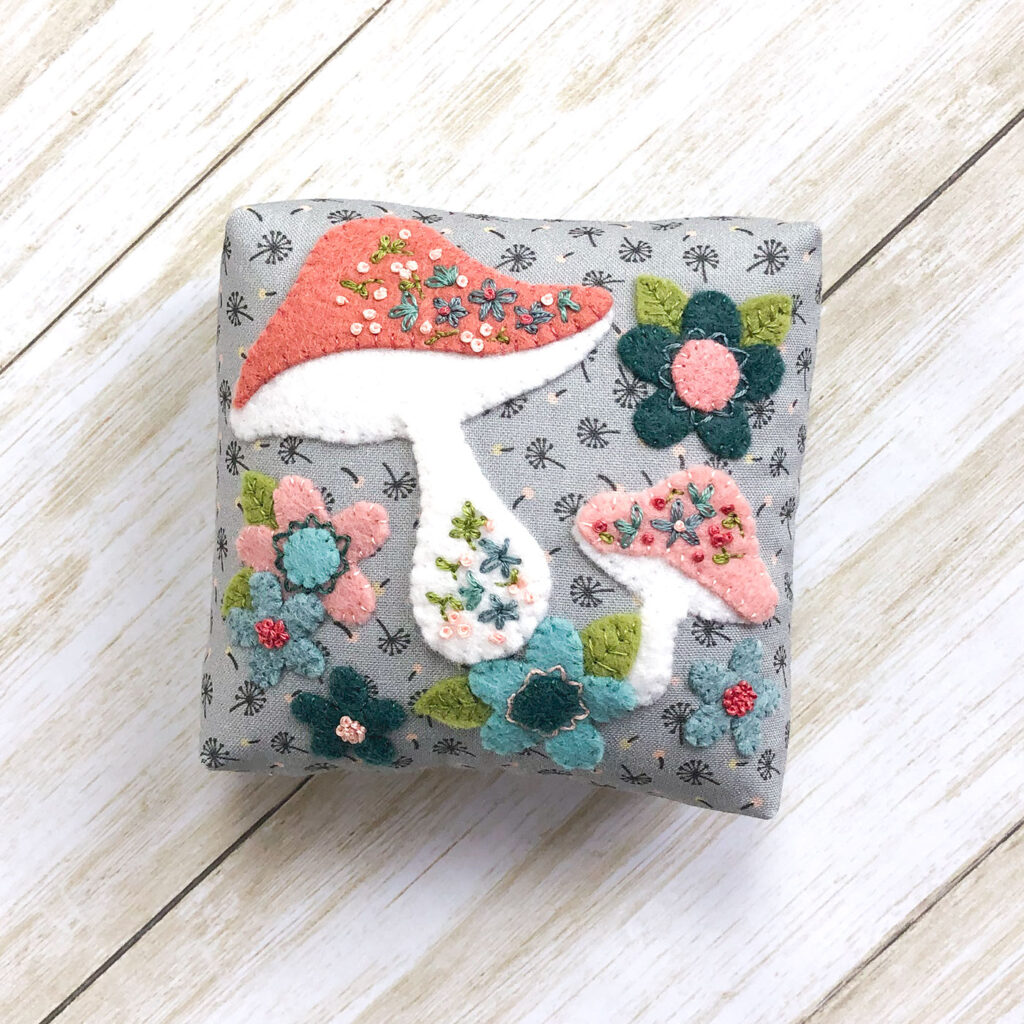 This fun little felt appliqued pillow was a blast to stitch up. I am so excited to get this pattern written up and released! I used the mushroom pattern from this pillow for my applique, watch for it to show up in my Etsy shop soon.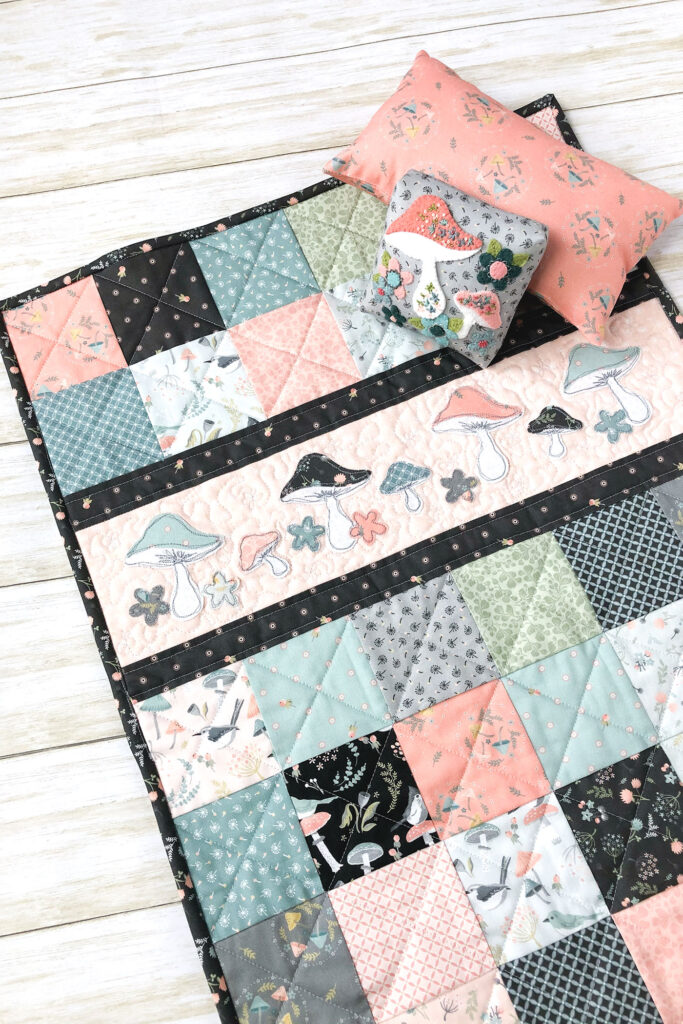 This patchwork doll quilt has so many fun options and really lets your fabric shine. Use scraps, 5″ precuts or any combination of fabrics. Read below for directions. You will also need fabric for backing the quilt and binding. In addition, if adding applique, use some fusible adhesive such as HeatnBond lite to add it.
Patchwork Doll Quilt Tutorial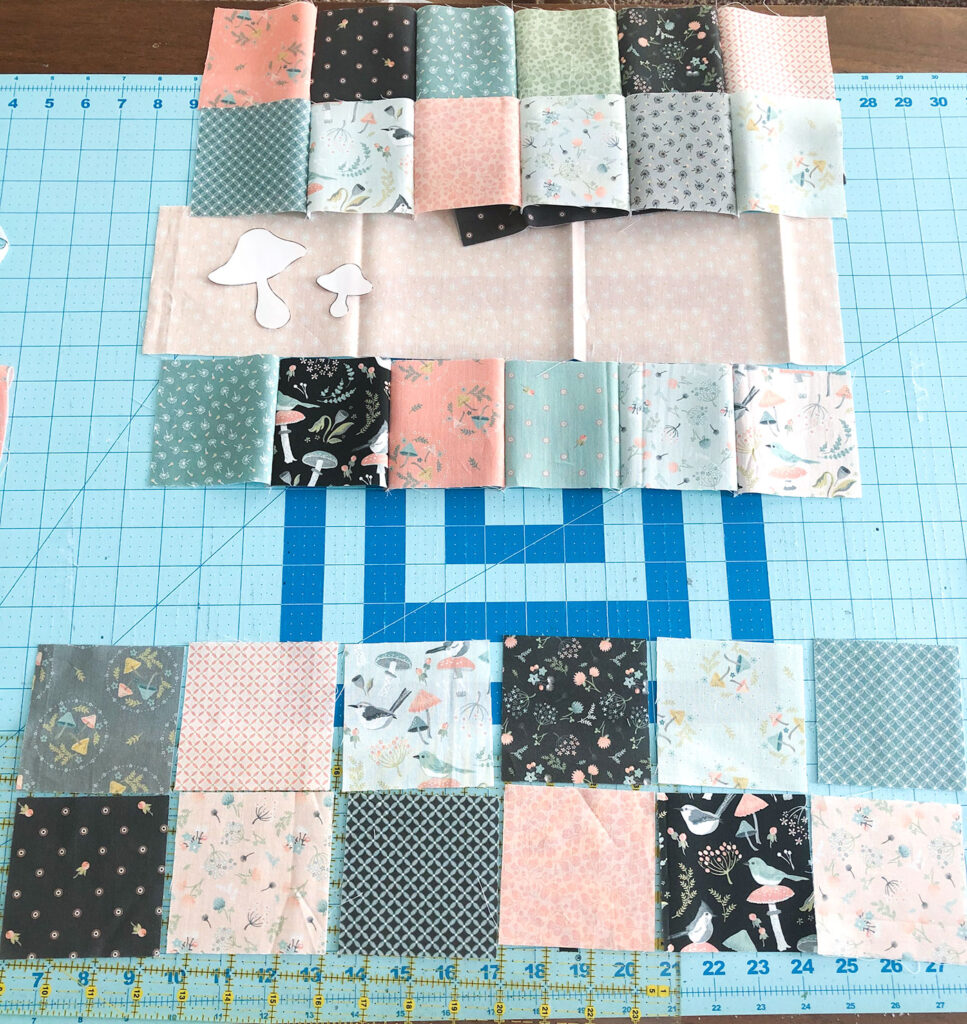 Fabric Cutting:
Cut 36- 3 1/2″ squares for patchwork.
Cut 2- 1 1/2″ X 18 1/2″ strips of accent fabric for your applique strip.
From the applique background fabric cut 1- 5″ X 19″ strip
Patchwork Assembly:
Arrange your 3 1/2″ squares into 6 rows of six squares. Sew the rows together, pressing the seam allowances in alternating directions on each row. Sew the rows into two groups- one group of 2 and one group of 4.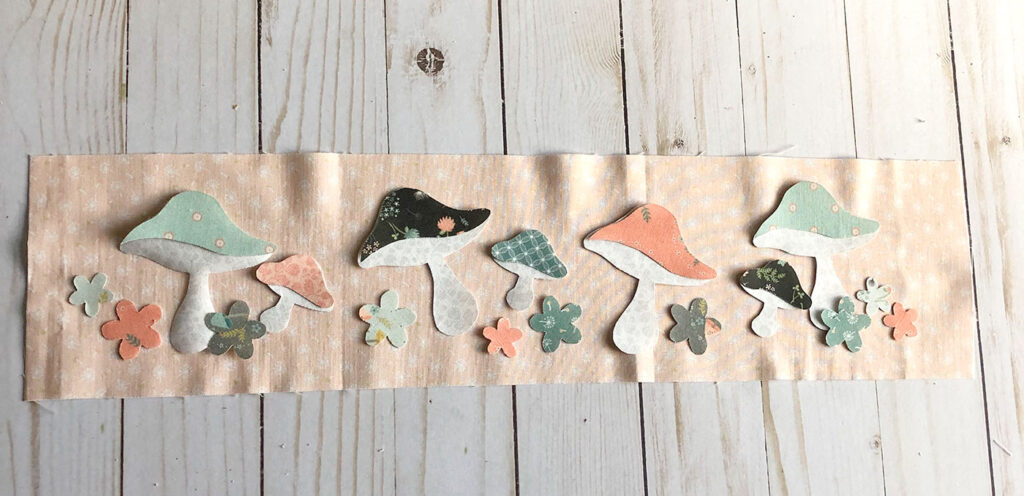 Applique Strip:
Trace the pattern for your applique pieces onto the paper side of fusible adhesive. Cut out the pattern pieces leaving a slight margin around each piece. Fuse the adhesive to the wrong side of the fabric for each applique piece. Cut out the pattern pieces along the drawn lines. Remove the paper backing from the adhesive and arrange the applique on the 5″ x 19″ strip- be sure to leave at least 1/2″ margin around all four sides to allow for trimming and seam allowances. Follow the package directions for your fusible adhesive to fuse the applique pieces into place.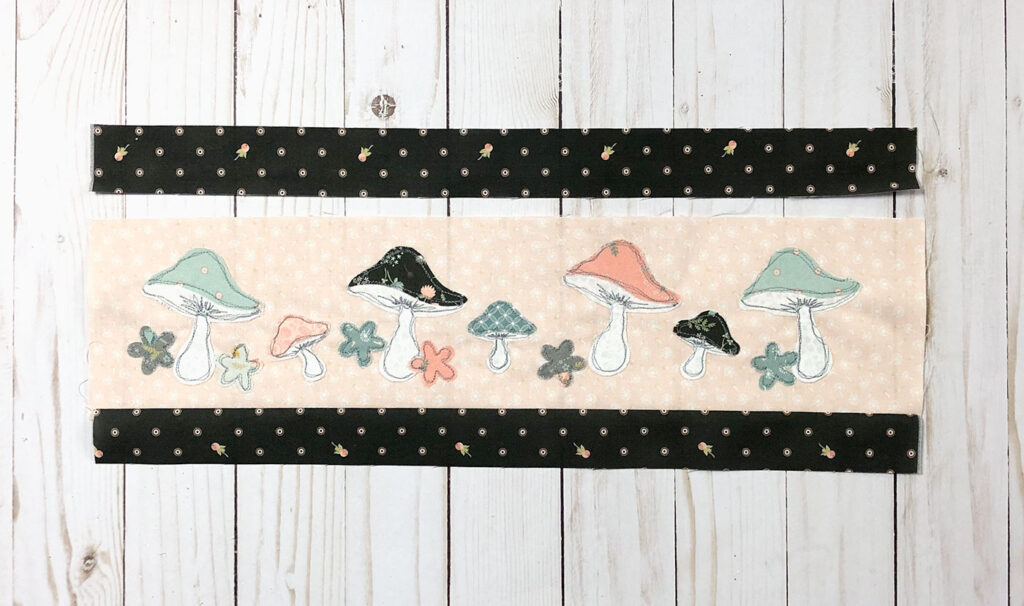 Sew around each of the applique pieces using a straight stitch or a narrow zig zag stitch. I used an embroidery foot to "sketch" around each of the applique pieces on my strip. Trim your strip to 4 1/2″ X 18 1/2″. Attach the accent strips to the top and bottom of the applique strip using a 1/4″ seam allowance.
Finish Patchwork Doll Quilt top: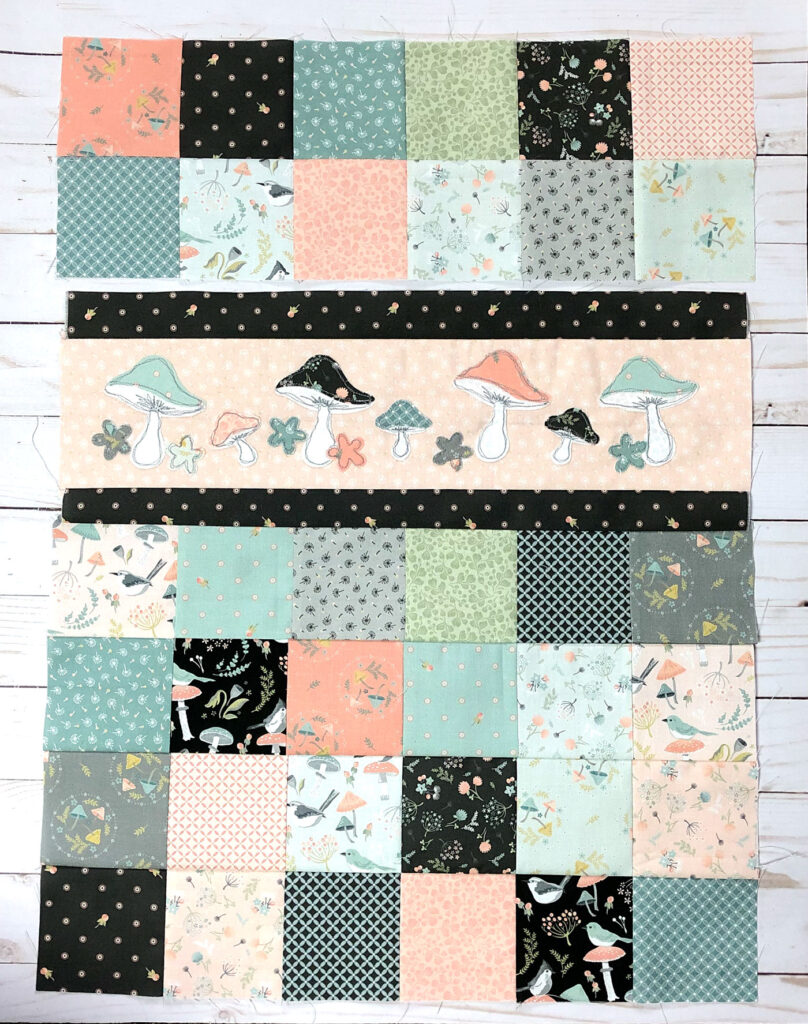 To complete the quilt top, just add one patchwork group to the top of the applique strip and one to the bottom. If you are going to put it on a doll bed, I might suggest putting the group of 4 rows on top and the 2 row group on the bottom. My girls will just use this with their doll, so I swapped them around. Finally, add batting and a backing, quilt and bind. Easy peasy!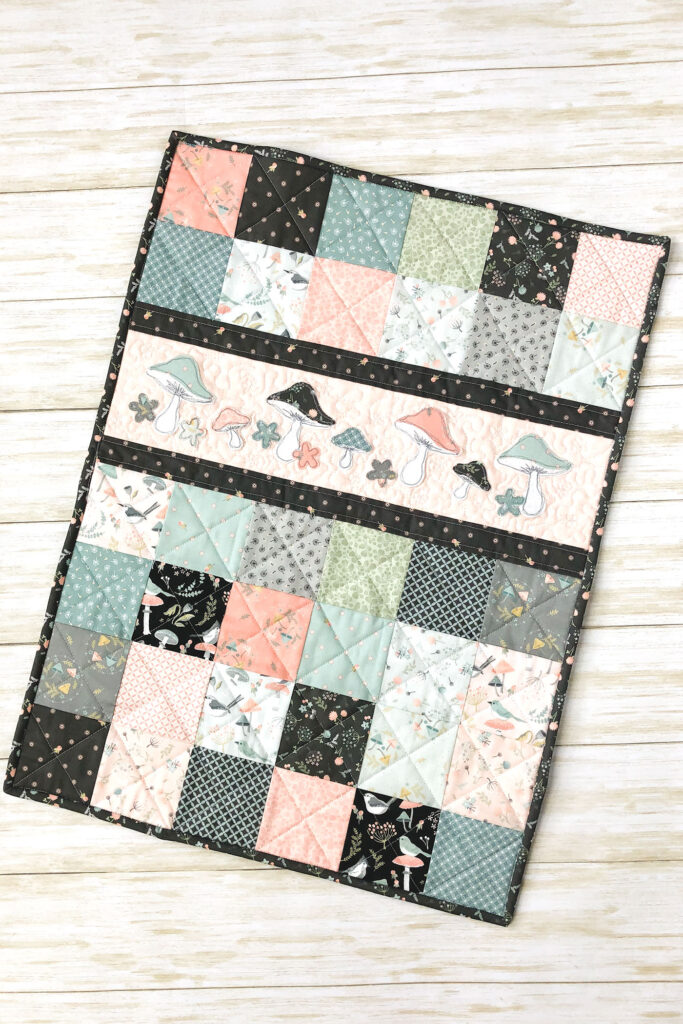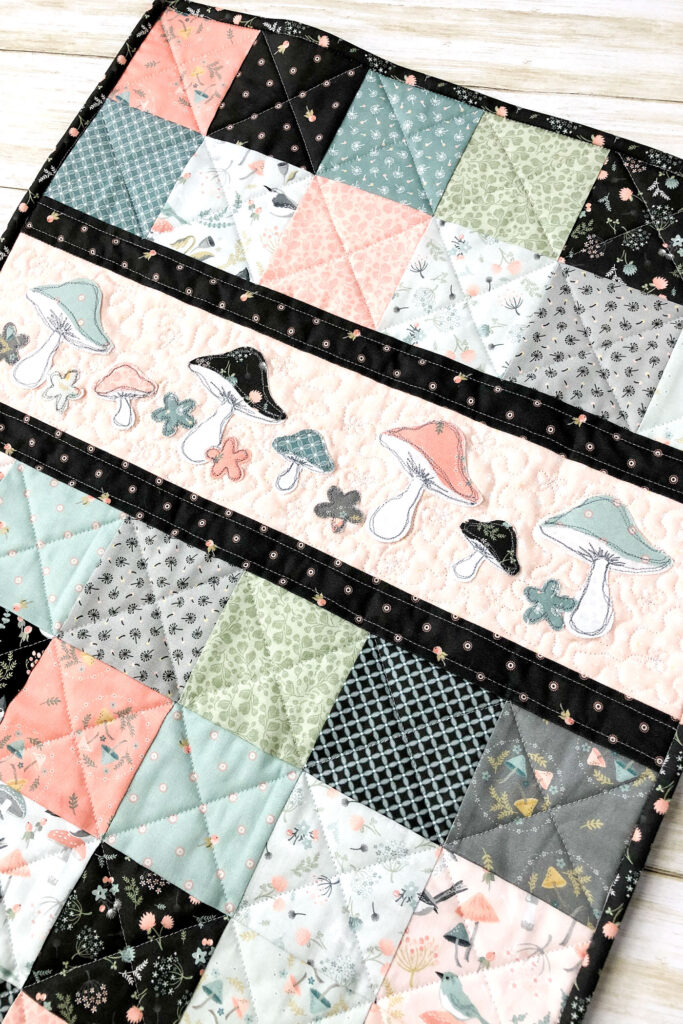 Need a doll bed for your quilt? I have some simple plans for you here. And if you are looking for more doll quilt ideas, I have this scalloped border doll quilt pattern as well.
Happy Sewing friends! Amy