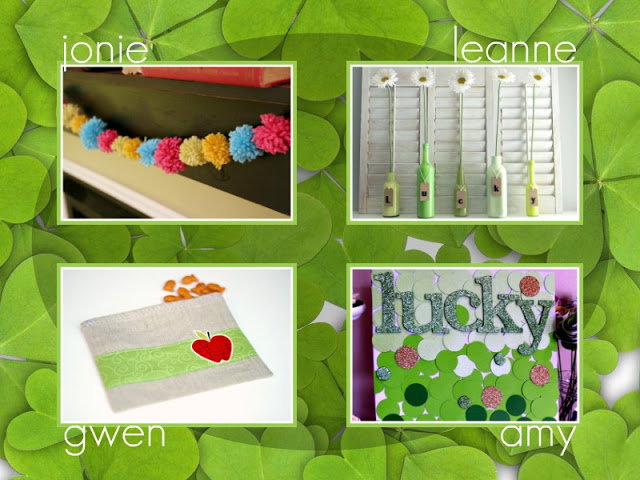 There are a couple of things you might notice about the collage today- the first is that there are only 4 pictures in it! I'm sad to say that both Camilla and Michelle have decided that they need to leave our Point of View group. I am really going to miss their fabulous ideas and terrific projects- but I'm thrilled for them that they find themselves in a position that they are busy enough with other things that make them happy that they have to let something go. We wish them both the very best in all they have in front of them. The second thing you'll notice is the abundance of GREEN. 🙂 Yes, that's our theme for February. I thought the theme this month would be easy. Boy was I wrong! This one sure stumped me- so I'm hoping you've had better luck than I did with your Point of View on the theme. 🙂 I'm sure impressed with everyone's projects this month- I hope you'll take a peek at all of them and check out the details.
Jonie- Just Between Friends– where you can also link up your own GREEN projects for all of us to enjoy
Leanne- Organize and Decorate Everything
Gwen- Gwenny Penny
Amy- just keep reading! 🙂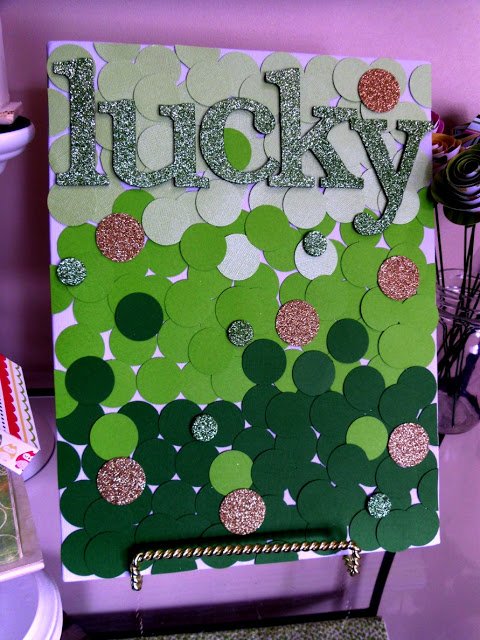 I was very, very tempted to make a pillow for this theme. Pillows come pretty easy to me and all. 😉 But, I really wanted to do something different and working with paper just seemed like a good idea. Until I tried to get the project to come together. It just didn't want to work for me. The colors were off, the look wasn't what I wanted. Finally I recruited my sister and between the two of us we worked out the kinks. The result is this simple but fun Lucky collage piece. I wish I had more process pictures, but as I was getting more and more frustrated with the project, it never crossed my mind to pull out the camera- so I'll just have to tell you what we ended up doing. The letters are from recollections at Michaels. The sheets of cardstock were also purchased at Michaels but I ended up using some of my own paper to get a brighter look on the papers. The gold glitter paper is from American Crafts. I used a 1″ circle punch and cut out tons (a very specific measurement 😉 ) of circles from each of the three colors of paper. I knew I wanted to graduate the colors from light to dark and I liked the look of "mixing" the layers so there wasn't a harsh line between colors. When I was pleased with the overall scheme- I pulled off all the circles and started gluing them down. I just used a hot glue gun since it was cheaper and faster than the other options I had on hand. 🙂 Once all the green circles were down, we added in the gold and green glitter dots (the green dots were from the alphabet set- they are the dots for the i's and j's 😉 I'm just hoping I'll never need those letters) The letters were self adhesive, but I found they didn't stick as firmly as I would like, so I ended up gluing those down as well. I finished it off by gluing ribbon around the edges of the canvas.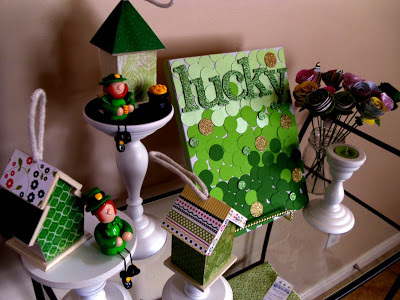 I am still working on the finished grouping for this table, but here's where I'm at so far. The leprechaun houses are birdhouses from the $1.00 section at Michaels. I was originally going to have them double sided so I could use the birdhouse side for a spring display, but I've decided they will work for both anyway without over complicating the project. (I think I've already over complicated things enough- haha) The little figurines are my own creations, you can get a better view of them here.
So there you have it, even though I made this project WAY harder than I needed to- I really like the end result, and I feel pretty "lucky" to have gotten it finished. Oh man, I think I need to go to bed.
Have a Happy Friday and Don't forget to link up your own GREEN projects over at Jonie's blog– I can't wait to see your point of view! And, we have some very exciting changes coming to our Point of View group- we'll be announcing them next week- You'll want to stay tuned!! 🙂
XOXO,
Amy
p.s. If you haven't yet entered- today is the last day to enter my fabric giveaway- HERE!