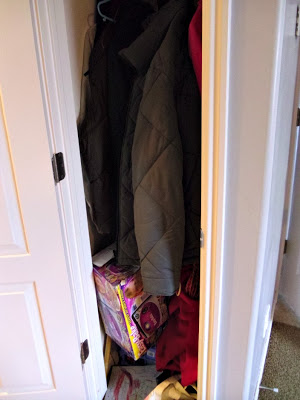 You know that one spot in your house that becomes the dumping spot for every random bit that doesn't have a real home? Ours was this coat closet. It's hard to take a good picture because it's at the end of a narrow hallway, and it's such a small closet, but hopefully this will give you an idea of where we started.
This closet was only wide enough to hang maybe 5 coats. And there was so much wasted space on the top and bottom of the hanging rack. I've been wanting to do this makeover for a few years, so I was grateful for the Closet theme for Point of View to actually give me a deadline to get it done.
After cleaning out all the stuff (coats are now on hooks in the laundry room- we'll share that update on another post), and ripping out the rail and lone shelf, we were ready to get started.
A little joint compound fixed all the holes and marks left from the demolition process. Some sanding and it was time for paint. I just used some we already had on hand, but I'm glad it was yellow- to add some brightness to this small space.
We decided to do rails with adjustable shelves because this closet is so close to the hub of our home- the kitchen and family room- we want to be flexible with how we use it. Right now it is housing books, and over flow office supplies from our new homework area, in an attempt to reign in the visual clutter in the family room.
Are you ready to see the after?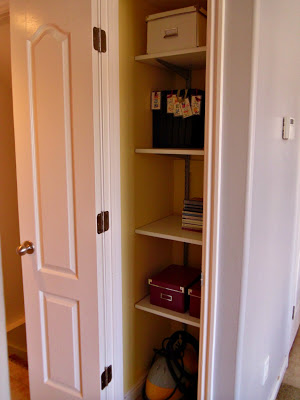 This is as good as I can get of the whole thing. But it gives you an idea of how much more storage we can fit in here.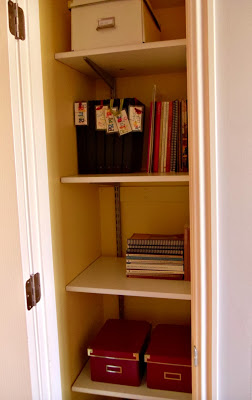 Here is a more straight on shot. I am so excited to finally have places for everything in here now. After finishing the basement, we are still in "now that this can't be shoved in the basement we need to find it a real home" mode. There are a couple more piles that need to be tackled (under the stairs in the basement is one 😉 ) But this is a HUGE step in the right direction.
I have to give a shout out to my sweet husband who did the heavy stuff for me. I appreciate his support so much, even when he'd much rather be doing just about anything else. You're the best hon.
And now back to our regularly scheduled boutique sewing blitz. More updates on inventory progress coming up later this week.
xoxo,
Amy