Today is one of my favorite days. I have so much fun featuring other bloggers and their great ideas! No wonder Kim is so successful- she has a great idea for a blog- showcasing others. 🙂
This cute shelf was linked up to our Point of View Shelf link party by Angie at Burton Avenue. I love all the decor she added to make the shelf festive and fun.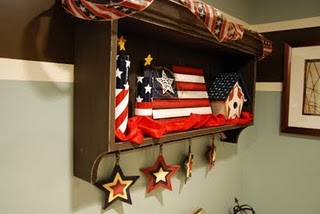 But, mostly what I loved is that she needed space to add fun seasonal items to her home, so she made it! I have a lack of surface area that I can decorate so this completely resonates with me. Time to bust out the woodworking tools and make me a shelf!
This blog is run by two ladies who both have terrific ideas. They are just getting started, but I think you'll love seeing what they have to share, like the board and batten treatment on the stairwell and this super cute Ice Cream Party!
Next month our theme is going to be Summer! The link party happens the fourth Friday of the month and I hope you'll join us in the fun!
Have a great day!
xoxo,
Amy