It's hard to believe that it's already July 1st. We're in the middle of a heat wave in my neck of the woods and with 100+ degree temperatures, it's easier to stay inside and keep busy than try to cope with the heat.
I think reveals are so exciting and this month is no exception. These are some wonderful projects don't you think? There's enough inspiration here to keep me busy until the high pressure shifts and it's bearable to be outside. 😉
Ready to check out all the details?
And now for the details of my project.
Sometimes you happen to be in the right place at the right time. I have been looking for a dresser to paint and put in my living room as a breakfront-type piece for a while. I wanted some storage for all the random stuff my kids use that would free up space in my pantry where that stuff is currently residing.
I was at my friend's house when she mentioned she had a dresser she was looking to sell. As soon as I saw it I was sold. And because she's the most awesome friend around- she gave it to me for free.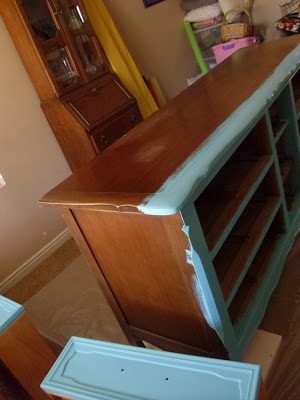 Of course I had already started painting when I realized that I forgot to take a "before" shot of the dresser. I grabbed my camera and took this one so you could at least see the previous finish. It has such gorgeous lines, but that dark brown just screams 70's to me. You can see the secretary behind the dresser I got from my great-grandmother. Now that I'm not afraid of painting, it's the next to get an update. 🙂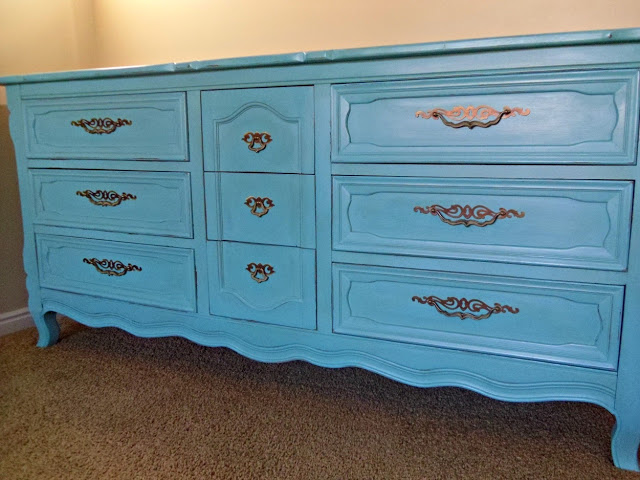 I am terrible at painting with spray paint- I get too impatient and get frustrated and end up with drips. It has made me leery of painting any large pieces of furniture. So when it came time to paint I recruited another friend who has a love of painting furniture and had her help me get over my fear. She is amazing and now I feel like I could paint anything.
We used a formula to turn regular paint into a chalkboard-like paint by adding plaster of paris to flat paint. The ratio we used was 2/3 c plaster of paris, 1/3 c water to 1 quart of paint. It worked great. I love that it makes it so you don't have to sand the whole piece- which would have taken forever with all the details on it.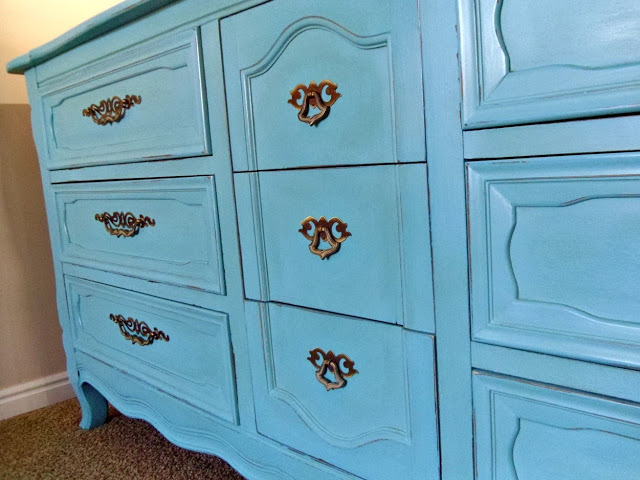 We painted 2 coats, let it dry and then sanded it. I lightly sanded the entire thing, and then sanded a bit harder in a few areas to distress it just a little. Since my children would be handling this piece once in a while, I figured it was best to just start with a distressed look so that when they truly distress it, it won't bother me. 🙂
I used a Minwax paste wax to finish the dresser. The one I purchased was clear for a natural look. I did one light coat of wax before I added a little tint to the wax to add a bit of aging to the piece. We made up a small batch of the tinted wax and focused on the edges and crevices, but spread it all over the whole piece to tone down the color just a bit. Then we did one last coat of the clear wax. It sounds like a lot of work, but it was really fast and easy. I'm totally sold on the waxed finish.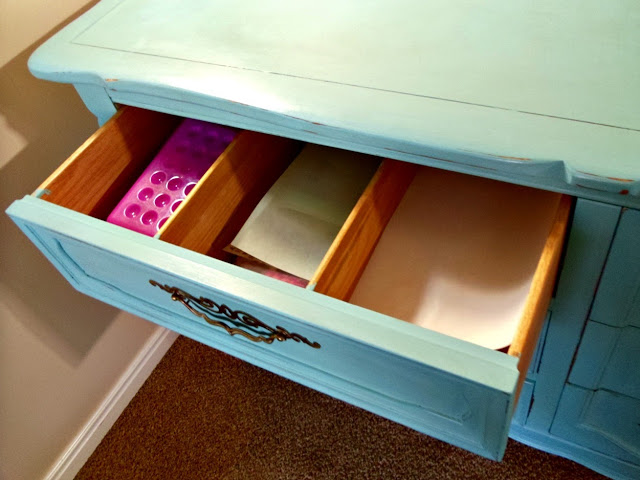 I love how some of the drawers are divided. They will help me keep these kiddos organized- at least a little bit.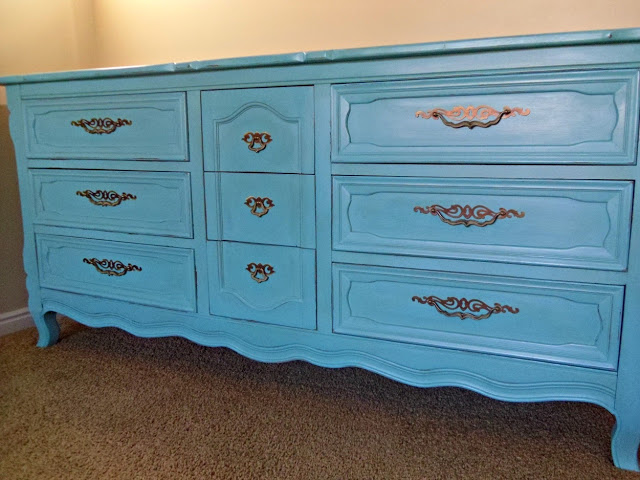 I am totally in love with the dresser. I left the antique brass finish on the hardware because it blends perfectly with the tones of the wax finish, but I might spray paint them eventually to a pewter finish because brass isn't my favorite. We'll see if it ends up bothering me. 🙂
I finally have the statement piece I've been dreaming of. It's the first thing you see when you come into my home and I think it's the perfect representation of my love of color, clean lines and traditional pieces. I can't wait to dress it up with holiday decorations and make it my faux mantel.
Do you have a piece of furniture you've modified or found? I'd love to see your Point of View- link up any furniture posts- new or old. It's a great way to get new eyes on old projects and it will give you a chance to be featured on one of our sites or other social media channels. I hope you'll join the party!