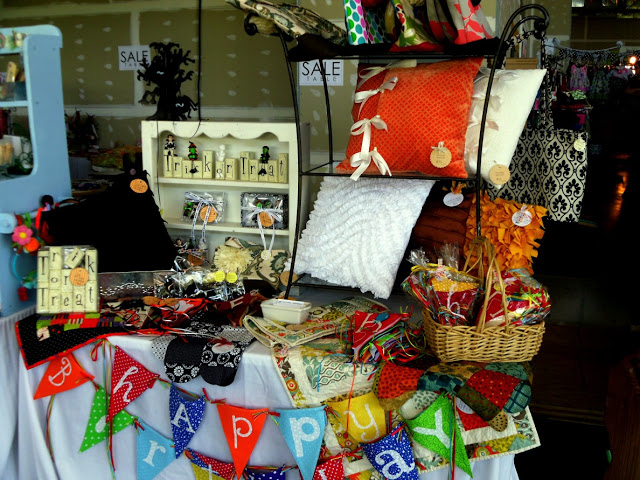 So, since I have another month of major production time, tutorials will be pretty thin for the next few weeks. That doesn't mean I don't have information to share with you.
I was asked in an earlier post to share any advice I might have about craft fairs/ boutiques/ set up/ packaging etc. I have decided to have a series of posts sharing what I have learned in my 10 year adventure in crafting and selling.
I am by no means an expert. I do not make anywhere near a full time income from crafting (this is on purpose- right now my full time job is Mom). It has taken me about 7 years to get to a point where I can count on decent sales from a show. I am also still learning things, growing and adjusting what I do. I hope this information will help some of you.
The first topic is about choosing where to sell. I don't know about you, but many times when I share something I've made with someone else they say, "You should sell this! Have you ever thought about having a booth at X,Y or Z event?" When I first started out I would get very excited and think- "Yes! I should sell there there's a ton of people who attend this event!" and I'd look into it, perhaps even spend $ for a booth (not very often on that one- you'll soon learn that I'm doing this the hard way) only to have dismal sales that left me discouraged and often in the hole financially.
It was frustrating and hard. I didn't understand why my stuff wasn't selling. (I should let you know that when I first started out I was making and selling greeting cards, I moved on to home decor items using paper and wood and only in the last 3-4 years have added sewn items to my inventory, in the middle of all that I also had a home based book selling business that utilized some of the same placement strategies) It took me a while to realize that not all booths are the same. Sure there are some that cost more than others, but there is another major difference I didn't think about for a while.
That difference is the crowd. Why are people attending the event? Are they there to look around, go on rides, collect free stuff? Are they bringing children, shopping or playing? Let me give you a couple examples.
My neighbor asked me to head downtown to the Farmers' Market. We had to leave at 3:30 a.m. to stake our claim for a free spot. We got set up, froze and waited. People came, snatched up my neighbor's goodies and walked by mine. Frustrating. Here's why. People going to the farmer's market are going for produce, flowers and baked goods. They are there secondly to see any arts and crafts booths that might be available. They are going to buy things that emotionally appeal to them, or that have a price point they can justify. Items that would do well in this situation are things geared toward children (my neighbor was selling embellished onesies) , accessories and inexpensive items. There are always exceptions to every rule, but if you are thinking "my farmer's market has a really strong arts and crafts community"- then your farmer's market has morphed into a "boutique" which is another beast entirely and these assessments don't apply. 🙂
The same analysis holds true for community events. My city holds a week long celebration the first week of June every year. There is a carnival, vendor booths, food and entertainment. People are not coming to shop. They are coming to take children on rides, eat cotton candy and peruse the booths- mostly to get the free propaganda that they are handing out. (I know that's why we go through the booths) Most of the vendors in the booths are advertising their business, NOT selling handmade items. Sellers who do well are selling toys, children's accessories and jewelry. My booth would not do very well. (price points are too high for this event, and my inventory is not geared toward impulse purchases)
And last, but not least, is my evaluation process for boutique spaces. You can find a place in a boutique for as little as $15 and upwards of $900- that's quite a range! A very broad generalization of how to decide which one to pursue is "You get what you pay for". You need to think about your budget, your inventory and your time. Is this boutique close to you? Do you have enough stuff to sell to make back the entrance fee? Most of the time a higher priced boutique charges what they do because they have established a strong following and customer base. Typically they put a lot of effort into publicizing their event and they have a pretty good handle on what the sales figures for booths will be. In other words- they have people who are coming to SHOP! A good way to find good boutiques are to go to them. Look around, are there people there? Are they buying things? Another good source is other vendors. Talk to them about where they sell their stuff. Most vendors sell at more than one boutique and they are generally a helpful and open bunch.
Like I said at the beginning of this post- I am no expert. But I have learned the hard way more than once that some booths just aren't worth the money you spend. 🙂 Think about who is there and what they are there for before deciding to spend money on a space.
I'd love to hear any other advice or suggestions you have out there. Tips or tricks for finding good spaces to sell?
Coming up in this series I will be talking about what to sell, packaging ideas and booth set up. Let me know if you have any other suggestions for topics you'd like to see discussed.
Here's to a wonderful Holiday selling season. 🙂
XOXO,
Amy
Linked up to Home Stories from A2Z.