Here we are in the full swing of summer vacation. Day #3 to be exact. I almost thought we wouldn't make it past day #2, but somehow we all survived and lived to tell the tale. I think it was a mixture of let down from the weekend and unrealistic expectations on my part. I want this summer to be magical for my children, but there are realities of budget, time and just plain old real life that sometimes get in the way.
I decided to take a page from Eighteen25 and make a list of all the fun things I'd like to do with the kids this summer. I'm hoping having them in a prominent place will help me stay accountable for actually doing them.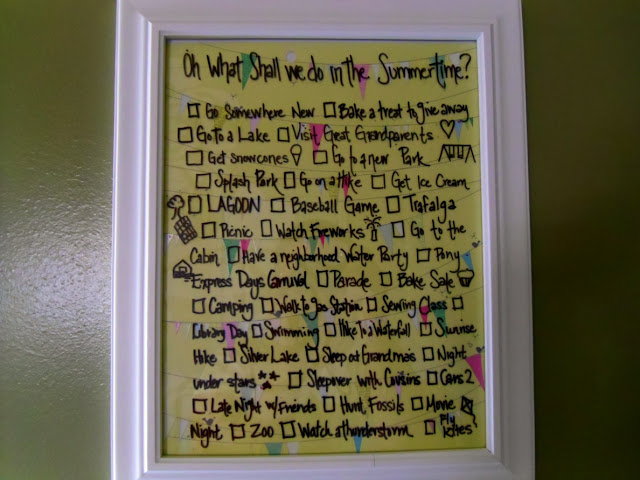 I kept the display very simple. A clearance frame from Joann's, scrapbook paper and a sharpie- and the list of things to do is done! I chose things we would do for sure and things I have always wanted to do but never got around to. I'm really hoping we'll get them all crossed off.
In fact- we have a couple things done already: the carnival, parade and today: the hike. We just walked the back way from the school up and over the hill. Simple, close- done!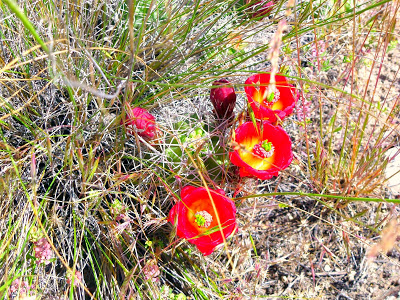 We found cactus' in bloom and had a really good time. To help make it exciting I brought along a pack of gum (5 packs for $1 at the dollar store) and some single serve packets of punch to put in their water bottles (also from the dollar store). Total cost- less than $1 for everyone to have a good time.
Simple really is better.
Maybe we really can get this list done.
xoxo,
Amy