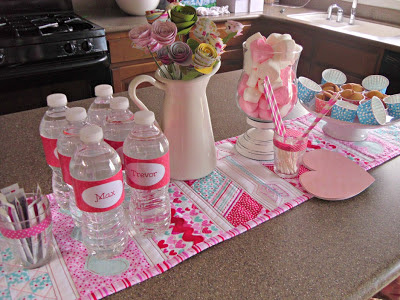 The week of love. Who can resist? Certainly not me.
Luckily it was my turn to host preschool. Amazingly, my letter was "V". (actually, I traded so that I could do the letter "v" the week of Valentine's Day- It should have been my turn next week. 😉 But, we'll just go ahead and assume it was fate.)
The first day of preschool was "V" is for volcano. We made a volcano out of playdough and had it erupt with baking soda and vinegar. The kids loved it. We also watched some you-tube videos of volcanoes erupting. They asked to watch one video of a scientist going down into a volcano to study it, as he repels down into the volcano, one little girl turned her head and said "I don't think I can watch this". They were so worried he was going to get hurt.
But the second day of preschool was reserved for all things Valentine and love. The first part of preschool we spent making 'vases' out of toilet paper rolls, along with flowers, so we can surprise our moms.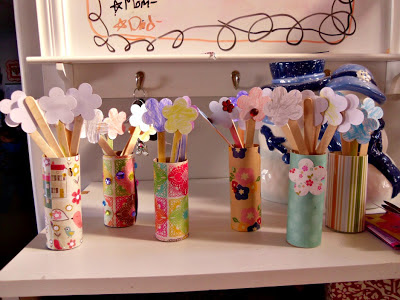 The kids had a blast picking out papers, coloring flowers and "stems" and decorating the papers.
After play time, it was time for our party. We borrowed one of the Minute to Win It games I had help prepare for the 5th grade party later in the week. Using a straw we shot cotton swabs at paper hearts cut out and placed on the floor. I just gave the kids their stuff and let them have at it. No winners, no losers. Then we had snacks- Vanilla wafers, Vanilla yogurt (we had done Vegetables the first day- they weren't really a hit 😉 ) and marshmallows. Then we decorated boxes.
The boxes I had picked up after Christmas last year from Walmart. I am finding that it's been very helpful to just stock up on Stuff to have on hand and use for projects like this. 🙂 Then we traded Valentines.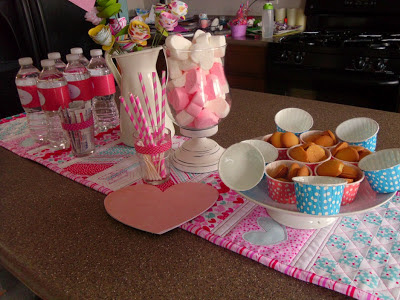 It was a very fun party.