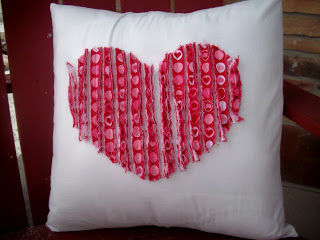 So, I think this will be the LAST Valentine pillow tutorial I am going to post this year- but that's not written in stone, and I had one last idea….we'll see. 😉 To make this pillow you will need a shape- in my case a heart and fabric. 🙂 I used cotton, but you could use flannel as well.
Pin your template to the fabric to cut out. I cut out six layers of the heart.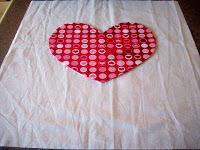 Center your shape on the pillow front.
Sew lines down the shape at your desired width. Mine were about 7/8″ but I would probably go smaller next time- I was just following the lines of circles on the fabric. I think 3/4″ or 5/8″ would probably be better.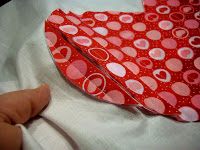 Cut between the sewn lines. Make sure you only cut the shape fabric, and not the pillow fabric. Wash and dry. You will have lots and lots of straggly string. Give your pillow a hair cut. You may want to wash it again. Finish the pillow back and sew to the front. (I was worried about the red bleeding so I washed the front alone, but you might want to wait until you sew the whole cover together, so you don't have to worry about the front panel fraying.)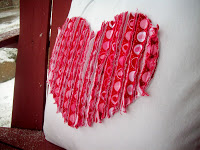 Stuff in your pillow form- and enjoy! I Big Puffy Heart this pillow!
*edited- I spent a couple hours hand fraying this pillow the rest of the way- go check it out here! (it looks so awesome!)