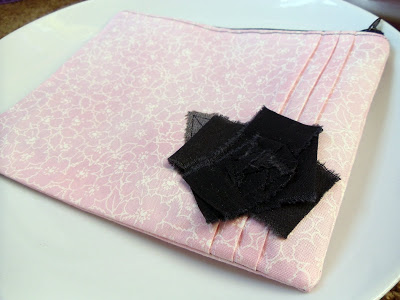 Dun, dun, dun…..That's how I used to feel every time I saw a project that required a zipper. I'd run the other way screaming. Okay, not really- but I would turn to a different project for sure! So, one of my goals for this year is to finally overcome my fear of zippers, because, really, they are pretty awesome. I started by trying out Anna's tutorial over at Noodlehead, man is that a cute pouch, right? But, I have to admit, I really struggled with getting the corners up by the zipper to actually look like corners- they're more like a girl with bad posture's silhouette. So I tried again and made a pleated pouch for my friend when I made her purse, still having corner issues. But, look up at the picture above, notice the corners? Yup, they actually look more like corners! I've realized it has to do with the zipper tape and how it's sewn into the seams. I still haven't figured it all they way out- but when I do you can bet there's going to be a tutorial.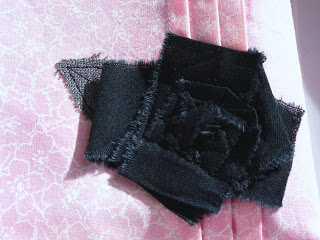 I made this little pin-tucked lovely for a dear friend who's expecting a baby girl in a couple weeks. In addition to some burp cloths I decided momma needed something pretty too so I threw this in just for fun.
I'm loving this flower. It's cute and just the right touch without adding too much bulk. I also LOVE that it's flat so I don't have to worry about it getting snagged when it's drifting through a purse or diaper bag.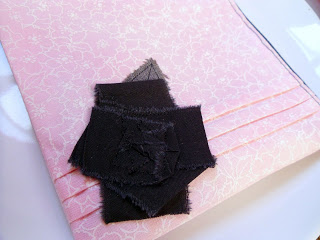 I'm also trying to do better at staging my pictures and getting the best possible lighting. *sigh* I still have so very much to learn! But, we'll get there. 🙂
So, here's to conquering fears and beating the beast into submission. I think I need to make more of these pouches though- they're addicting.