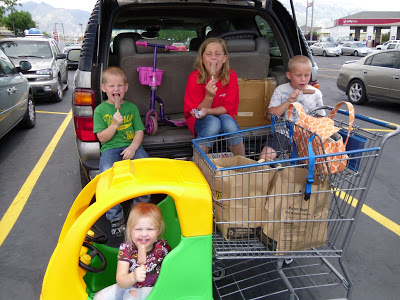 We didn't have time to get the ice cream home before it melted, so we're eating it in the back of the car in the parking lot of the grocery store. 🙂
There have been quite a few bloggers who have posted recently about "taking the summer off" so they could spend time with their children. Some are moving to new states, others are pregnant, some are just burned out.
I have been thinking about my own blog and the lack of attention it has received lately. How is this going to affect my numbers? Am I going to lose followers? What opportunities am I going to miss because I'm not giving it 110%?
It is during this downward spiral of panic that I begin to reflect on why I started my blog in the first place. It wasn't to gain popularity, or big numbers or make oodles of money. (although I do confess that I have always hoped to earn just a bit of income from my blog- to help support my craft habit 😉 ) I started this blog to share ideas, to put my spin on things, to make new friends and participate in a community I really enjoy. It is a place to share this part of me that yearns to shine and grow and often gets overlooked in the busyness that is motherhood.
But while I have thoroughly enjoyed my experience thus far, it is not without sacrifice that you get a blog to grow. It takes time to develop projects that are new and different, time to create the project and then more time writing and photographing a tutorial. It takes money for supplies and effort in taking "just right" photographs of everything. Then there's linking, networking, tweetchats, blog conferences, learning analytics and html…and of course the list goes on and on.
If you are also a blogger, you know all about the demands of a craft blog, if you are a reader, you might not think about all that it involves. Either way, I hope you take just a moment to tell those who create things you love to see/do/make that you appreciate their effort…But I digress.
The main purpose of this post is completely selfish and self-centered. It is a reassessment on my own behalf to remind myself that while craft blogging is fun, a dream job really, my "real" job is what requires my best efforts. Raising children is not entirely a super fun job. It is a whole lot of thankless work, lots of re-doing what's just been done, repetitive and dirty and downright gross at times.
But, it is priceless in it's rewards. To see a child learn something new, accomplish their goal, enjoy their life, overcome a challenge, become something they weren't before. To know that your efforts contributed in some way to that triumph is one of the most wonderful things in the world.
So, while craft blogging is in essence what keeps me sane and helps me be a better mother, when it gets in the way of my actual mothering it is time to modify and renew and …Focus.
Hopefully you won't see a huge change on the blog. I have just recently re- discovered my crafting mojo and and am itching to get going on some great new projects. I have a quilt almost finished I can't wait to show you and a guest post I'm really excited to share. Plus there are still quite a few projects I am working on for the finishing touches on the kitchen makeover and other great stuff lined up including the Point of View group that I love. (summer projects for this month- hint, hint) But behind the scenes, I am hoping there will be a lot more purposeful teaching, training and over-all better mothering going on.
It's going to take a lot of work, and if things are slow here at times, I hope you'll be patient with me. Know that I'm working on my "masterpiece" and it might take a few years before I know if it's a success. 🙂
XOXO,
Amy