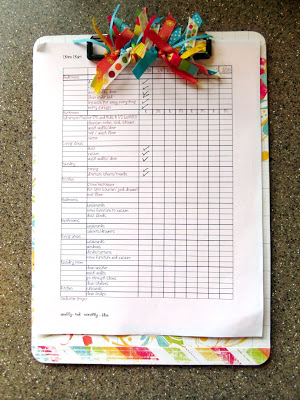 I know that starting over is usually reserved for New Year's and birthdays. Right now, though, I feel a need to regain control over my schedule. Many, many days I find myself sucked into the computer and all the things I need/want to do on it. I ignore my unmade bed, my messy kitchen and the dust ever accumulating on every surface in my home.
This is not how I want to live. I want my home to be functional, to smell nice and to be a place where people enjoy being. So, I'm giving my schedule a Fresh Start. I've written down the jobs that need to be done in my home on a regular basis. I've put them on a spreadsheet and printed it out. I've written down a schedule to follow daily and weekly. I'm going to set timers when I use the computer to keep me from getting sucked into the abyss of fantastic ideas. And I'm going to write to do lists for every day- to keep on track with my highest priorities.
This all sounds simple and obvious, but for me it was a revelation. Yesterday I was spiraling out of control and my wise sister told me to just stop. To get off the crazy roller coaster and to just be present with my children for a while. It worked! I realized that with all the exciting things going on with my blog and my business I had lost sight for a moment of what I truly love- and it's so nice to have it back.
I am happy to report that my sink is empty, the sheets on the bed are being washed, I am showered, dressed and hair and make up done. I have played and snuggled with my youngest children and now I'm ready to get to work on products for my new shop.
If you feel your life has gotten off track- Stop, Get off, Readjust your direction, and Start Over. Even if it's not January 1st. You have my permission. 😉
xoxo,
Amy
p.s. You can find the tutorial on how I make my covered clipboards here on my blog, and I am also guest posting today with the same tutorial over at I'm Topsy Turvy– if you haven't already- you should go check out Ashlee's cakes- she's amazing!!