Today I am so excited to be sharing a project over on Gwenny Penny! She's my first "official" blog friend- someone I met through my blog and not in person. 🙂 Her Haul out the Holly event started on Monday and runs through next week. Head on over there to see all the great projects that have been featured so far!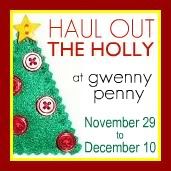 This is a sneak peek at my project:
And just a word of advice: if you're ever going to do a guest post, and think of a project that uses shiny, satiny fabric- come up with another project as quickly as you can! It's a bear to take good pictures (or try to anyway) and do your project justice. And..if you have any great photography tips to help this novice out- fire away, I'm all ears!