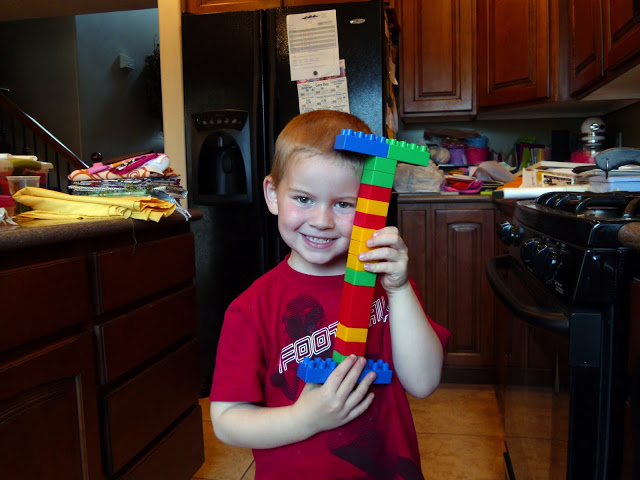 The other day I was busy working on a project, and the kids were having fun playing with blocks. My youngest son came into the kitchen and said, "Here, mom, this is for you." I asked him what it was for, and he said "it's an I, I is for I love you!" He wanted me to take a picture so I would always remember what it meant. He is such a sweetheart. When I tuck him into bed at night he asks me to pinky swear that we will love each other forever. It's not hard to agree to such a promise.
I worry about how our culture frowns on such sensitivity in boys and how, even though we love them when they're sweet little boys, we usually ask them to grow up into tough and guarded men. Why do we tell our sons that "boys don't cry" and to "get tough"? We fear for our sons if they are perceived as weak, but I wonder how much would change if we learned to embrace strengths other than physical ones? My boy has a strong heart- full of love and kindness for other people. He teases and torments his little sister, but he is also the first one to try to cheer her up if she's sad. If I embrace his empathy and his inclination to help and serve- and stop asking him to "get tough" I think he'll become an amazing man.
I would love to hear your perspectives on raising children, embracing who they are and fighting against long held stereotypes and unrealistic expectations.
I'm off to go work on raising my children. 😉
xoxo,
Amy
p.s. Hope everyone had a Wonderful Easter Weekend! Happy Monday.