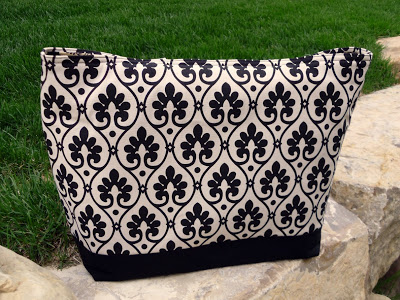 If I had known I would not have a chance to blog again until today, I would have thought twice about putting up my disaster photos on Monday. 🙂 Oh well, now you know my deep, dark secret. I am not a great housekeeper. Oh wait, you probably already figured that out long ago. haha. Anyway, with the birthday bash and the craziness that May turned into, this is only the second theme-day Thursday I've done for the month. But I do want to say how much I appreciated all the feedback and enthusiasm with the last post. So, I hope you don't mind, but I'm going to solicit opinions again in this post. Consider yourselves my focus group. 🙂 This bag got a lot of praise in the last post. As well it should. The background is a light tan and the design is classic and timeless.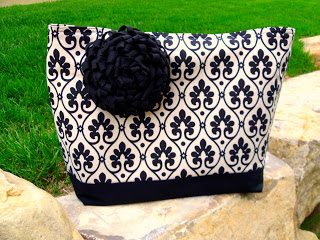 In keeping with the classic look, I went with a black flower. To keep it simple and refined.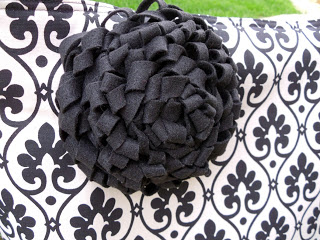 Close up of the Flower
But, I'm wondering if I should change it out? A red flower, or perhaps a pink one, might jazz it up and take it from beautiful to stunning? If you were to purchase this tote, would you like your choice of flower color, or just what I put on it? (the flowers already come on pins so they can be removed.)
Thanks in advance for all your advice. I am really getting excited about launching my shop. I just need to get some pictures done and the listing process will commence. I will keep you posted.
What's that? You want to know what the inside of this tote looks like? Okay!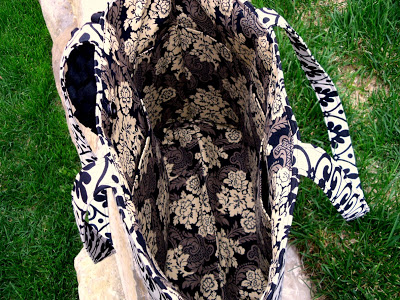 And just a couple more bits of business. Don't forget to enter the Giveaway here. And get your pillow posts dusted off and ready for the big POV reveal and link party Tomorrow!
See you then!