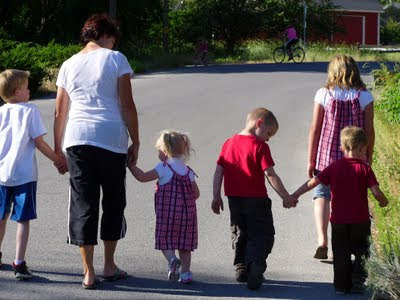 On a walk to see the neighborhood baby zebra.
I don't remember how old I was the first time I realized that my mom was really just a person. I think I was probably in college. I mean, I did go through the phase as a teenager when she was always wrong, but even then she was still right. My mom always seemed to have it together. She was confident and assured and on top of things.
And then I realized that she was more than that. She was also human, with human frailties and faults and doubts and worries. And that she was doing her best and worrying that it wasn't enough.
I just wanted to take a minute today to tell her publicly that she did more than enough. Now that I'm a mother, I'm starting to see just how much she sacrificed and endured for our well- being. All of the energy my parents put into creating memories for us- at the cabin, cutting down Christmas trees, boating- it is amazing the opportunities we were given with the resources my parents had.
My mom is a very spiritual person, and she used that to her advantage. She called upon wisdom greater than her own to guide and teach and train her family. And not to brag or anything, but I think she did a pretty good job- I mean, I'm her kid and I'm pretty great. 😉 All of her kids are pretty great.
I have had a few experiences this weekend that have made me realize how fragile and transient this life is. I am trying to seize today and make it matter. And the first step: Telling my mom how much I love her.
So mom,
I love you.
More than you could ever know.
Thank you.
For your sacrifice, your time and most importantly- your love.
You continue to teach me, guide me and help me find my way.
You are a precious gift from God, for me and our whole family.
We will love you forever.
xoxo,
Amy