I have not perished. I am still here. Physically if not completely mentally. Life is moving in a fast-forward pace. Out-stripping my ambition and energy levels. Never ending lists of must-dos and have-to's followed closely by the occasional want-to. Some fun commissioned work (always nice when the work you are doing is paid for) keeping me on my toes. Blog projects are few and far between. Thankfully there are Point of View commitments and a fun birthday party to keep things interesting around here or I fear I would lose your interest altogether.
Balance seems to be a never-ending theme in these parts. Within me there is a mighty battle raging between the mother-parts and the creative-parts and the Amy-parts. Who wins out is often a last second call at any given time of day. Is there such a thing as the perfect balance? I am thinking- no. Balance is not something you achieve and then you are done with. Have you ever watched the circus-man with his plates on a stick? He is moving and adjusting and arranging and running and keeping up and changing priorities as they arise. Hmm… perhaps we need a trip to the circus to give us some life skills study time.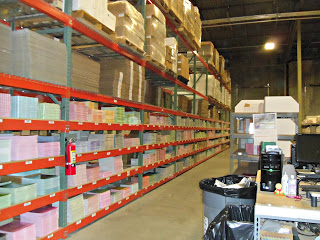 Last week I had the chance to go here. No, wait, this picture doesn't do it justice (although are you drooling over all those stacks of lovely paper?)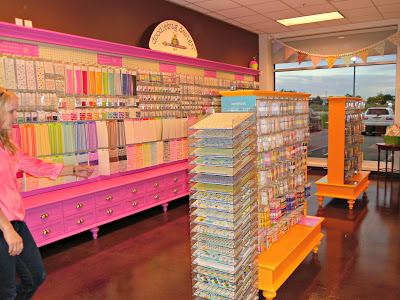 This picture is better, even though it was taken with my silly point and shoot camera. The colors in this office are amazing. The entire facility is bright, cheerful, well thought out and just plain fun. There is a work out room, bathrooms with showers (and coordinating shampoo to match the walls- get out!!), a lunch room complete with soda machine and a kids room with the most amazing orange couch for gaming and lounging and playing while mom (or dad) is busy working. It's the kind of space where ideas and inspiration come easily. Seriously, how could you not be inspired when you're surrounded by this much fun craft stuff?
These are the offices of Doodlebug Design Inc. A design company that has created scrapbooking and crafting lines and has more recently begun designing fabric for Riley Blake Designs. They have some amazing business ideas- such as maintaining their color palate over the 12 years they have been established- allowing older lines to coordinate with newer products. But what inspired me most is the story of how they started- Cynthea (sorry I don't have a picture of her) is the creative mind behind this business and it all started with a simple project. She wanted to throw a baby shower for her sister, but she couldn't find exactly what she was looking for. She drew up the sketches of the designs she wanted, cashed in a sales trip she had won to pay for the printing of her designs (she worked for a printer at the time) and a friend took them to market where she sold them. It took years, working in the basement in the middle of the night, taking a leap to move into a warehouse that at first seemed impossible to fill, to growing out of the first warehouse- to finally building this amazing building- that they are now filling quickly. And here she sits, the head of a successful, creative business. I am so inspired by her story and the creativity of her whole family (her sister's husband built all that amazing furniture in the show room and her sister has mad skills too!).
I'm sharing this with you not to brag that I live in the creative Mecca of the world (which I do ;P) but to put into focus my own dilemma. In 2 short months I will be mama bear to 5 little cubs. That is a lot of work in and of itself. It is priority #1 right now. They need me- all of them, and I love being the mother. But I am finding myself in a place I never expected, a place where mothering isn't all of who I am. A place where leading the troops is the most important thing, but not the only thing that moves me and lifts me and IS me.
And so I dream. I dream of success and future plans and colors and skills. I dream of a business and opportunities and projects. And I plan and practice and build abilities. I try to reach out and grow and listen and learn and file away gems of wisdom and insight.
Right now I am preparing. I know that at some point- that will come all too quickly- I will not be the focus of these little people's lives. If I have done my job right, they will have larger visions than me and our home and will be spreading wings and moving forward and taking off. And so, instead of putting off the things that I would like to do in that day- I am doing them now. Working to become the person I will need to be to turn all these dreams and schemes into reality. Prepared with my own ambition and dreams so that when my children are ready to fly- I am ready to fly right along with them. To pursue our separate dreams together, dancing off above the horizon in a dance of freedom and joy.
And in the mean time, trying to keep my feet firmly rooted in our home, amongst our own little world of colors and laughter and teasing. To hold my ambition in check, while still allowing it to grow.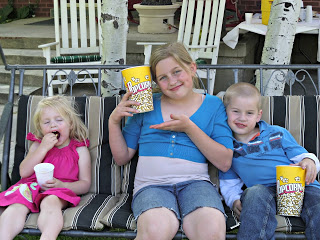 Because while I dream of designing patterns and fabric and other amazing goodness. These people are the biggest part of my dreams. Seeing them happy, confident and capable. And while it doesn't mean that there can't be other aspects of my life. Keeping them first, even if other plates fall by the way side for a time, is the most important dream of all.
What are you dreaming of today?
XOXO,
Amy