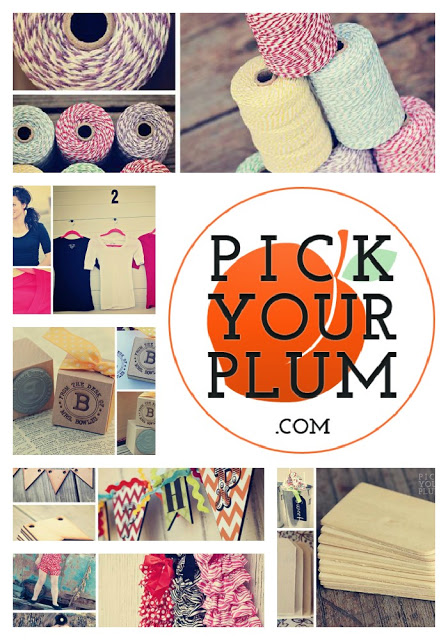 I don't know how many of you have heard of Pick Your Plum, but if you haven't yet, get ready to thank me!! Pick Your Plum is a daily deals site where they offer everything from home decor items, to fashion, to crafty and baking goodies. Some items can be personalized, some are ready to go and some are just waiting for your creative juices to give them life. (***this is where I have to insert a personal warning though, I cannot be responsible for the temptation to purchase anything and everything they post, you are responsible for your own self control, I only have enough for me, once in a while***) 😉
If you're interested in finding out what the daily deal is you can go to their website: http://pickyourplum.com/
A window will pop up and suggest you sign up for their e-mail- which I strongly recommend.
BUT if you're determined to be the first neighbor on the block to be in the know, you will definitely want to follow them on facebook: https://www.facebook.com/pickyourplum, because that's where they post the deals first (at 7 a.m. MST usually).
(**time for another tip: if the deal is something you REALLY want, don't hesitate, chances are you're not alone and things can go FAST!**)
Pick Your Plum has been really generous and donated swag to a few of the events I've had the chance to participate in, I have loved EVERYTHING I have received from them. AND- I've bought more than my fair share of goodies directly from them- in fact, I have a couple of projects coming up this week to show you how I've used some of the awesome stuff I've bought from them. 🙂
And since not all of you have been able to come to these events and get your own Pick Your Plum goodies, I have teamed up with them today to offer one Ameroonie Designs reader a chance to win your very own SWAG. $50 worth of Pick Your Plum awesomeness, delivered right to your door!! All you have to do is leave a comment, easy as pie.
(This giveaway is open to U.S. postal addresses only- sorry to all my international friends- I still love you! :))
A winner will be selected via random.org next week. Prize is the sole responsibility of Pick Your Plum and will be sent directly from them to the address provided by the winner. Winner must be 18 years or older. Odds of winning are based on the number of entries received.
**One last disclaimer: I have signed up to be an affiliate with Pick Your Plum. Purchases made through my site and link will generate income on my behalf. All opinions though are 100% mine, I genuinely LOVE Pick Your Plum and honestly do purchase and use their products**
Good Luck! We'll chat soon!
XOXO,
Amy