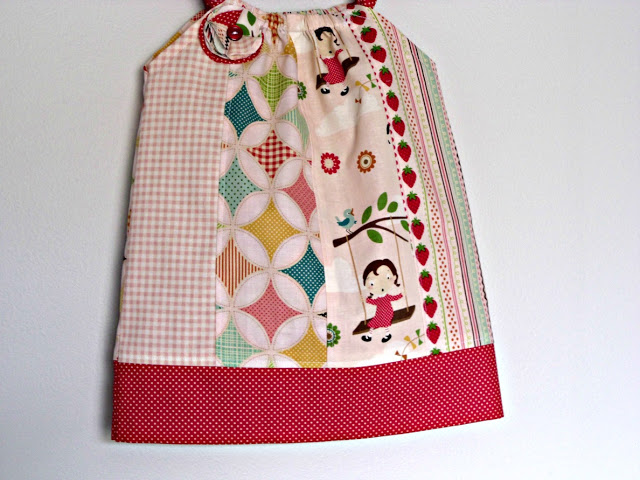 My sweet friend is expecting her 5th baby. And since the first 4 were boys (all delightful by the way. 🙂 ) we were all ecstatic to learn she was going to be welcoming a GIRL!! So of course a shower to celebrate all things pink was definitely in order. In fact, I was so excited for her, I even broke into my fat quarter bundle of Riley Blake Fly a Kite fabric I won from Maureen Cracknell Handmade, to create this dress. (in case you were wondering- it was REALLY hard to do, because I just love looking at pretty piles of coordinating fabric sitting on my shelf)
I followed this tutorial for the pillowcase dress from Destri at the Mother Huddle. I think she's brilliant for having elastic in the neck casing so the dress doesn't have to be tied anywhere, just slip it on over baby's head. She even has this amazing sizing guide so you can make them in a range of sizes. The generosity of bloggers is just astounding at times.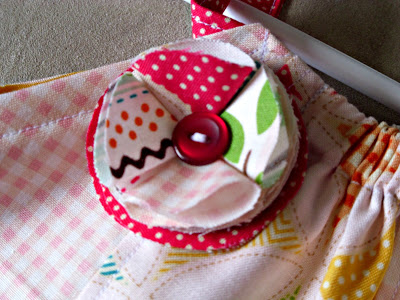 This is a detail of the little flower I made to embellish the dress. It just wouldn't be girly enough without a bow or flower, would it? 🙂
The shower was so fun (I was a horrible blogger and didn't take any pictures of it) and we are so excited to welcome this new baby girl into our neighborhood.
Have a wonderful Tuesday.
XOXO,
Amy
linked up to Topsy Turvy Tuesday at I'm Topsy Turvy