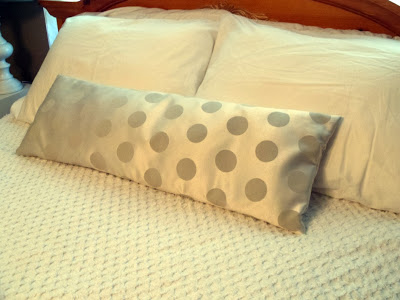 Sometimes a pillow needs embellishments. A bow, a flower, a pin tuck- Something.
And sometimes a pillow just needs some really pretty fabric and to be left alone.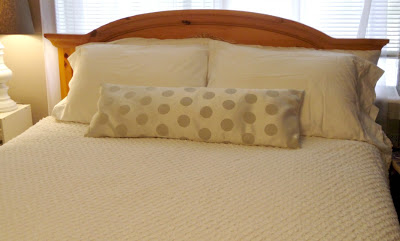 My sister found this great polka dot fabric and asked me to recover this pillow for her. It was from my grandpa and it had this really out of date tapestry fabric on it, but it was an awesome shape. I was happy to sew it up for her, especially since the fabric was so pretty, I wouldn't have to sew anything but straight lines. And, since this fabric has a satin sheen to it, it wouldn't launder well anyway, so we skipped the envelope closure and just did a blind stitch to sew up the opening I left for turning.
I'm loving the look of shades of white and cream on this bed. I'm tempted to try this look on my couch in the living room, which has a tapestry fabric as well (one I'm really trying to hide).
But, I'm also hoping to make a slipcover for the couch, so I'm not sure if I should just wait for the slipcover and then make bright happy pillows (with a neutral slipcover of course). Or, just make up the neutral pillows for now until I can get the time/money to make the slipcover.
Oh the thoughts that spin round and round in my head. I'd love your opinions/ ideas. Any suggestions for fixing furniture you inherited on a VERY tight budget?
XOXO,
Amy