This post is part of my partnership with Husqvarna Viking as a sewing ambassador. The project and opinions are my own.
This month I decided to sew a Strawberry Mini quilt to help beat back the dreary gray skies and bleak landscape of the last gasp of winter. As the snow melts, leaving behind mud and exposing the weathered remnants of last year's summer I really needed something to bring some color and life to my home.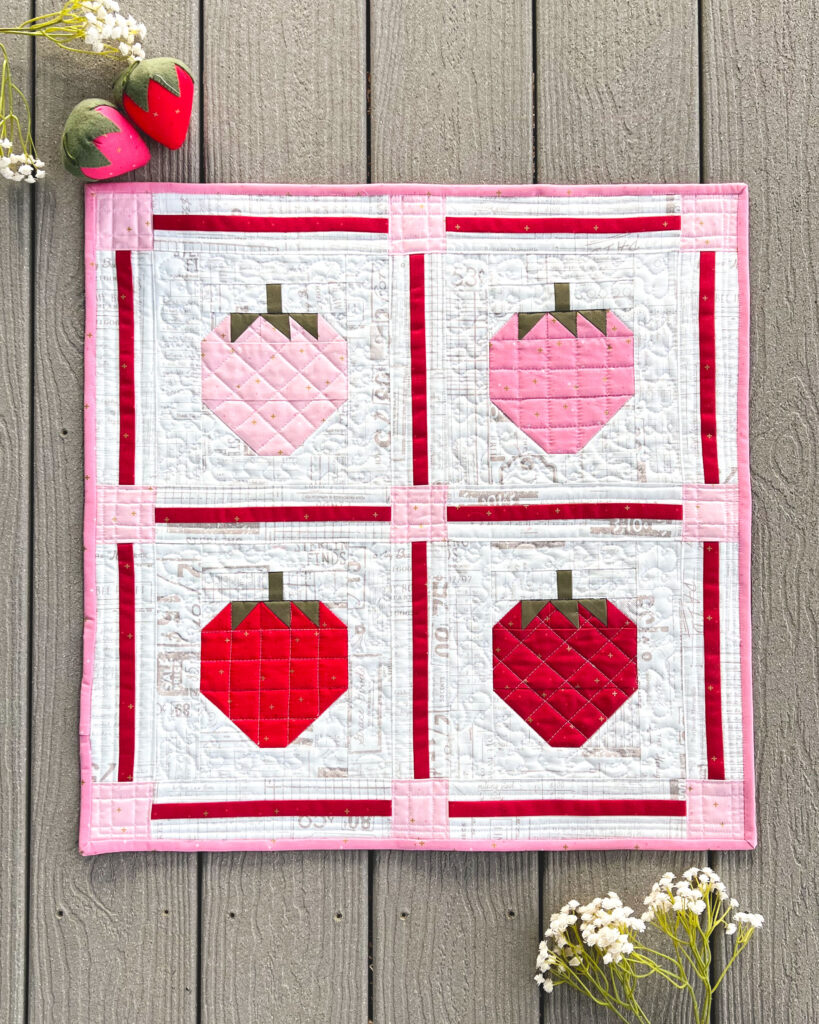 This Strawberry Mini Quilt pattern comes in two sizes- a 12″ mini and a 22″ table topper. Both are very scrap friendly and quick to sew. Traditionally pieced, this pattern is a beginner friendly sew.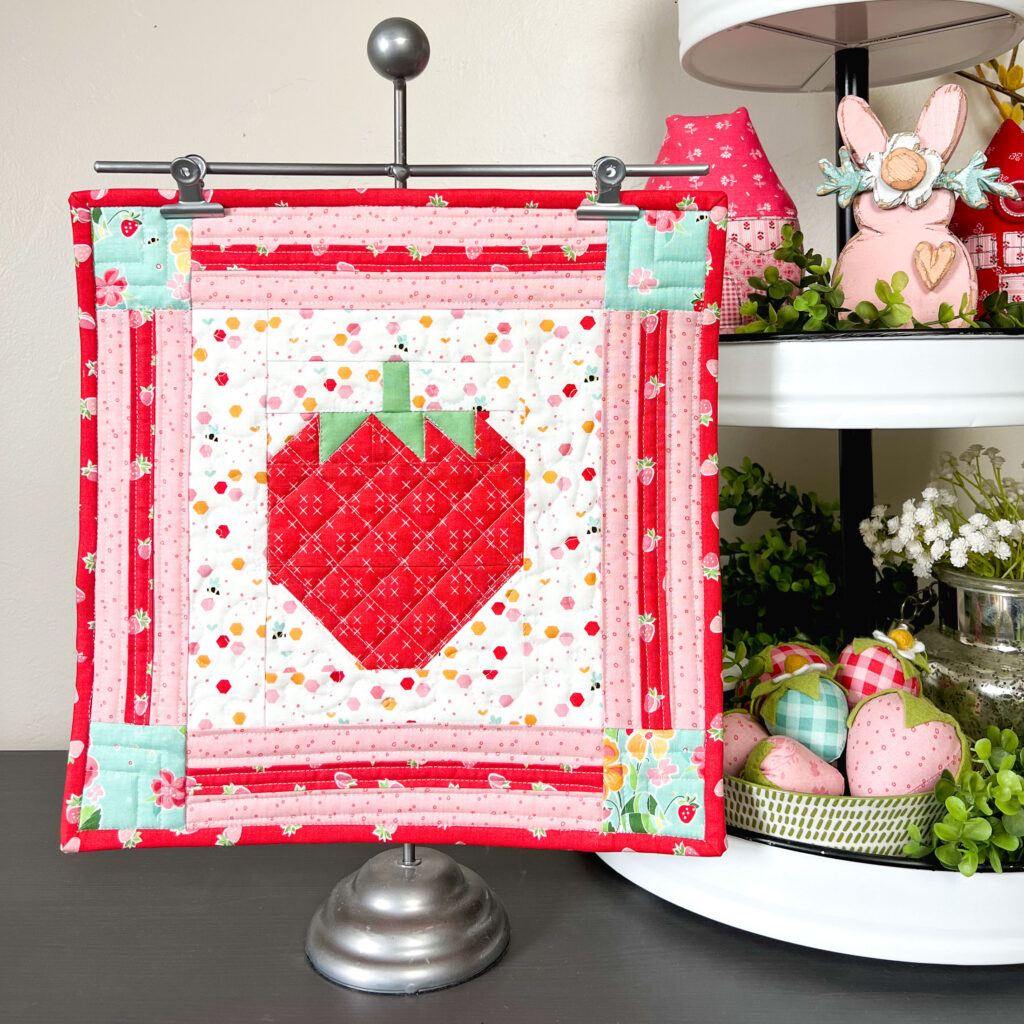 Tips to Sew Your Strawberry Mini Quilt
It's always more fun to work on a project that you are confident will turn out how you want. Here are some tips and tricks to make your experience delightful.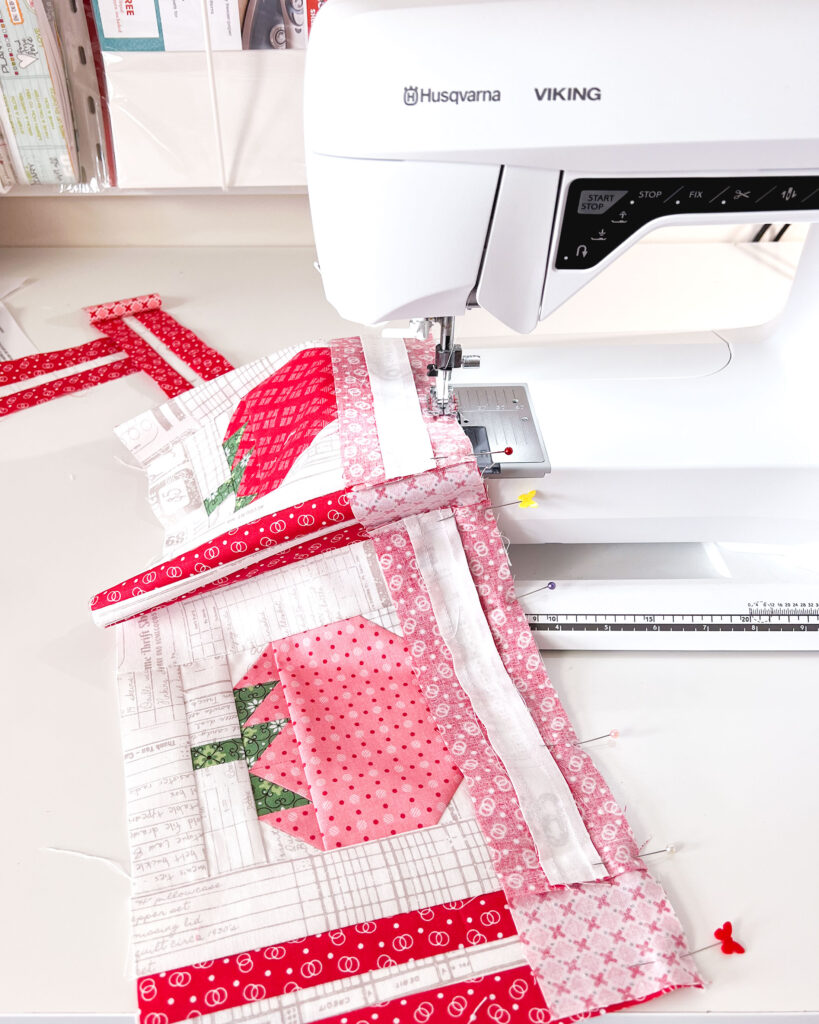 First tip, if your sewing machine has a 1/4″ foot- I strongly encourage you to use it. It helps so much with accurate piecing. If not, take a bit of time to figure out where an exact 1/4″ seam is on your machine. My Opal 690Q came with a 1/4″ foot and I am just amazed at how much of a difference it has made in my piecing.
Second, take the time to pin, especially when adding the borders. If you have followed the pressing instructions in the pattern, the cornerstone piece should nest with the border pieces, allowing nice corners on your quilt.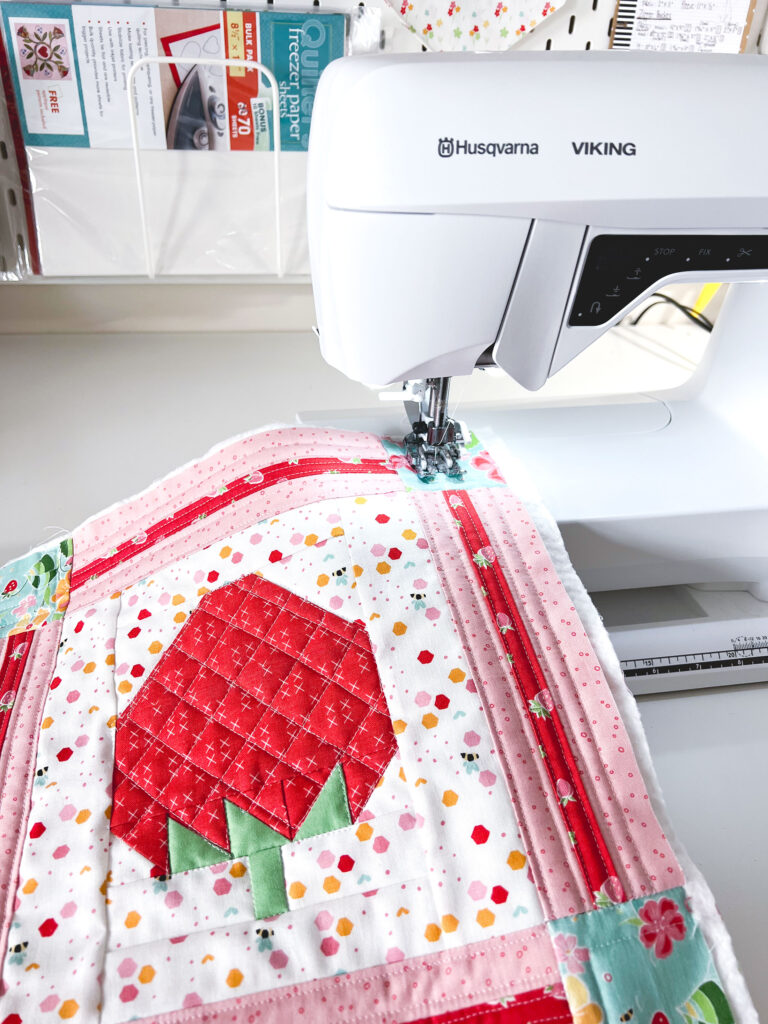 Finally, small projects like this are a perfect time to explore quilting on your machine. Use your walking foot to ease all the layers of fabric and batting through your machine. Or, try your hand at free motion quilting. I prefer to use a spring loaded free motion foot- I find it easier to keep the stitches looking good. Make sure to test your settings before working on your quilt, adjust the tension as necessary to make sure you aren't pulling stitches either to the front or the back. On my machine I end up changing the tension to 3.6.
If you are new to quilting and binding projects is intimidating to you, I have a whole Play list of videos to help you out on my YouTube channel.
Create your own unique Strawberry Mini Quilt
Try swapping out fabrics to create different looks. I love this bold border version it adds such a statement. You could even change the thin fabric piece in the center of the border for another color to add even more interest and variety.
The options are endless when it comes to fabric selection, which is one of my favorite parts of quilting and creating.
Create an entire strawberry patch
Add stuffed berries to a bowl, create a mini pillow or add some embroidery to your decor.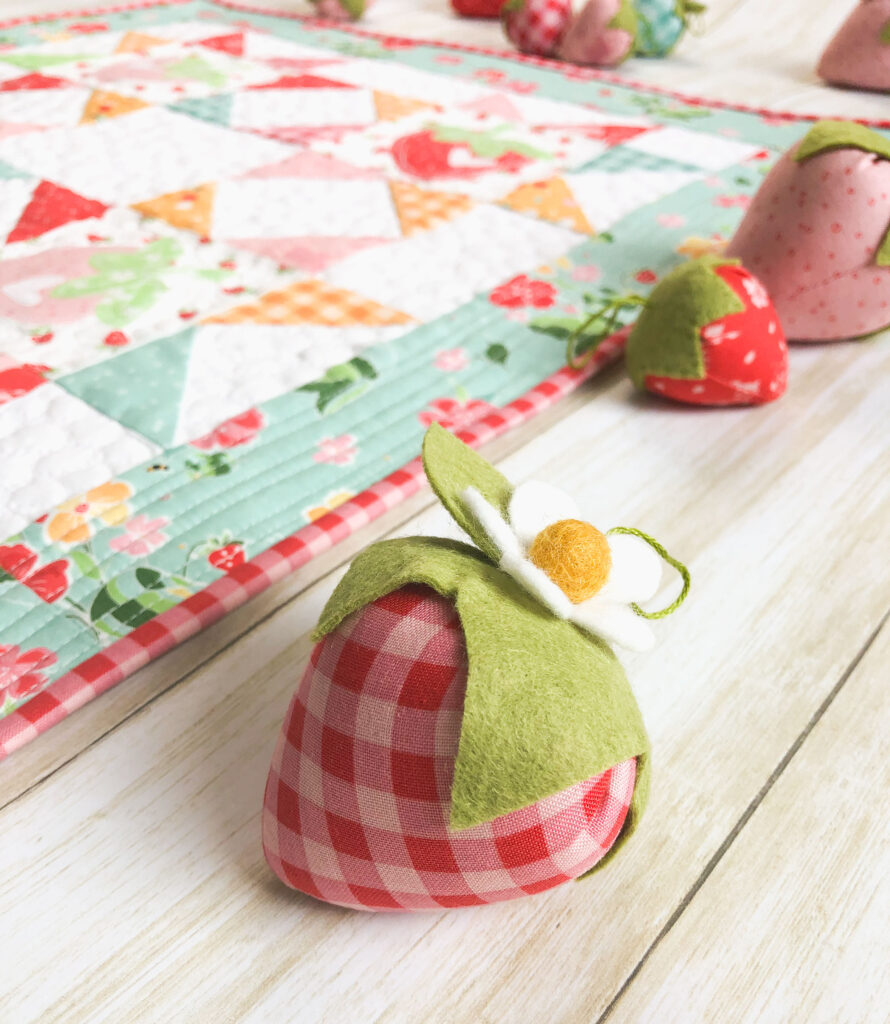 Juicy Berry Pattern can be found in my Etsy shop here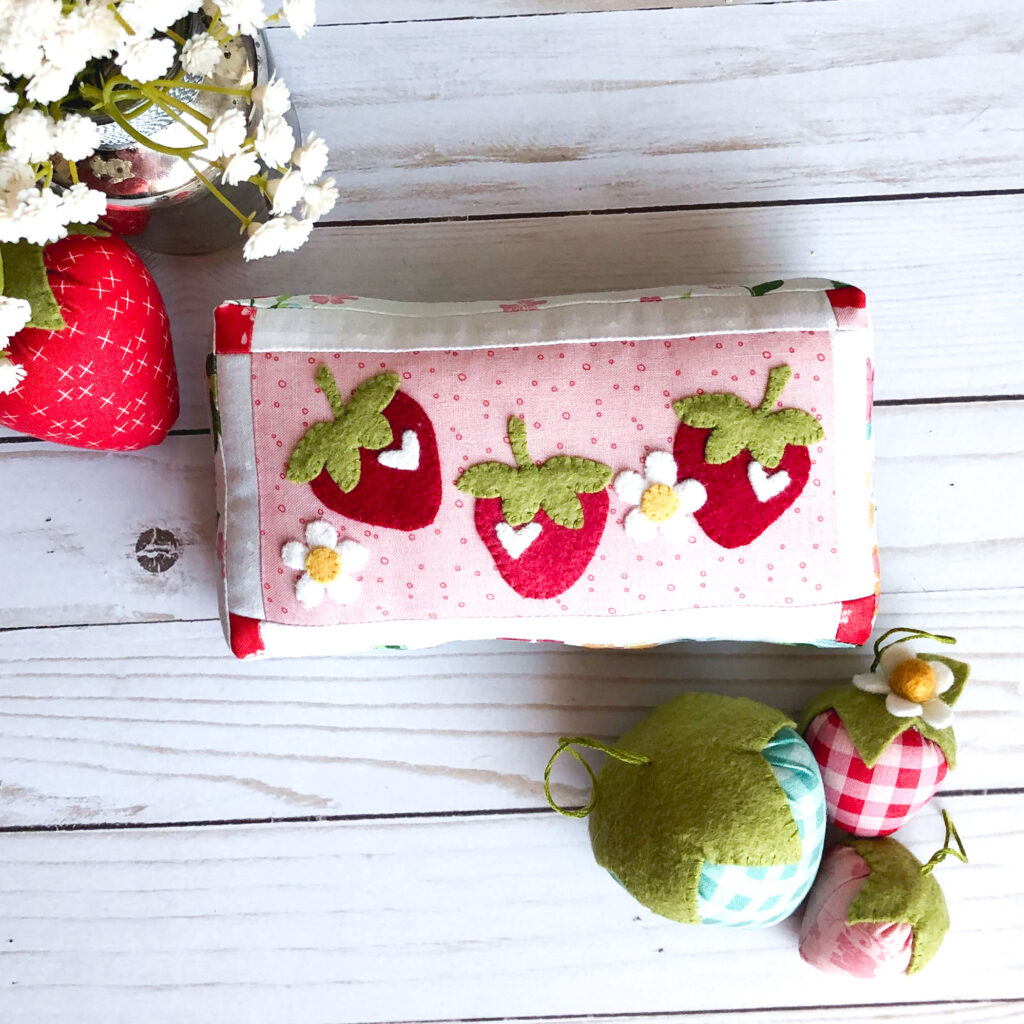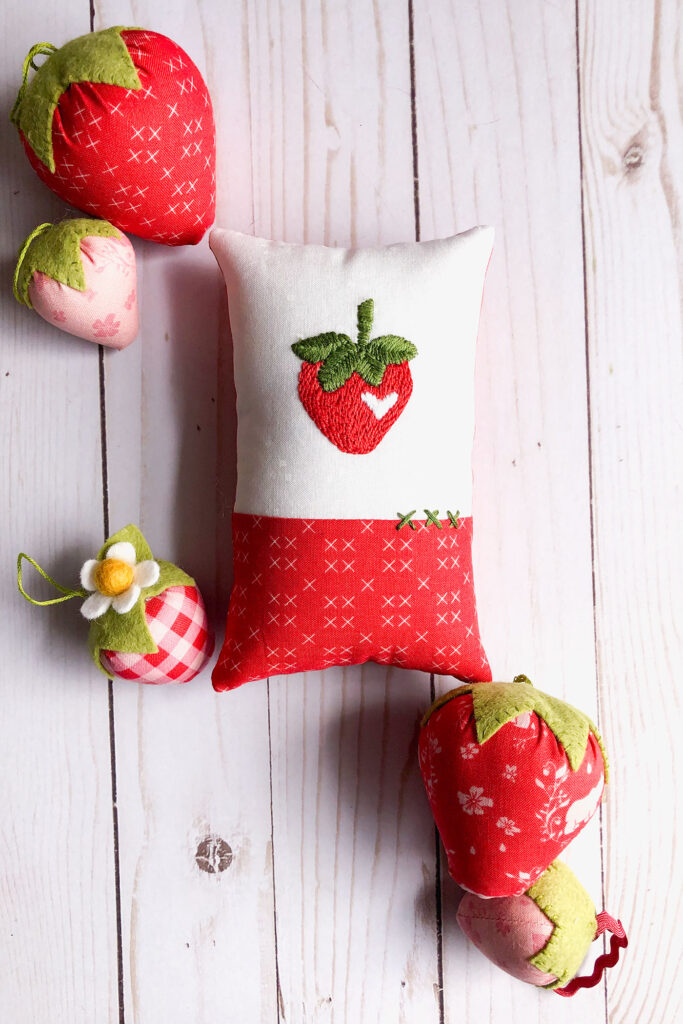 Embroidered Strawberry mini pillow tutorial can be found here.
How many strawberries do you think you are going to make? Happy Sewing! Amy