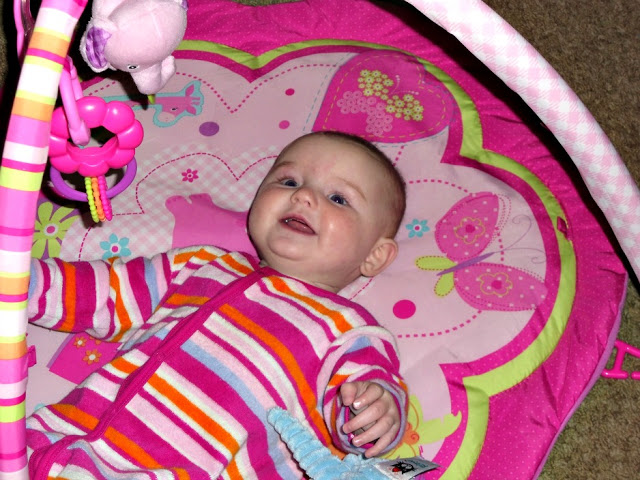 How can you be disappointed with this face?
I have to admit, having 5 children was not in our plan. We were really happy with 4.
Said goodbye to baby stuff, got rid of said baby stuff and made grand plans for the future.
Then our plans changed. 😉
It has taken some adjusting. I'll be honest and say that I have not very gracefully let go of the grand plans I made almost 2 years ago. I have pushed and pulled and cried and tried to find some way to not let this detour derail all my work.
Then, last week, I had a chance to visit with some friends. A friend told me that her friend called the year after giving birth "The Year of the Baby." And in that one simple sentence my perspective was flipped.
Years will come when I will have the time and freedom to make all the grandiose plans my heart desires. But I only have 12 short months to soak up all this toothless gorgeousness. Only 12 months to work for giggles, cuddle sleepy eyelids and kiss and love this fresh smelling sweetness.
Even as I write this, I have a 4 year old sleeping on the sofa next to me running a fever. I feel motherhood calling me.
So, I might be back tomorrow, it might not be until Friday. I will be around, but if time passes and you don't hear from me, now you'll know why. I'm either soaking up this babyhood, or sleeping.
P.S. This week is our Point of View reveal. Hopefully I'll have time to come back and introduce the year to you properly, but this month's theme is Door. If you want some fabulous ideas- you can check out my Pinterest board here. You can tell I'm loving bold colors, can't you? I wonder if it would be too much for the basement to have multicolored doors? hmmmm….