The fabric for this post was provided by Poppie Cotton for participation in their blog tour. The projects and opinions are all mine.
Celebrating Valentine's Day is so much fun. I love any holiday that encourages you to express love to people in your life! And surrounding myself with reminders to express my feelings is part of the fun. I am going to share some Valentine's Day decorations you will love. The patterns for these are not quite finished, but will be soon! Make sure to sign up for my newsletter so you don't miss out on any of the fun! (you will find the sign up form later in the post)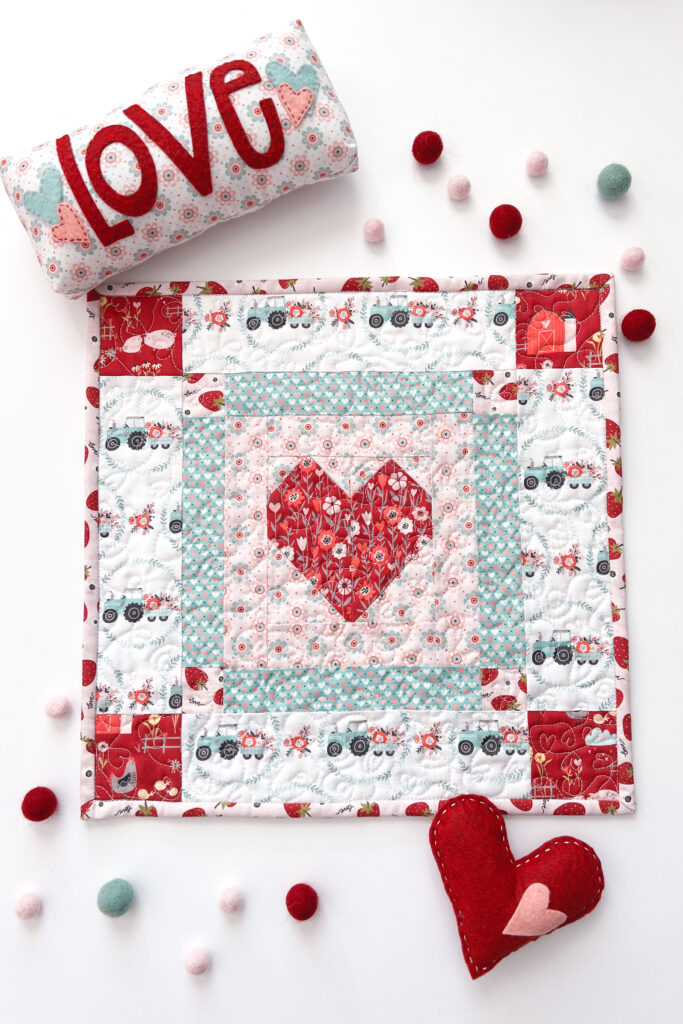 Valentine's Day Decorations with I (heart) my Farmer Fabric
The fabric I used in these projects is from Poppie Cotton called I (heart) my Farmer. It has the cutest farm scenes, with pairs of loving animals no less! The pink is a lovely blush, the deep barn red is so rich and warm and the aqua additions round out the collection perfectly. It's such a fun play on traditional Valentine's Day themed fabric.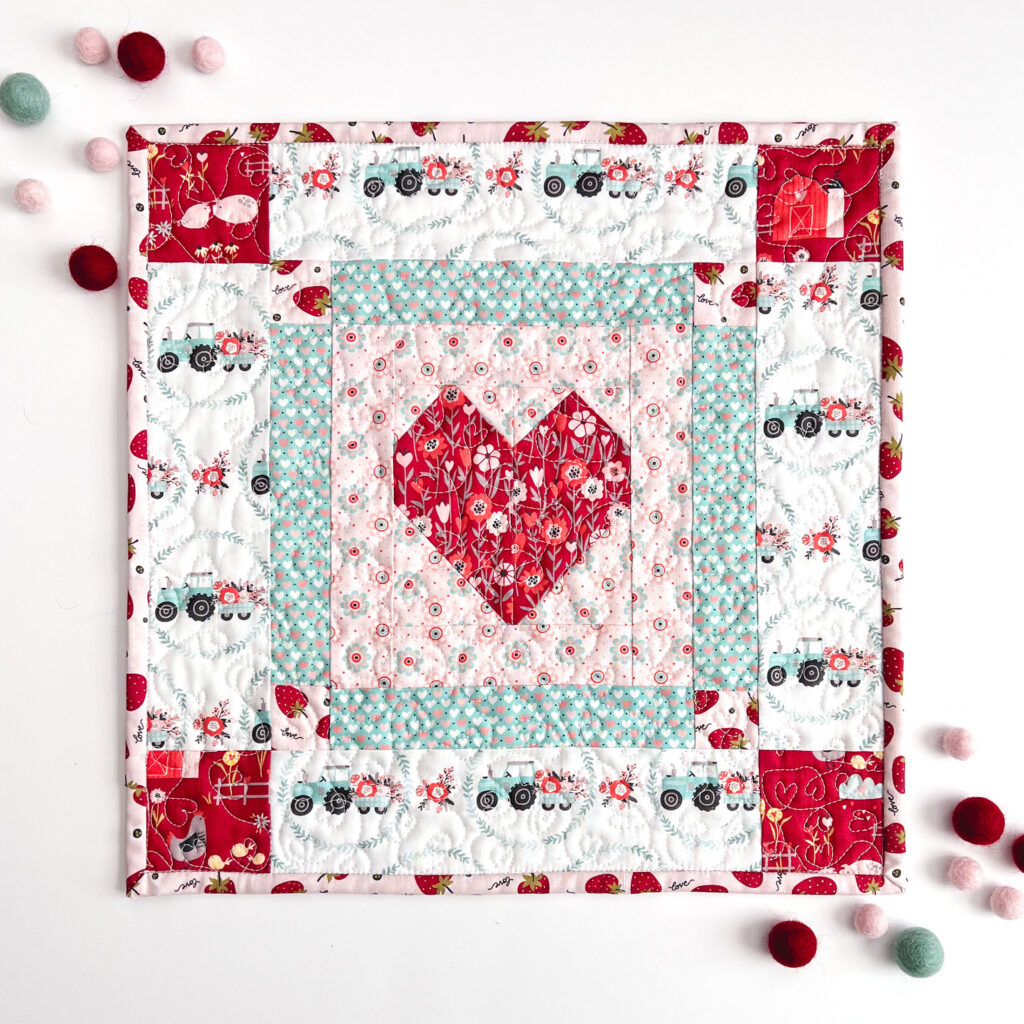 Valetine's Day Mini Quilt
The first project I made was this fun 12″ mini quilt. If you follow me on Instagram, you will know that I have started creating a series of these darling bitty quilts. I wanted to feature a heart and I love that the borders add so much texture and interest to the mini. The pattern for this project will be released in just a couple of weeks in my Etsy shop.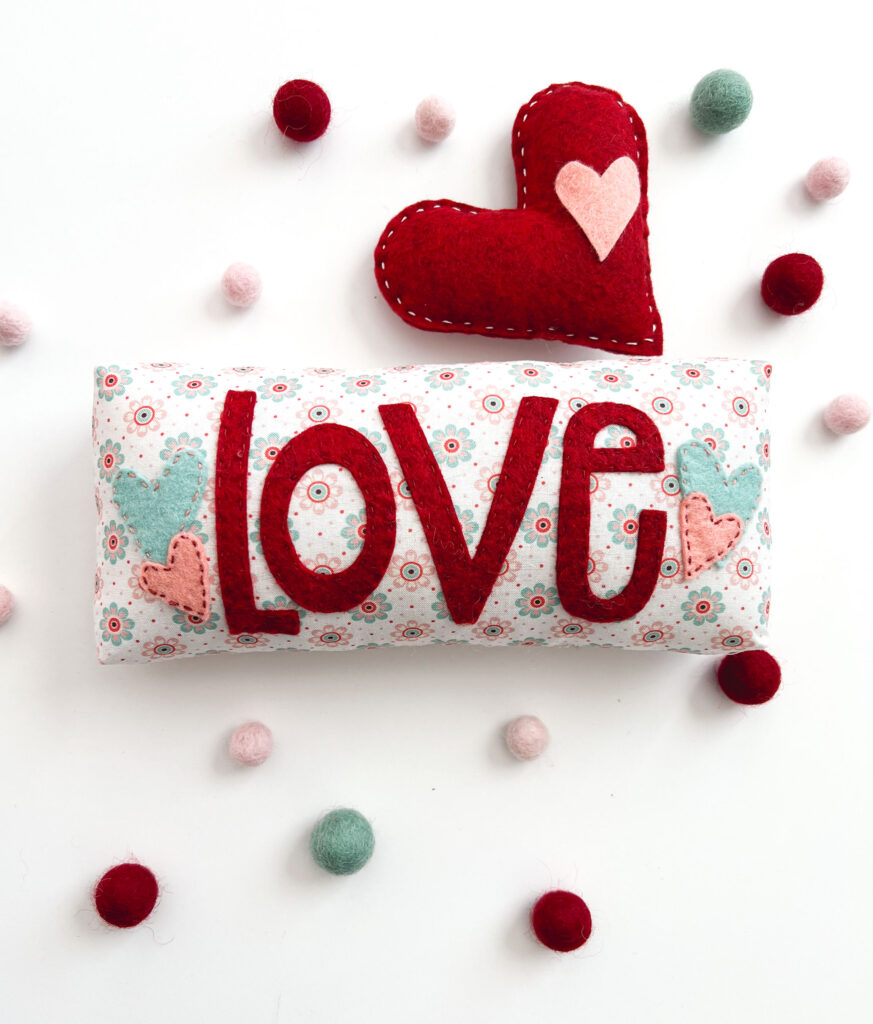 Tiered Tray decor for Valentine's Day
I couldn't stop at just the one project though. These little tiered tray pieces just had to be made. At least one of these projects will end up being a free download in my newsletter- so if you aren't signed up, just fill out the form below. I love working with felt and the texture it gives these quick and easy projects is just so much fun! The mini pillow is just 4″ high and about 7″ wide.
I can't wait to surround myself with love! Once the opulence of Christmas is put away, it will be so nice to have some fun decorations to pull out!