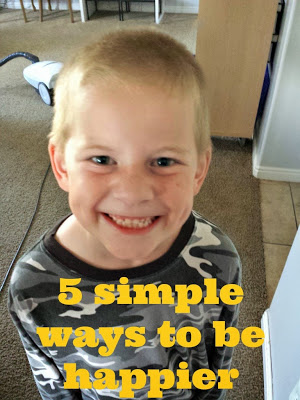 *disclaimer* I was given a Clicker Kit from Hilary Weeks to try. All opinions and stories are my own. Also, purchasing the clicker start up kit through the link will result in a small monetary affiliate payment for me. That being said, I really hope you'll read this post, it's worth it. 🙂
Back in September I had the opportunity to attend a retreat hosted by Amanda Herring of The Quilted Fish. As part of our preparation, the photography instructor offered us daily prompts to get our creative juices flowing. One day the prompt she gave us was the word Bliss.
It seemed innocent enough, but what I found out that day made a huge impact on me. It changed the way I see happiness.
We live in a very unhappy world. One that sells dissatisfaction and misery. One that, in an effort to make a buck, tries to tell us that we will never have/ be/ do enough.
I am here to tell you that the world is wrong. We are not here to be unhappy. And I have 5 easy things you can do today to turn that frown upside down.

1. Change your focus.
When I first saw the opportunity to try out the clicker, I was thrilled. I had seen Hilary's video posted online before and knew it would fit right into my new happiness perspective. I couldn't wait to try it out and see if I was right.
What I discovered was amazing.

It was a repeat of what the Bliss prompt had done. It changed my focus. I found myself looking for things that made me happy. One happy thought led to another happy thought.

The day of the Bliss prompt was a normal everyday kind of day. Kids had to be cared for, work had to be done. Laundry, dinner- the list goes on. But as I found myself, phone camera in hand, looking for my Bliss- I realized that it was everywhere.

In my daughter doing her jobs without nagging, in my son's smiling face, in the flowers and the sunshine. Even in the laundry. Well, maybe not in the laundry. 😉

Happiness is where you look for it.

2. Allow yourself to be happy.

We seem to live in a world where unhappiness and misery are worn almost as a badge of honor. We like to gripe and complain about how busy we are, or what we don't have, or what we do have. If you don't believe me, just go spend a few minutes on Facebook.

But there is so much good and wonderful and uplifting in the world. Let that goodness and joy fill your soul and mind. Give it room to breathe and swell and grow. Nourish it with positive thoughts, good friends and happy music.

Happiness grows when you don't squash it.

3. Make your happy place, wherever you are.

If you can't find happiness in your own life, in your own home, in your own shoes, then you won't find it anywhere. Well, except maybe Hawaii. 😉 But that doesn't mean you can't add to the level of happiness that surrounds you.

Bring colors into your life that make you happy, print off a quote, bring in some flowers, add a new scent to your wax warmer. Place little bits of happy all around you. And promise to yourself that when you see those little bits of happy, you'll smile.

Because smiling is the birthplace of happiness.

4. Remind yourself to smile.

When you look in the mirror, or catch your reflection in the store window, or think something happy- SMILE. Because as we just learned in #3- Smiling is the birthplace of happiness.

Place reminders all around you- on notes stuck to mirrors, on the back of your hand if you need to.

My friend has a great family game where they stick googly eyes on random things. Do that! And spread the happy. Your husband will love seeing silly eyes on the mustard jar in the fridge. And even if he doesn't love it, I bet you he'll smile anyway. Win!
Sometimes happiness requires effort.

5. Acknowledge your happiness.

This is where the clicker came in handy.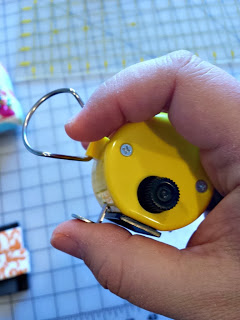 We are what we think.

More than we realize.

And the more weight we give to the things we think, the more we can impact the happiness level in our lives. The simple act of clicking a happy thought, or writing it down, or consciously smiling at something that makes us happy- gives weight and power to that thought.
Thoughts are the food of happiness.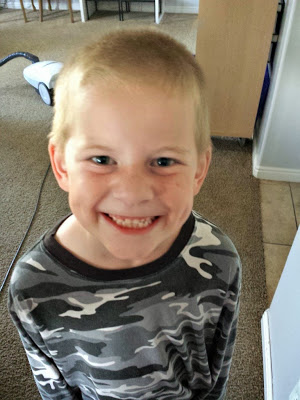 I'm going to wrap this up with one last thought. I was so excited when I got my starter kit in the mail. I opened it up and explained to my husband what it was all about. I set it out and prepared to click and be happy.

The next day my sweet son came home from school. He came into the kitchen and said "Mom, I need the clicker." I told him it was Mom's project and I needed them to leave it alone. He gave me a frustrated look and said, "So, you're just going to change your life and not change our lives too?"

I immediately handed over the clicker and let him add his happy thoughts to mine.
Make sure you share your happiness.

Now I'm not saying that life won't be hard. That there won't ever be days that are just plain awful and sad and frustrating. Of course there will be challenges we have to go through.

But I am saying, that even in the midst of those excruciating trials- there is still happiness around. Fleeting moments of beauty, joy, laughter and even smiles. And the more weight and recognition you give to those moments, the greater your happiness will be.
XOXO,
Amy

Hilary is on a mission, to record 1 billion clicks- to flood the world with 1 billion happy thoughts! Doesn't that sound like a great goal? How much better off would we all be if we each added our own happy thoughts to that number? We could change the world.

If you want to add your happy thoughts to counter, you can record them online here. And if you decide you want a clicker to help you keep track, or to help you build the habit of positive thinking you will find them in the shop at www.billionclicks.org. If you use the code AMY771 the clicker kit will come with a clicker, wristband and stickers.