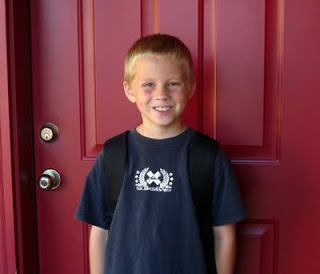 He wanted to know why there weren't more pictures of him on the blog. Here you go buddy. 🙂
So, to say the last couple of weeks were crazy would be an understatement. Running around like a chicken with it's head cut off crazy would be a bit closer. 😉
Today's post isn't going to be me waxing profound- but rather a plea for wisdom, ideas, insight from all of you wonderful ladies who stop by to read this blog.
As we've discussed before, motherhood is hard. VERY hard. And the ratio of "Hallmark" moments to moments of utter frustration is not what I thought it would be. With a lot less gratitude for my efforts than I'd like.
It's easy to get distracted. Sucked into blogland/ crafting/ reading/ anything to escape the chores/ whining/ struggles that are a mother's daily life.
I want to be the full-time mother. I have given up a lot to be able to stay home with my children. We sacrifice many things people consider "necessities" in order to allow me to be in our home full time.
So my question is- how do you maintain the balance between being the mother, fulfilling the needs/ desires of your children, teaching and training them and preparing them for life; with still being a human being who needs encouragement and validation and well, something to keep them from going crazy?
If you're in the middle of raising young children, how do you cope while still keeping your primary focus on your family and home? If you're past this stage- what advice would you offer to those of us in the thick of it? Is there anything you'd do differently? Things you did that you loved?
I don't want anyone to think I'm not happy with motherhood. And I don't want all these "mom"-day posts to have a negative tone to them. But, I also want to acknowledge the fact that it's not all walks to the park and ice cream and parties. There is a lot of hard work to be done in the trenches. Things that aren't pretty or glamorous, or easy. But- they are where the good stuff happens. In reaching beyond what you think you can do, and discovering that you are stronger/smarter/more capable than you ever thought you could be- Motherhood changes you in the very best of ways. And I especially want to make sure that any mom out there who thinks they are the only one who struggles with the day to day of motherhood knows that they are NOT alone.
So, ladies- let's hear it. How do you find a balance between being a mom and being a person? If there even is such a thing. 🙂
XOXO,
Amy