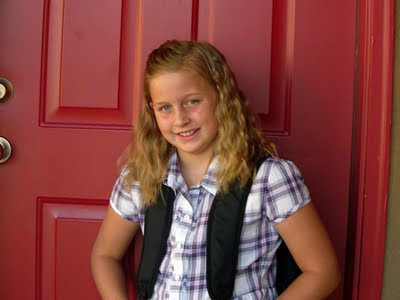 My Darling Daughter,
You just finished your first week of fourth grade. And I am sad to say it hasn't been the best first week ever. Your class is made up of half fourth graders and half third graders and this really bothers you. You had a mix-up with recess and that really embarrassed you. You are worried that you're going to miss out on a lot of the things your friends in other classes are going to get to do.
I wish I could say that you have no reason to worry. That it's going to be the best year ever. I wish I could say that I am really excited for you to be in this class. But I can't, because it's not true. I'm worried about you missing out on fun fourth grade stuff too. I really wish you were in just a regular fourth grade class.
Yesterday in church there was a talk on adversity. We were told a story about a man and a butterfly- were you listening? The man was watching a butterfly struggle to come out of it's chrysalis. The butterfly seemed to be stuck. The man, trying to help the butterfly, cut open the chrysalis with some scissors. The butterfly came out easily. But it was misshapen. The body was swollen and the wings were shriveled. The butterfly never flew. The man didn't realize that the struggle to get out of the chrysalis was necessary for the butterfly to fully develop and grow. It helped the fluid in the butterfly's body to be pushed into the wings- allowing them to expand and sustain flight. The butterfly never fully lived up to the measure of it's creation.
My daughter- from your birth I have been nurturing you in the cocoon of our family. I have been watching and helping you grow and develop within a loving and safe environment. Now you are out in the world. Slowly working your way out of the cocoon. There are struggles- great ones at times. I am tempted to shield you from the struggles, from the pain and pressure of this tremendous challenge. I want to insert myself into your process- to make it easier for you. But I cannot, I must not.
These challenges are necessary for you to fully become who you were meant to be. To fully live up to the measure of your own creation. To fly.
So I am stepping back. Putting down the "scissors" and allowing you the opportunity to struggle, to grow and to learn. I will be here for you, watching, protecting and cheering you on. I will encourage you and give you a place to rest and recharge from the struggle- and then send you off again, to resume the process of becoming.
I can already see the beauty that lies within you. The person you are becoming is beautiful and amazing. I am awed at the strength, compassion and love that resides within you. And I cannot wait to see who you become.
This year might very well be full of challenges and struggles, ones that are difficult to overcome. But, I know that as you work through them- you will gain great strength and understanding and abilities that you might otherwise miss out on. Please remember that you are not alone in your struggles. You have parents who love you more than anything, brothers and a sister who adore you, grandparents and extended family ready to rally around you. And you have a Savior and Older Brother who has promised to always be there for you, to help you and strengthen you and sustain you through your life. Turn to Him and your Father in prayer, trust in your faith and love for them, and you will see miracles.
I love you my sweet girl. I can not wait to see you FLY!!
xoxo,
Mom.