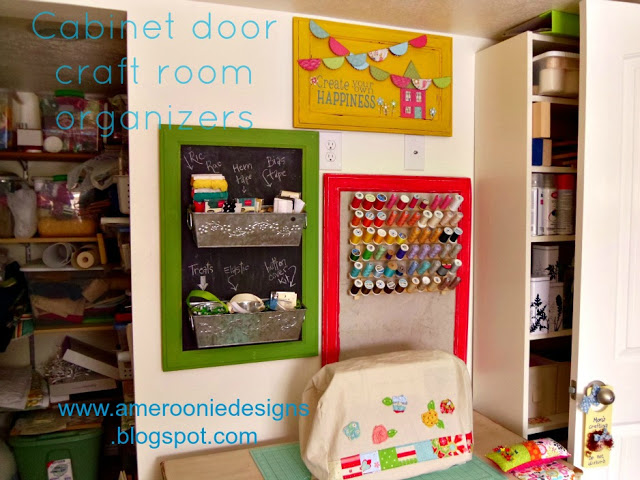 When I shared my first cabinet door reveal for our Point of View project, I hinted that it was the first of many. Well, I don't know if many is the right word, but I did have a few more up my sleeve. I was just waiting for some decent light to capture them. Yesterday, I got what I needed, so today I get to share how I am making my craft room more functional and pretty.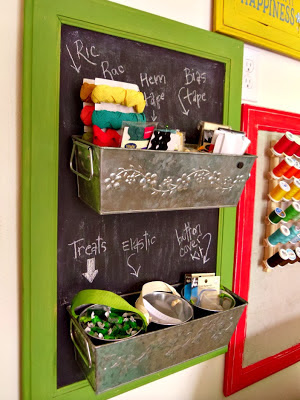 First up is this notions organizer. The cabinet door was painted green then I added chalkboard paint to the inside panel. I had my sweet husband screw the metal containers (found at Walmart) to the board. We backed it with some 1X2 pieces of lumber so they had something to hold onto. I used some buckets from the dollar spot at Target to separate my supplies. Three of them fit perfectly.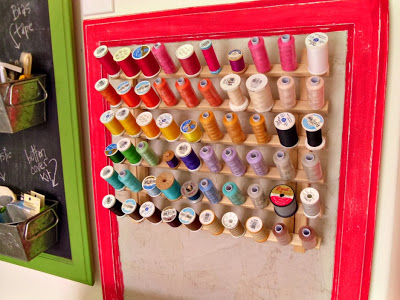 The next board is my thread organizer. I have been wanting one for ages and I finally had the motivation (and a gift card to Joann from my Mother-in-law) to get it. To prepare the board I covered the inside panel with newsprint, using the paper bag treatment that is so popular on the web right now. I wanted something neutral so the thread colors would pop, but still be textural. I screwed through the back of the panel into the thread holder to secure it. *tip- make sure you use thin screws or it will split the wood of the organizer.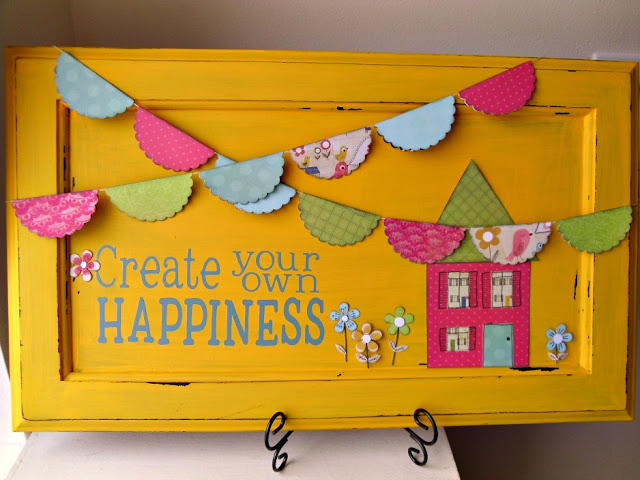 This last one just makes me smile. I knew it would be high up on the wall, so storage probably wouldn't be useful. This was my first attempt at creating my own vinyl. I'm pretty pleased with it. 🙂 (I even quoted myself- how's that for making the space about me? lol)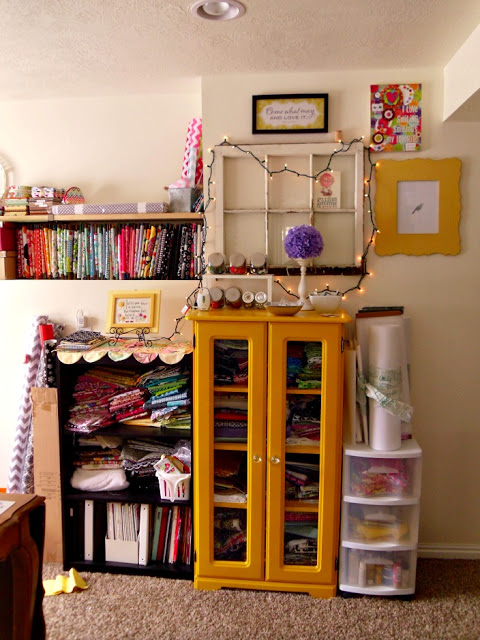 And since all this organizing led to one terrific mess, the after had to be documented. I was already hanging things on the wall, so I thought it was time to hang up my old window and some art pieces and frames I've been collecting. It's amazing how much more finished the room feels to have these in a more permanent place.
I feel so lucky to have so much space to keep and use my craft supplies. It really is my happy place. Now it's your turn- where is YOUR happy place?