So, here it is- a new post. After 3 whole days of no posting. 😉 I know you were worried, right? You weren't?
Good.
Cuz, I've decided that that's how it's going to be over the next few weeks. Very sporadic.
I am caught up in a whole jumble of thoughts, concerns, craziness and lists. More like a tsunami of "stuff" that is threatening to derail my entire life if I don't make it to high ground. Plus a cough that won't let me sleep. boo.
So, I will still be here. I have two tutorials that just need some finishing touches (one is the Smocked pillow- don't you worry) that I have brewing. I plan on keeping you all updated on my progress on the boutique and the triathlon- because I want you to be able to sleep- and not worry about how I'm doing. 🙂
So- on to the matter at hand: The Boutique Update.
I finished two wavy ruffle pillows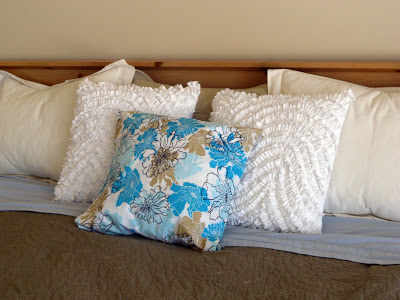 And three fabric Happy Birthday Banners. (well, almost finished. Hopefully tonight they'll be completely finished)
I look at the list of things I need/want to make and I just get overwhelmed. So, instead of actually doing anything, I just sit and stare at it. My husband sat me down last night and helped talk me down a bit. I'm going to start making smaller lists. 😉 That way I actually get something done. And if I don't get to everything on the big list? I gave it my best.
So, here's to small lists and sleep. I really need both right about now.
xoxo,
Amy