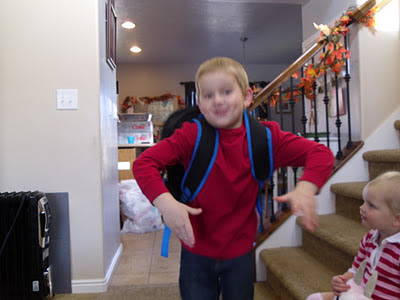 Sorry about the blurry photo, he's doing his Touchdown Dance. 🙂
I have another blog. A family blog. (don't bother clicking over, it hasn't been updated in a year 😉 ) I mention it because I named the blog Finding Joy. With a subtitle that reads- "And if you can't find it, Make it!"
Motherhood is hard. I think we've covered that fact plenty in the last few Mom-day posts. I won't stop doing the "man this really isn't what I thought I was signing up for" posts, because I feel like blog-land needs a lot more of reality thrown in. But, I also wanted to make sure that I don't become a voice of negativity and a major downer when it comes to talking about motherhood in general, and my personal experience in particular.
The reality is that I love being a mother. I love these smiles, and dimples (all my kids have them) and hugs and laughter. I love watching them learn and grow and achieve things that were hard at one point for them. I love when they call "meetings" in my daughter's room to discuss what they're going to do next. I love watching my son get a wet rag to wipe the chocolate off my daughter's face.
Motherhood is hard, but it is also joyous. Sometimes, it's just a matter of looking for the Joy. And other times it's about Making the joy happen. The fact of the matter is that motherhood wouldn't be so rewarding if it wasn't so hard.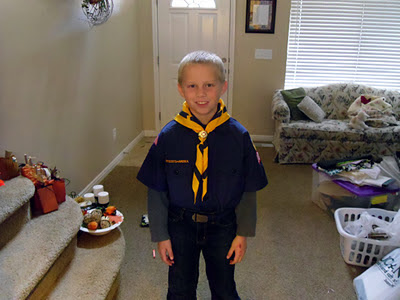 So excited for cub scouts!
So my challenge is to take a moment each day to just find a bit of joy. In the smile of your brand new cub scout, in the sticky hug of a 2 year old, in the touchdown dance of your 4 year old or the excitement of your 10 year old who just scored the highest on her test. To really look for those moments, and then to stop- and take it in, and smile, and know that it's all been worth it for this very moment.
Happy Mom-day!
XOXO,
Amy