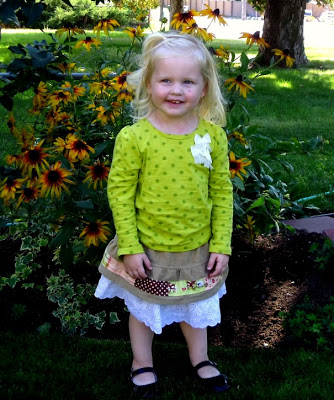 When I set out to create a skirt, or pillow, or whatever for that matter- I usually have a picture in my head of what I want it to look like, but usually no pattern or other practical experience on how to make it to pull from. So, basically it's a crap-shoot whether or not something will turn out the way I want it to. I know many of you find yourselves in the same boat. So, here's my question for you sewing adventurers our there- to unpick or not to unpick?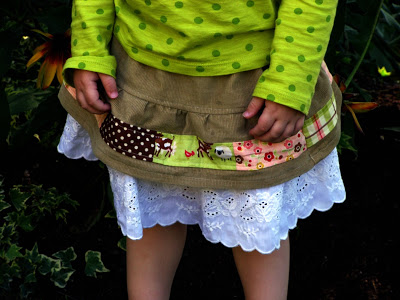 This is the skirt I made for my baby. It is not what I wanted it to be. The skirt I ended up making is growing on me, and the more she wears it, the more I like it, but- still- it's not the one in my head. Close, but no cigar. The fabric I used for the underskirt is a piece I got from my mother-in-law (if you're keeping track- YES she has a LOT of fabric) and it's all I have, so if I want to try making this skirt again, I'd have to unpick the entire bottom portion of the skirt to salvage it- as well as salvage the farm fresh fabric (the band across the bottom) because the colors in it are the ones I wanted for this skirt and that's all I have too.
My issues with it are the following:
1. The top skirt is not long enough. I thought I wanted to see 3″ of the underskirt, but I was wrong. Just a peek would suffice.
2. Because of the length of the top skirt, and the weight of the corduroy I used- it sticks out like a bell. My neighbor thought I wired it to stay that way. Ummm…..no.
3. I think the drop waist is too long. By at least an inch. The proportions got away from me.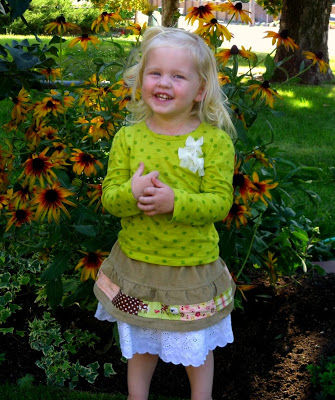 So here's my question. Do I fix it the way I thought it would be? Or, if she's this happy in it- just let it go and try again next time? What do you think?
And, before I let you go- just a reminder that POV is coming up this week. I know, I can't believe it's the fourth Friday of September already either. The theme is Autumn and I would love for the link party to break 50 points of view- so make sure you get all your projects ready and tell your friends- we're going to have some fun!!
XOXO,
Amy
p.s. I haven't forgotten about the giveaway I promised last week. I'm still trying to gather my wits about me, but as an incentive to keep being patient with me I will tell you that it will include a bat pillow cover (among other things). I will get it up soon since I want to be able to ship the prize to the winner before we get too far into October. 🙂
Linked up to Whipperberry's Friday Flair.