So, technically Mom-day should have happened yesterday, but two reasons kept me from posting it then. The first is that I was so excited about our announcement– and I wanted to keep that front and center for the whole day!
The second reason is that I am guest posting today over at Bloom and I wanted to include that announcement in my "mom"-day post because it goes right along with what I was hoping to talk about.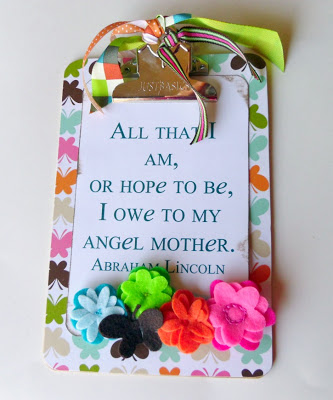 A sneak peek at my project.
I have talked to you before about my feelings of inadequacy as a mother. How I get discouraged because I'm not the mother I always thought I would be. And lately those feelings have intensified as I have moved forward with growing my business selling my handmade goods. I worry about finding balance and how to be the mother I want to be when I'm adding more pressure instead of simplifying.
As I was pondering on these concerns, I came across the Bloom blog. These ladies have a wonderful perspective on motherhood and they believe in intentional mothering and living. I love the feeling that permeates their blog and I hope you'll take some time while you are there visiting my tutorial to look around and see what they're all about.
For myself, I am learning that motherhood is all about what you make of it. But one thought keeps coming to my mind. At a church meeting a while ago one of the speakers said "You are doing better than you think". She was talking about life in general, but I feel it applies to my feelings about motherhood. We are all doing better than we think we are. And although we might not be living up to the ideals presented in parenting magazines and around the web- we are doing enough for our children. I know this because we are here, looking, searching, hoping to find better ways, easier systems and improve ourselves so we can be the best parents we can be. Our children see our efforts and feel loved, secure and safe. We can look up to ideals, take new ideas and decide if they fit our family or not, adopt traditions, schedules and lifestyle changes- but we MUST NOT question our worth as parents because we are not doing everything (or anything) the other person is doing. You (and by you I mean me) must have confidence that you know your children, you know your family and how you chose to live is the right way for you. And it is ENOUGH.
And now that I've given myself the pep talk for today- I'm off to be intentional about mothering my children. And I might even make my bed!
Have a wonderful Day!!
xoxo,
Amy