The fabric for this post was provided by Riley Blake Designs for use in the Riptide Fabric blog tour. The project and opinions are my own.
The shark lover in your life will be so thrilled if you make them this fantastic shark teeth pillow! Featuring Riptide fabric, this pattern lets the main print shine while the half square triangle border speaks to the many rows of shark teeth. (my husband thinks they look more like fins- but that works too!)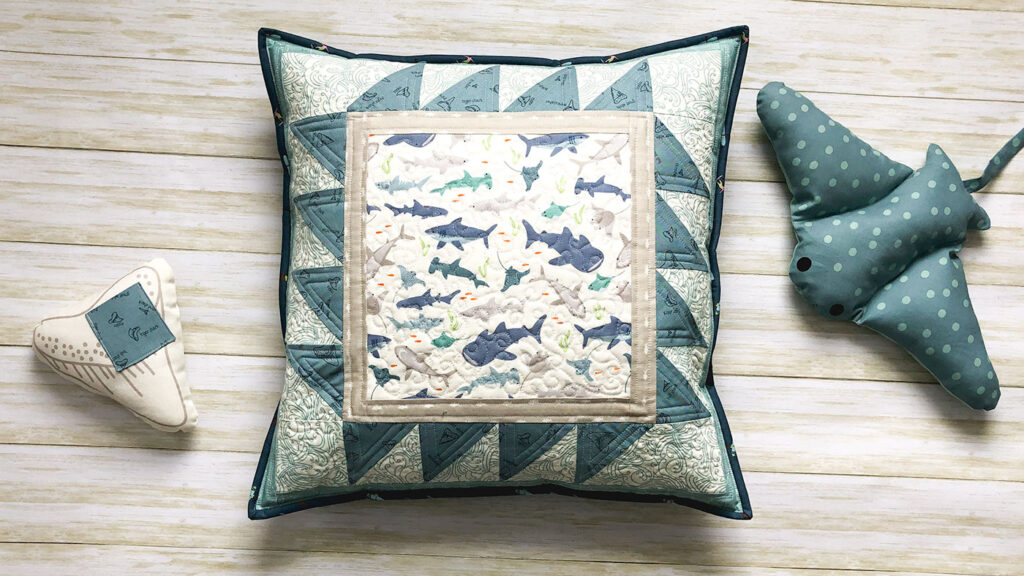 Riptide Fabric
Riptide fabric has such fun prints and colors. And as a bonus, there is also a panel with the line that creates these fun shark stuffies!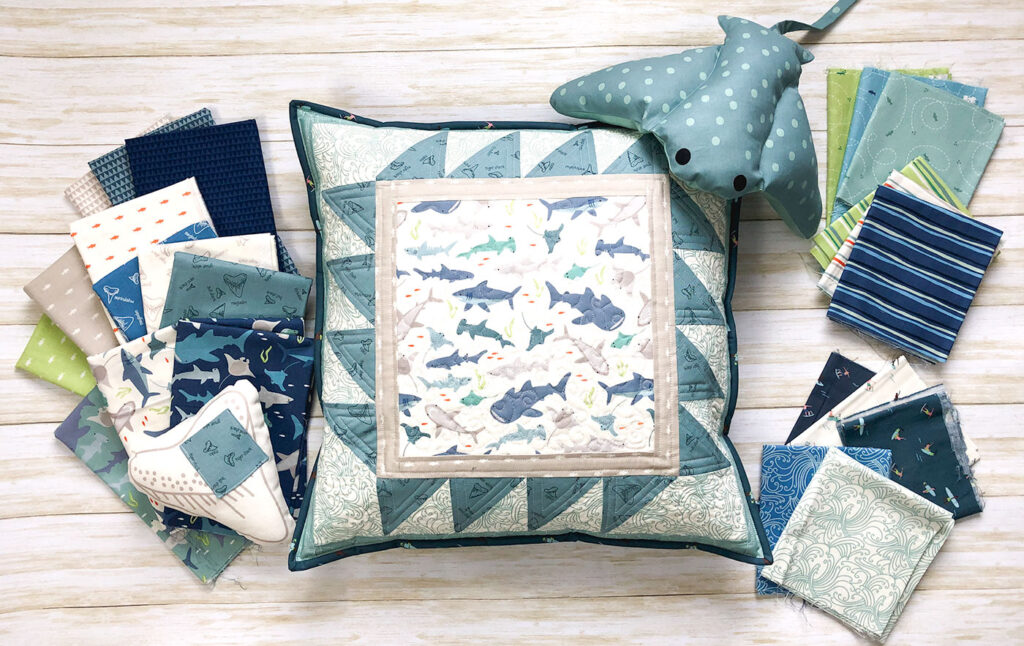 Not only are there fun feature prints like the sharks and the surfers, there are so many amazing blender prints as well. And I always love a line that works for both girls and boys!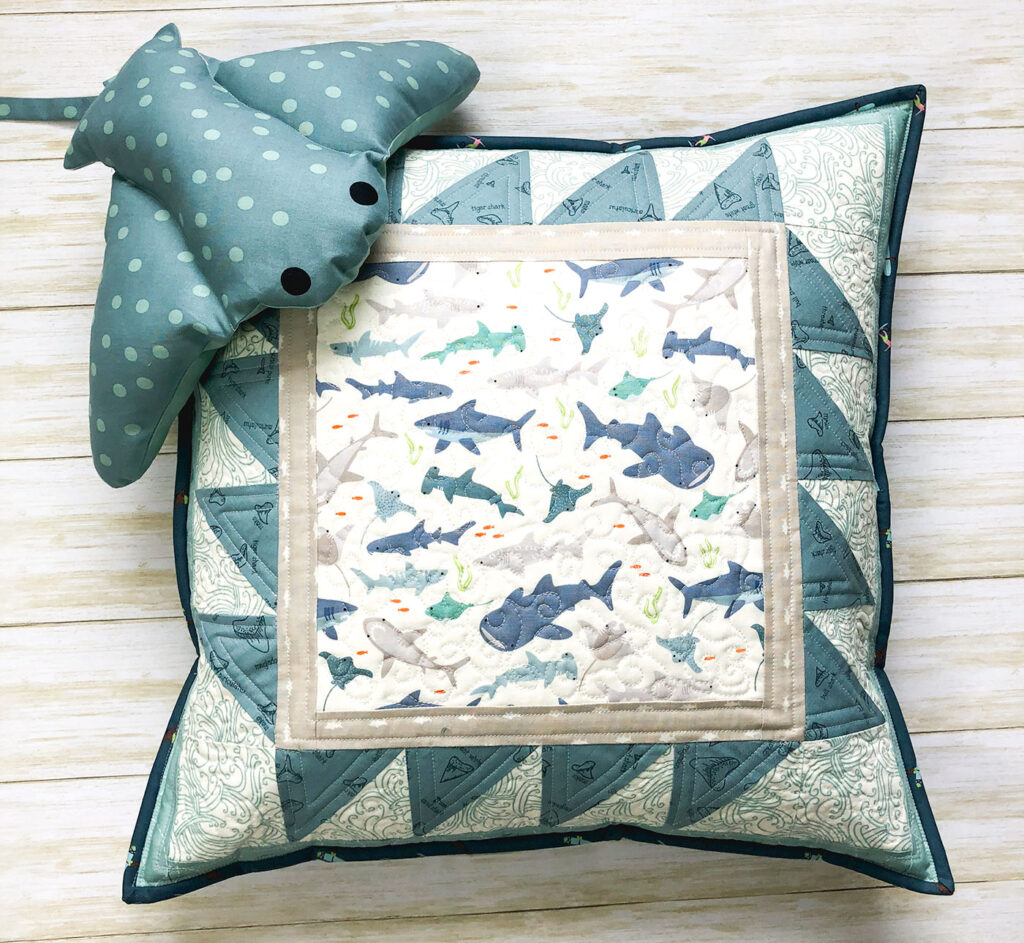 Sew your Shark Teeth pillow
I made just a couple modifications to my Be the Sunshine quilt block to create this fin-tastic pillow.
First, I rotated the half square triangles to all go the same direction. This gives a sharp pointy look to accent the shark themed fabric.
Next, I sized up the 18″ finished block to fit the 20″ pillow form I had on hand (as well as to accentuate the pointy tips of the HST blocks) I just added a second simple border.

Cut 2- 18 1/2″ X 1 1/2″ strips of an accent fabric.
Then, cut 2- 20 1/2″ X 1 1/2″ strips of the same fabric.
Finally, sew the 18 1/2″ strips to the top and bottom of the finished block, and the 20 1/2″ strips to the sides.
If you want to download the free pattern for the block, just enter your email list below and it will be sent to you. The pattern also includes the directions for the 20″ pillow as well as a couple of modifications to make a mini quilt!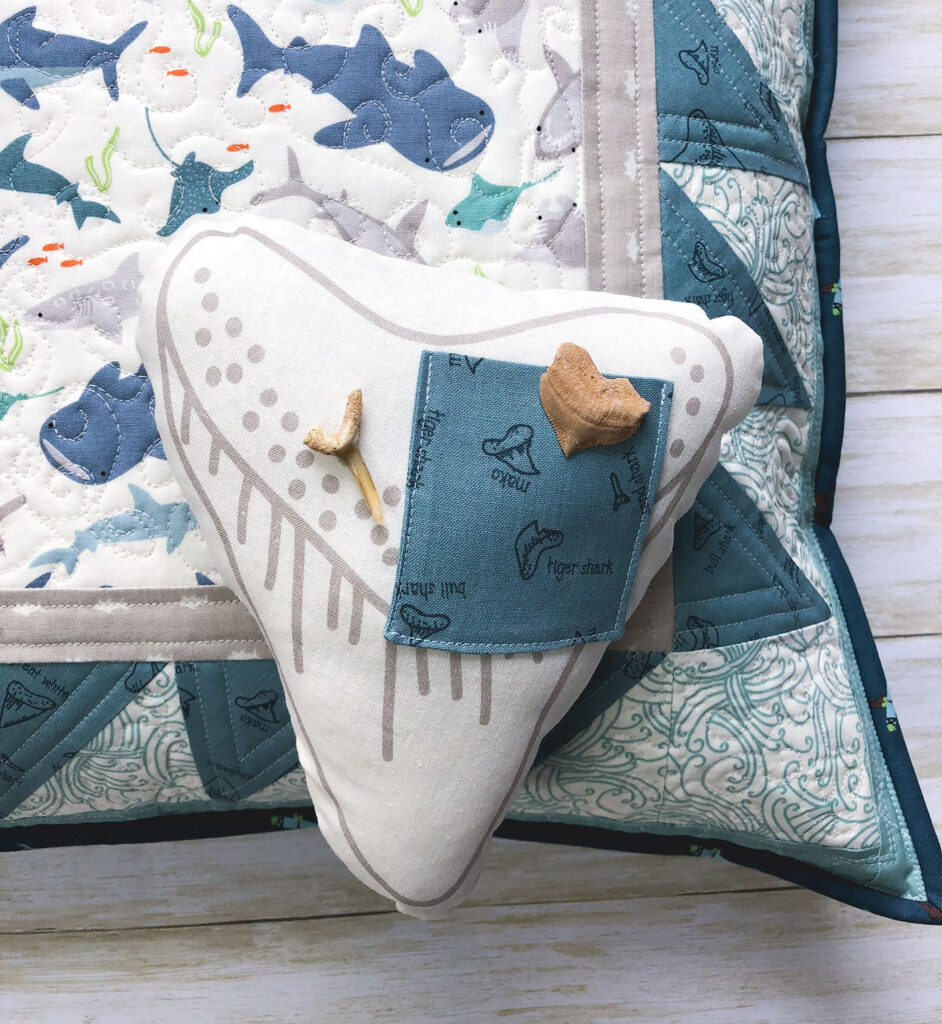 You can use your favorite method for creating a pillow back, but if you want to see the method I used you will find my hidden zipper pillow back tutorial here. There is also a YouTube video showing how I put it together!
I can't wait to see all the fun things you will put together with your Riptide fabric or this fun quilt block pattern!
Happy Sewing! Amy