I have revealed in previous posts that my kitchen counters are usually in a major state of disarray. From papers, to craft supplies, to kid stuff- everything gets dumped in the corner and left there. Now that our basement is finished- we are land locked. Everything we are keeping needs a place to live- no more squatting on my kitchen counters. 🙂
One problem is kids' homework. I'm sad to say we've lost more than one assignment in the abyss that was the mess of the counter.
I've had this hanging organizer from Ikea for a couple of months now, but never bothered to put it up. This month's Point of View project was just the push I needed to finally get it done.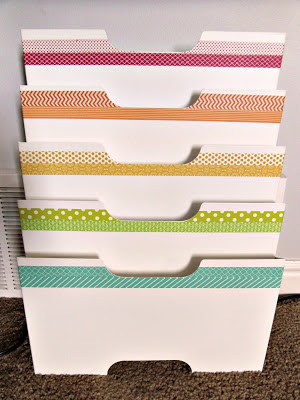 I pulled out my trusty washi tape and put a couple rows on each folder- that way the kids would know which one was theirs. I love the color it adds to a pretty plain piece.
You'll notice it's still on the floor. I'm waiting for hubby to hang it for me. This thing is going to be holding a lot of papers which can get heavy and I want it in there good. If anyone knows how to hang something that isn't going anywhere, it's my husband. 🙂 Hopefully it will be up tonight, and I can edit this post later and show you how it looks in it's final spot.
Do you have any great organizing tips? Come link them up at our Point of View party and join the fun.