The fabric for this post was provided by Riley Blake Designs as part of the Strawberry Honey fabric tour. The project and opinions are my own.
Warmer days, melting snow, lots and lots of mud. In Wyoming- those are sure signs that spring is on the way! Eventually. We are bound to have a few more winter storms before spring is here to stay in my neck of the woods. I wanted to make something that reminded me that it was coming, even when the snow is flying again. This Strawberry Springtime applique pattern takes the basic pattern from my Springtime Showers mini quilt and bursts with juicy strawberry goodness.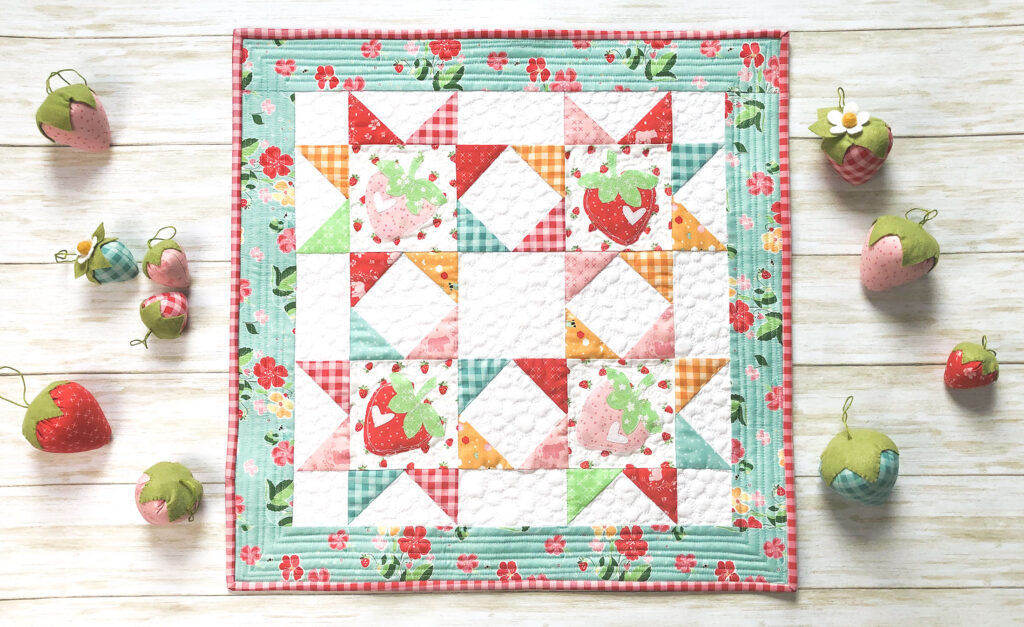 First, bite into those plump gorgeous berries! Raw edge applique makes adapting this pattern easy and fun. Download the free strawberry springtime applique pattern by signing up for my newsletter.
Strawberry Honey Fabric
Next, take a look at this delightfully colorful fabric line.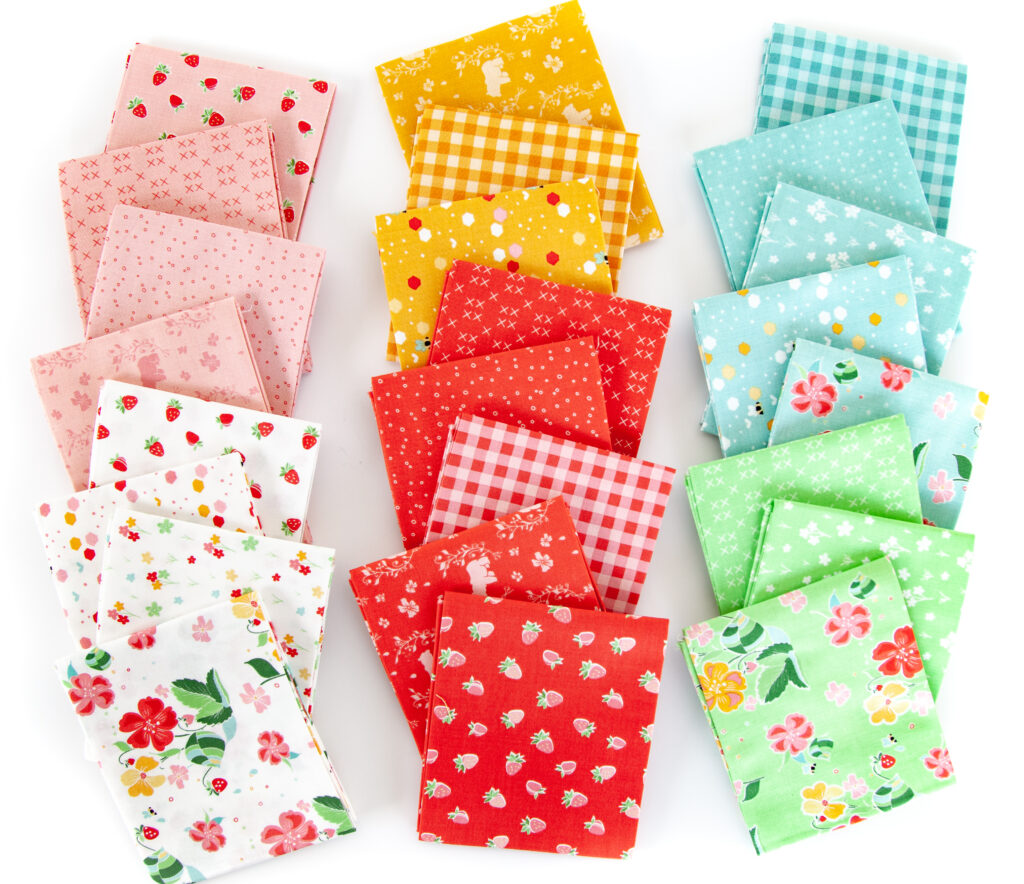 First, I was drawn in by the bright colors of this Strawberry Honey fabric line. Then, the delicious strawberries totally sucked me in. I love all the pink and red prints. Finally, toss in a bit of that lovely mustardy yellow and gingham, and I am sold!
Strawberry Springtime Mini Quilt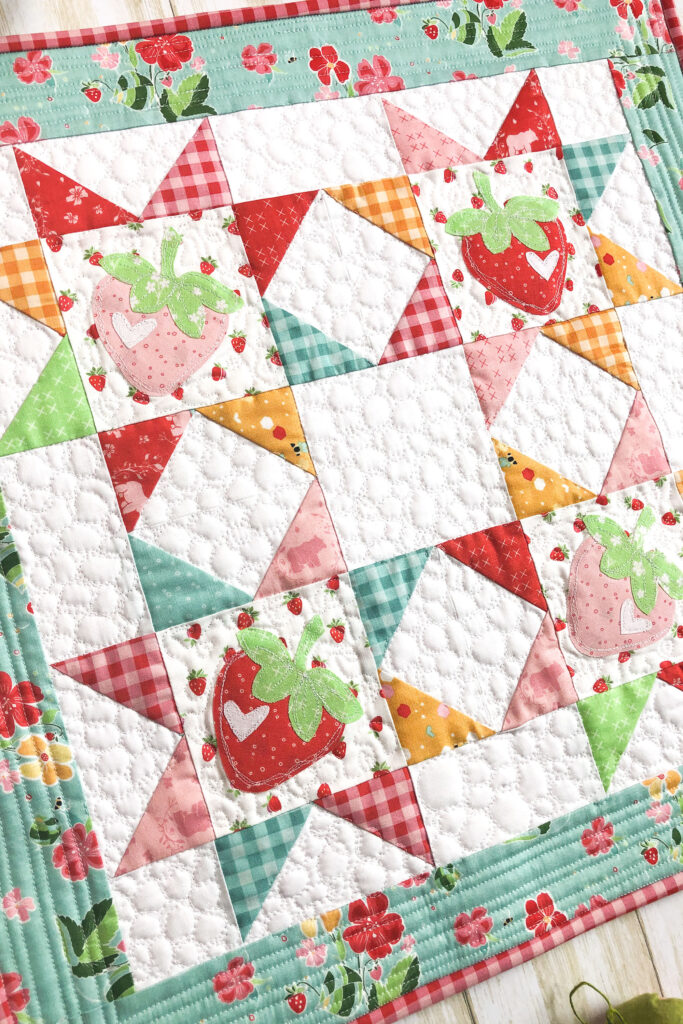 Now, make a cheerful spring mini quilt. Replace the umbrellas in the original design with strawberries. Raw edge applique is an easy and fun method. Watch this YouTube video showing you Raw Edge applique if you do not know how.
Use a variety of colors from this vibrant line in your scrappy sawtooth blocks. If you prefer to print off your sewing patterns- the PDF version of the Springtime Showers pattern is available in my Etsy shop.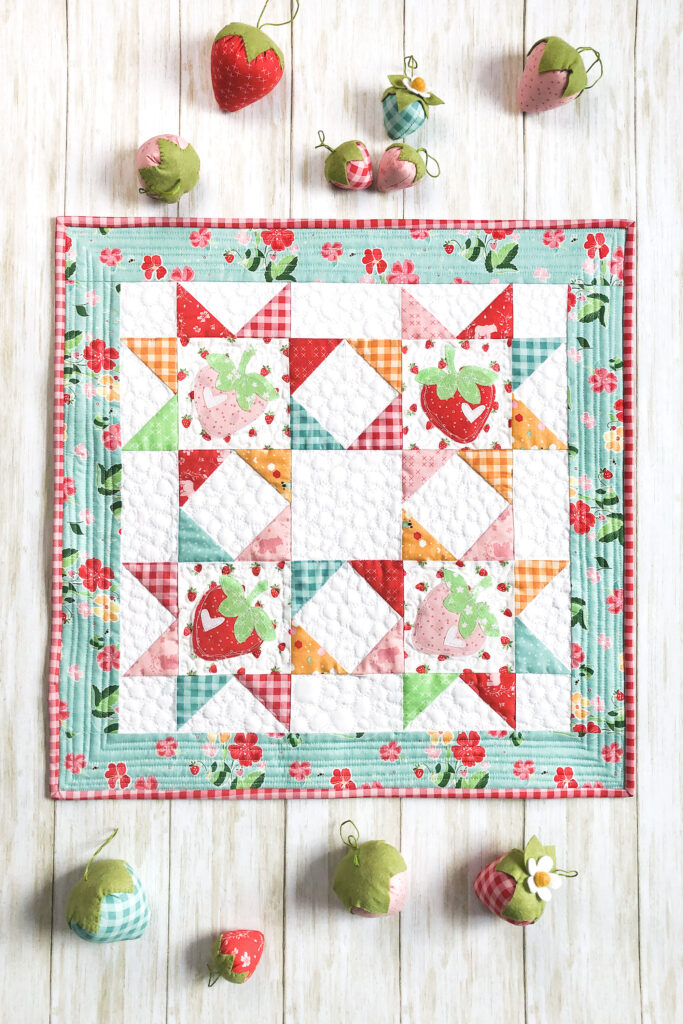 Now, when the mud might gets covered with snow again, I will be able to keep springtime in my house with this cute pattern.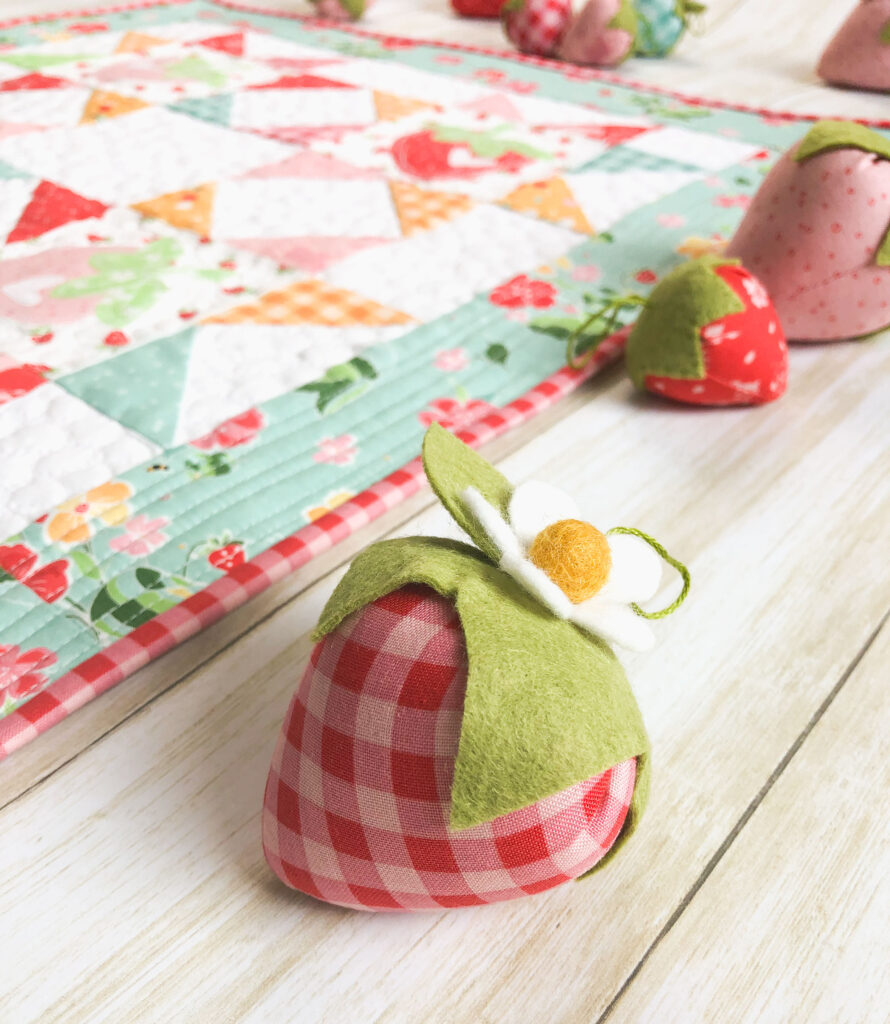 Finally, keep your eye out for this new pattern coming to my shop soon! Juicy Berries is a fun stuffed strawberry pattern that includes three sizes and a fun flower accent! Add to tiered trays, make a bushel of them to fill a berry basket on a mantel or sprinkle some around your home for a bit of spring everywhere! Sign up for my newsletter to get the notification it's ready right in your inbox!
If you are looking for more fruity, berry goodies to sew- you will love this Summer Fruit mug rug pattern which includes four delicious fruits to sew up!
Happy Sewing, Friends! Amy