Here it is, the day you've been waiting for all week. You've seen all my gifts to myself, and it's time to see what's in it for you. But first, a little recap: Monday I did my
Shag Pillow
, Tuesday was the
Polkadot Happy Birthday Banner
, Wednesday was the
Pin Cushion
and Yesterday I shared my
mixed media canvas
. Well my friends, I think it's been worth the wait, here is today's giveaway: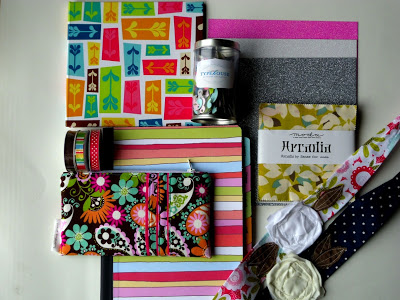 Seriously, a great package of all kinds of fun goodies so you can have a party and craft if YOU want to. 😉
Want a closer look?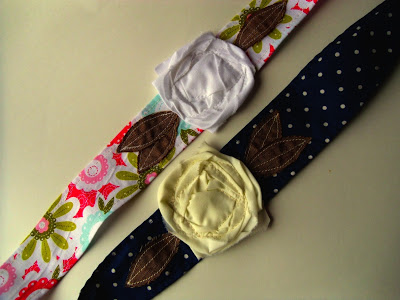 A $35 gift certificate to spend on
Vintage Rose Wraps
. The two pictured here are mine. These headbands are gorgeous and lovely and oh, so comfortable. You will LOVE them. And you get to choose your own colors and patterns, and trust me, you'll have a hard time choosing!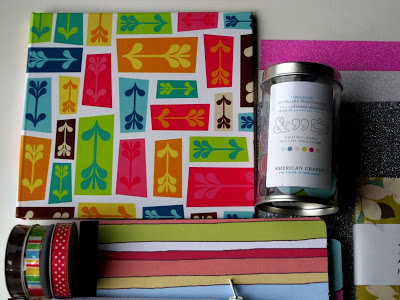 A 6X6 photo album, chipboard punctuation, glitter paper and ribbon.
A zipper pouch, birthday book and Arcadia charm pack. What does the Arcadia line look like you ask?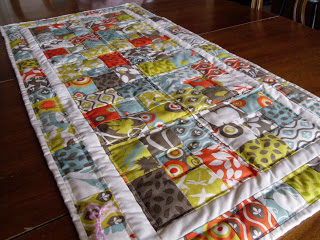 This is a table runner I made using an Arcadia charm pack. I used
this tutorial
on Moda Bake Shop for the pattern. Of course you can make whatever you want with yours. 🙂
Do you want to win? I thought you might. Here are the rules:
MANDATORY ENTRY: You must be a follower of Ameroonie Designs via Google Friend Connect. Leave me a comment telling me what your favorite kind of ice cream is. Bunny Tracks is my favorite, it has chocolate peanut butter bunnies in chocolate ice cream with fudge and caramel swirled in. Mmmm….
EXTRA ENTRIES:
1. Follow Gwen at
Gwenny Penny
via Google Friend Connect. Leave me a comment here saying you are. (and trust me you'll want to follow her, look at her giveaway:)
um, hello Awesome!!
2. Follow me on
Twitter
or Like me on
facebook
(one entry only)- come back and leave me a comment telling me which one you did.
3. Like
Vintage Rose Wraps
on Facebook – leave me a comment letting me know you did (and do me a HUGE favor and let them know I sent you, they are having a contest celebrating 4000 followers and I'd love to win. Consider it your birthday gift to me. 😉 ).
You can have a total of 4 entries.
This giveaway is open until

Friday, May 27th at 11:59pm (EST)

. I will ship internationally, so everyone is welcome to enter. I will select one winner using a random number generator.

Please, please, please leave your email address in your comment if your email is not linked to your

Blogger

profile!

If I haven't heard from the winner by

Wednesday, June 1st at 7:00am (EST)

, I will select another winner.
Good Luck!
And I hope you'll indulge me one last sentiment. This week has been a blast. The best part of the whole thing has been Gwen. One of the best gifts I have been given this last year is the friendship, love and encouragement from so many AMAZING women through my blog. And Gwen was my very first blog friend. I appreciate her generosity in leaving comments every time, in being willing to put up with my whining and her excellent taste and amazing skills in creating beautiful projects. It has been a joy knowing her and especially sharing this birthday week with her. Can't wait until next year!!
XOXO,
Amy