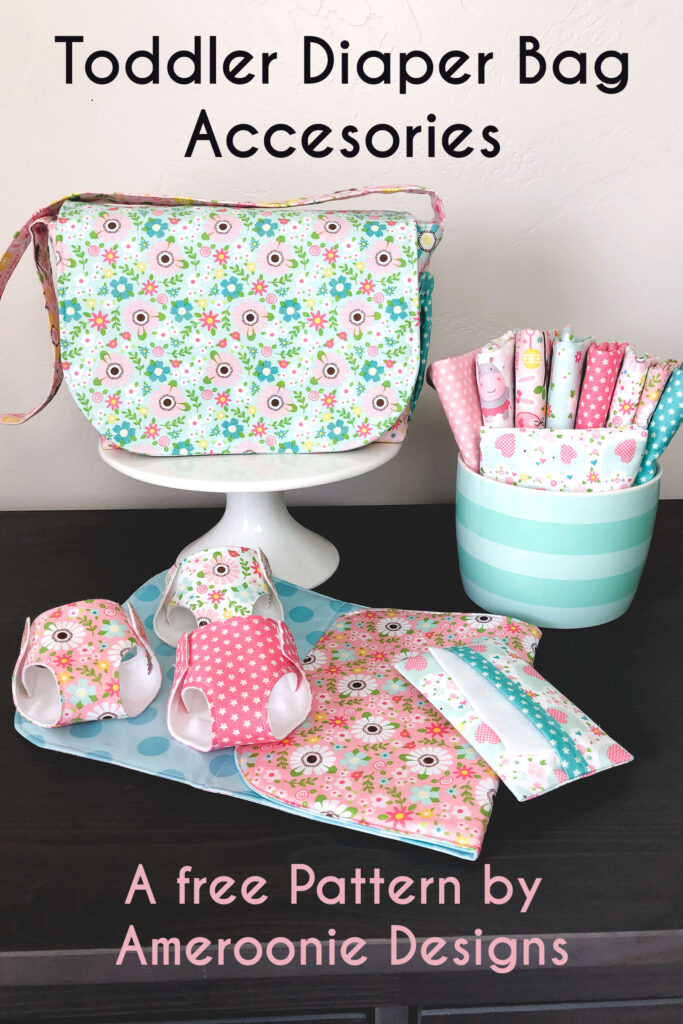 I designed this toddler sized diaper bag years ago and it has been such a fun thing for my girls. Last year I decided to add some accessories to go along with it so my girls could have a whole set. Whether you're sewing for a birthday, getting head start on Christmas gifts or just feel like making something fun and special for a little one in your life, a bag and diaper bag accessories will make your sweet girl's day!
The diaper bag is the perfect size for those little toddlers and it even makes a great overnight bag for sleepovers at grandma's. You can find the tutorial on my blog here. Of if you would like a printable PDF version, you can find one in my Etsy shop. You can also find the PDF version of this tutorial, as well as a combo version which includes both the diaper bag and accessories for a discounted price here.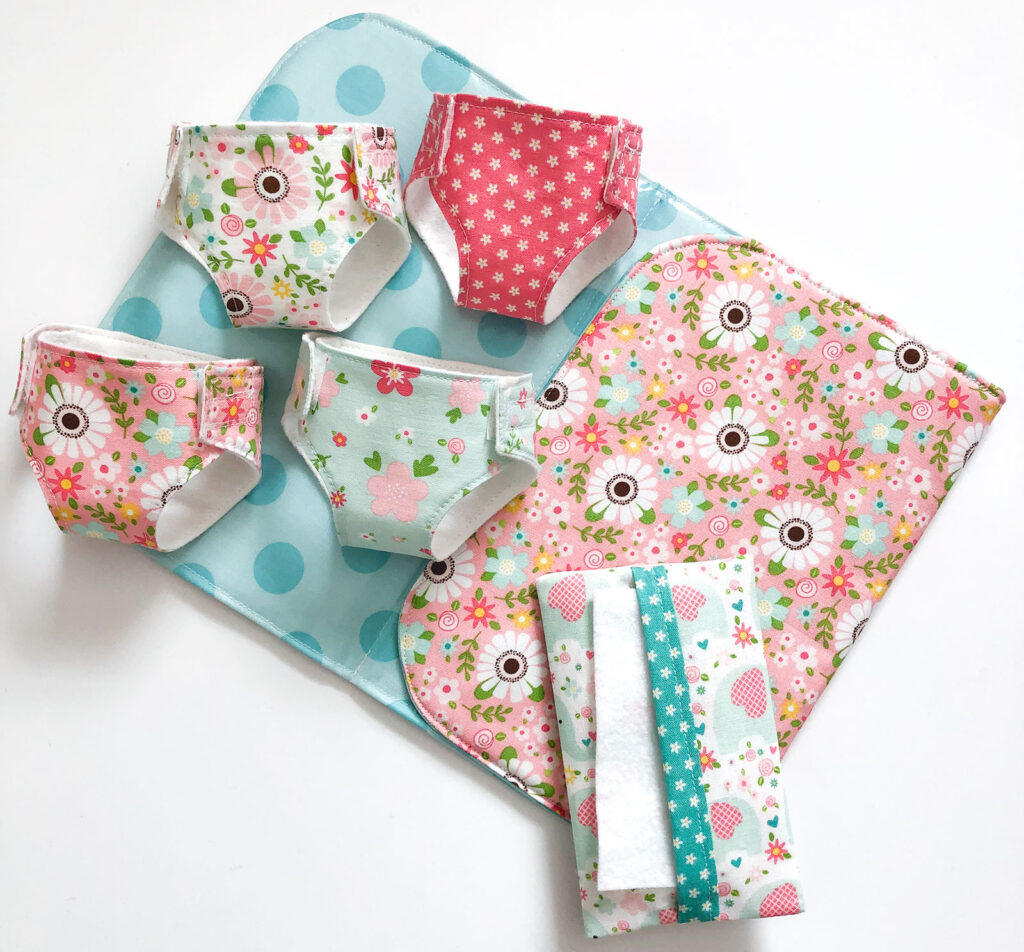 Sew Toddler Diaper Bag Accessories
Please read through all directions before beginning. All seam allowances are 1/4″ unless noted otherwise.
Supplies:
You will need at least 1 fat quarter for the changing pad.
various scraps for the diapers and wipes
white felt to create the wipes
fusible fleece for the changing pad
sew in velcro for diapers
optional (both can be replaced with regular cotton fabric):
minky or flannel for the inside of the diapers
laminated cotton for the back of the changing pad
Diaper Assembly: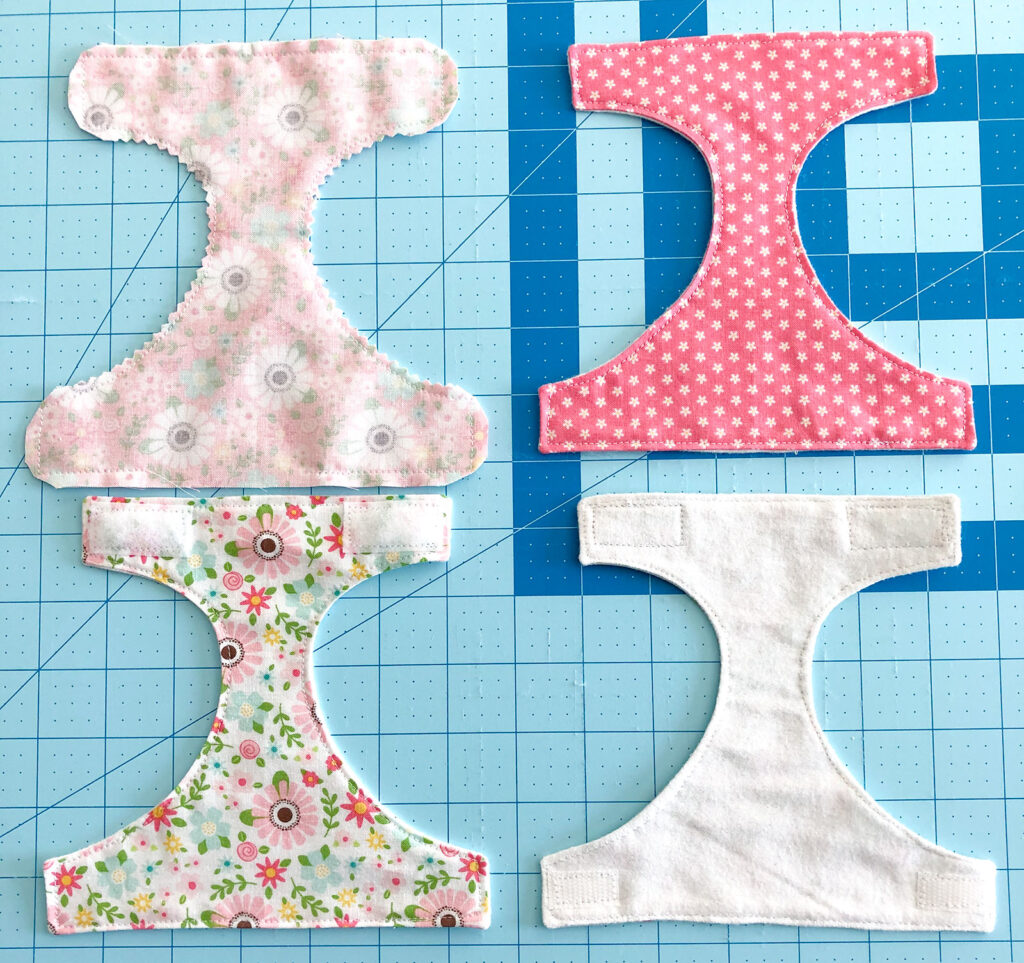 Cut out two fabric pieces using the pattern for each diaper. I cut one out of cotton and 1 out of flannel.
Place the fabric pieces right sides together and sew around the whole piece, leaving approx. 2 1/2″ opening on the longest straight edge for turning.
Clip all the corners and clip notches into the curves, or use pinking shears to trim the seam allowance of the curved leg cut outs.
Turn right side out and press. Top stitch all the way around, making sure the opening is closed and all raw edges are tucked in.
On the front of the short side (which will be the diaper front) sew a 3/4″ X 1 1/2″ piece of the loop part of the velcro (the soft side) to each end as shown. I like to go around at least twice to reinforce.
On the Back of the long side (which will be the back of the diaper) sew a 1/2″ X 1″ piece of the hook part of the velcro (the scratchy side) to each end. Again reinforce with extra stitching around the velcro.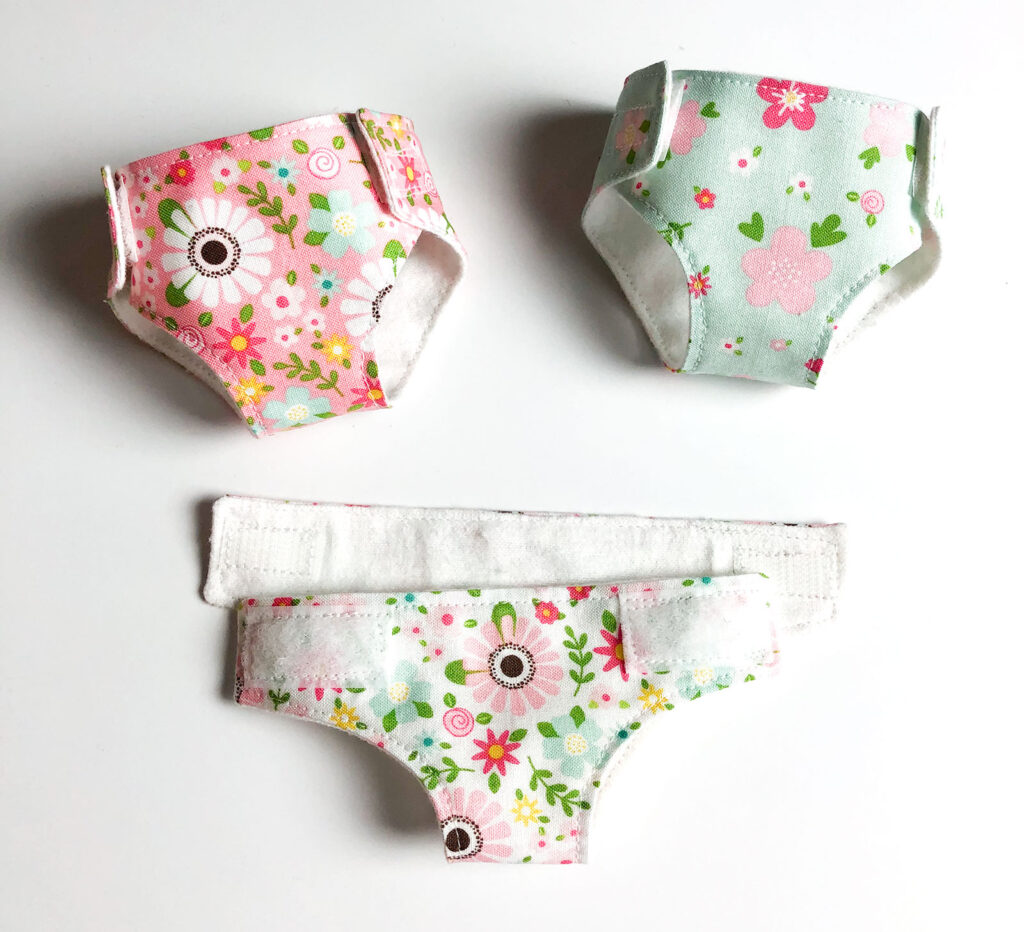 Changing Pad: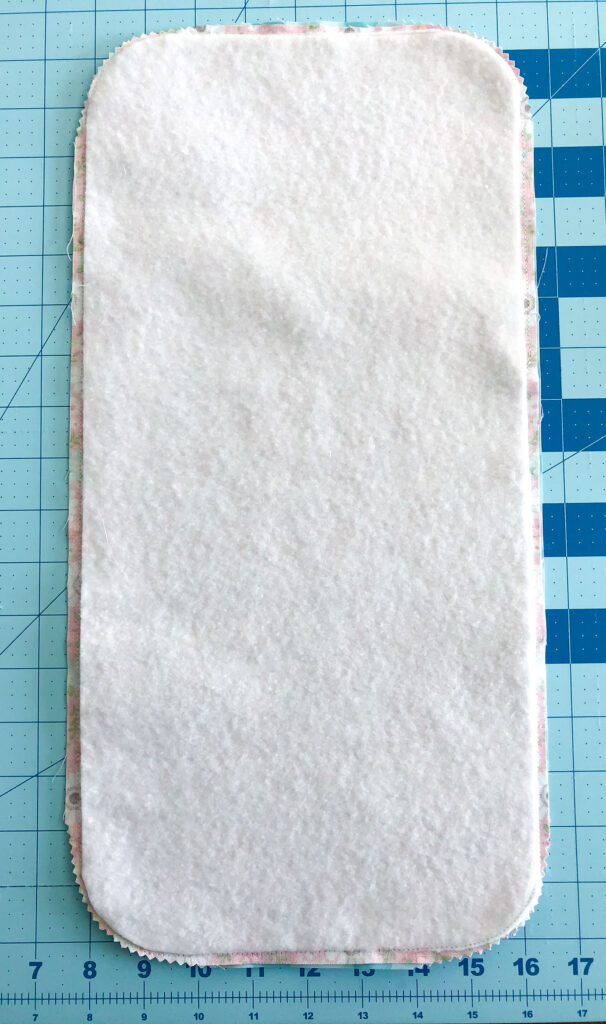 Cut 2 pieces of fabric 9″ X 18″, either 2 cotton or 1 cotton and 1 laminated cotton.
Cut 1 piece of fusible fleece 8 1/2″ X 17 1/2″
Fuse the fleece to the wrong side of one of your fabric pieces. (NOT the laminated cotton)
Use the pattern piece to round the corners.
Sew around all sides, leaving an opening on one long side for turning. Clip curves on corners, either cut notches in them or use pinking shears, just be careful to not clip your seam.
Turn right side out and press- be careful if you used laminated cotton to NOT melt the vinyl- use a press cloth if necessary. Turn under the seam allowance of the opening as your press.
Top stitch around the entire changing pad.
Mark a line 5 3/4″ in from each short side and stitch down both lines to create folding guides.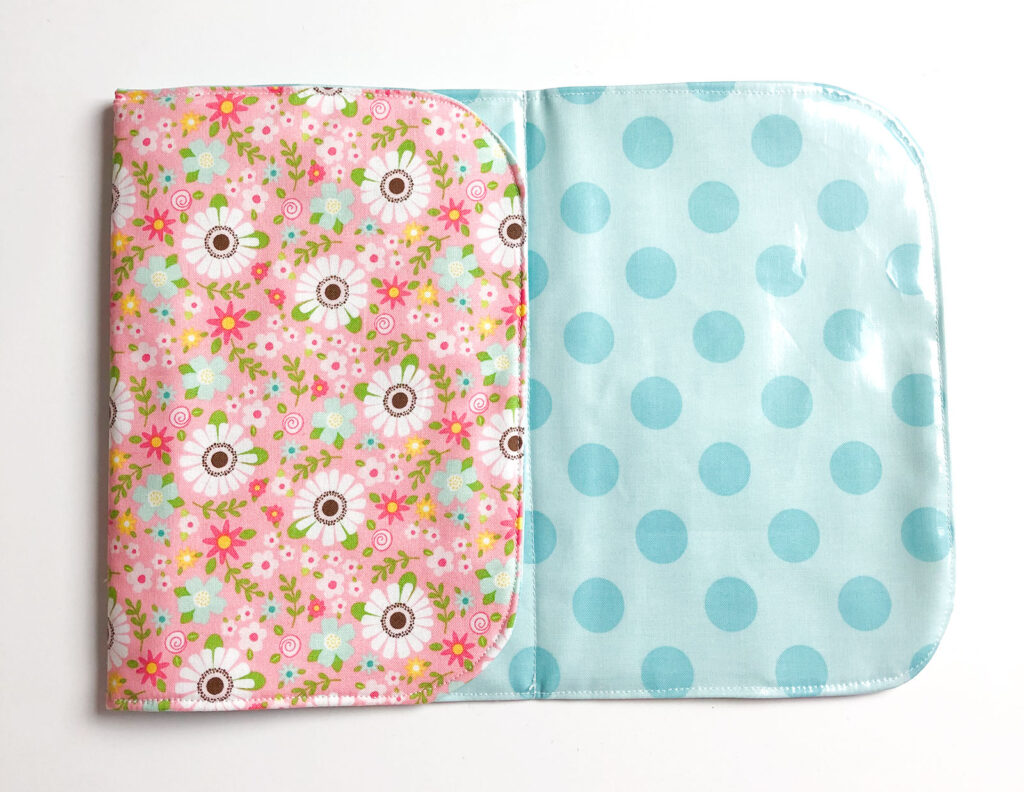 Wipes Case: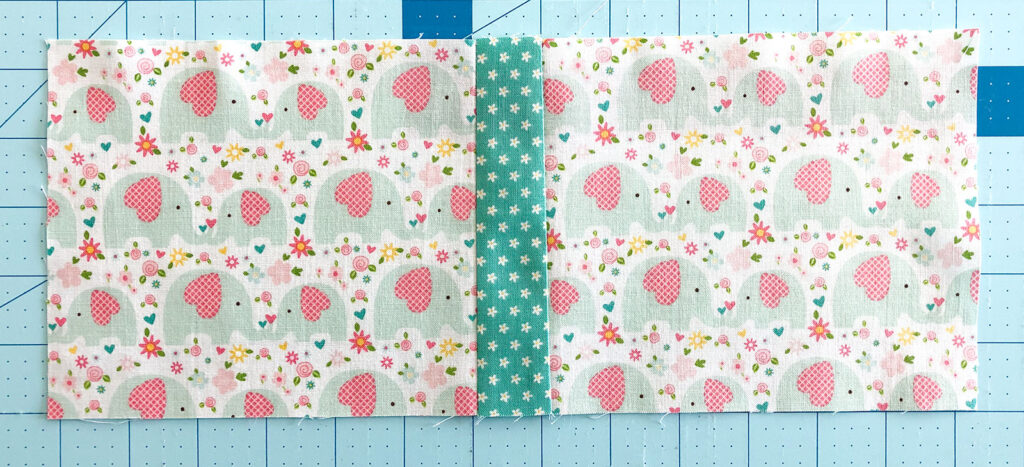 Cut:
2- 5 1/2″ X 6 1/2″ pieces of main fabric
1- 5 1/2″ X 1 1/2″ piece from accent fabric
Sew the larger pieces on either side of your accent piece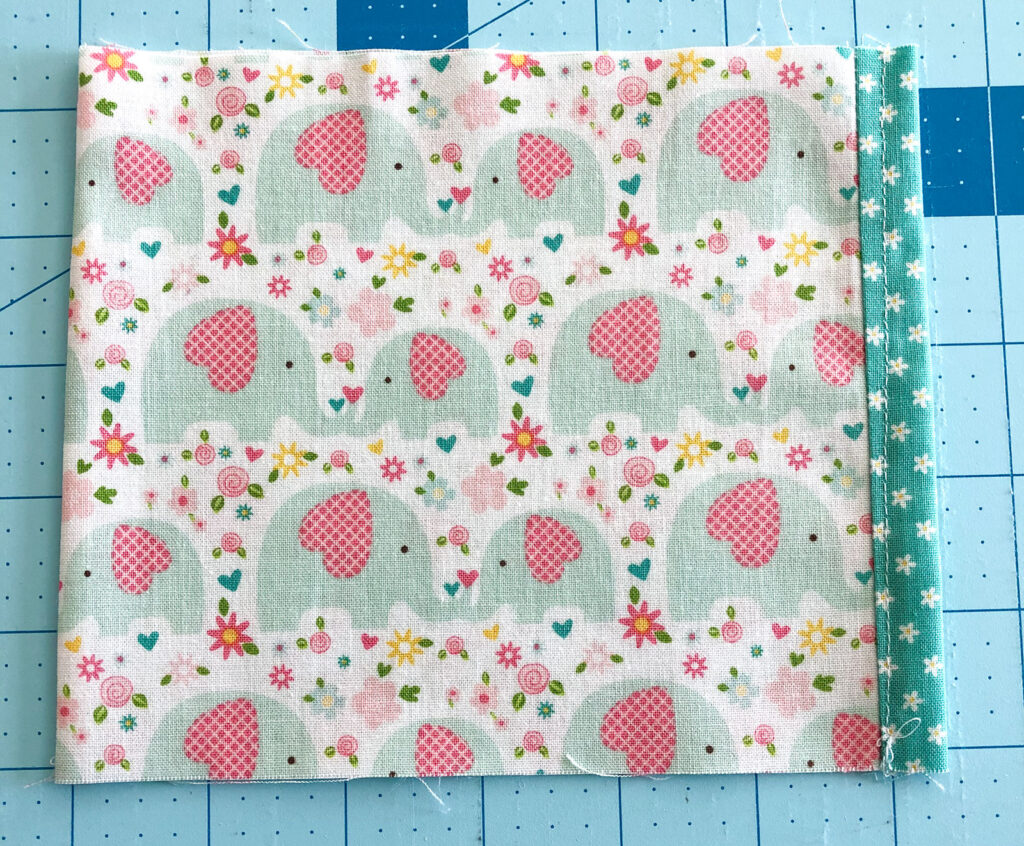 Fold fabric piece in half along the long edge. Sew the short side opposite the accent fabric to create a tube.
Turn tube right side out and press the seam you just sewed and press the accent fabric in half.
Top stitch along the accent fabric edge.
Fold the accent edge in toward the middle 1 3/4″.
Fold the other edge on top of the accent edge to create a piece that is 3″ wide.
Sew along the top and bottom edges, back stitch at the beginning and end.
Trim seam allowances of the raw edges with pinking shears.
Turn right side out and press.
Cut 4″ squares of felt for the pretend wipes. Fold wipes in half and place inside case.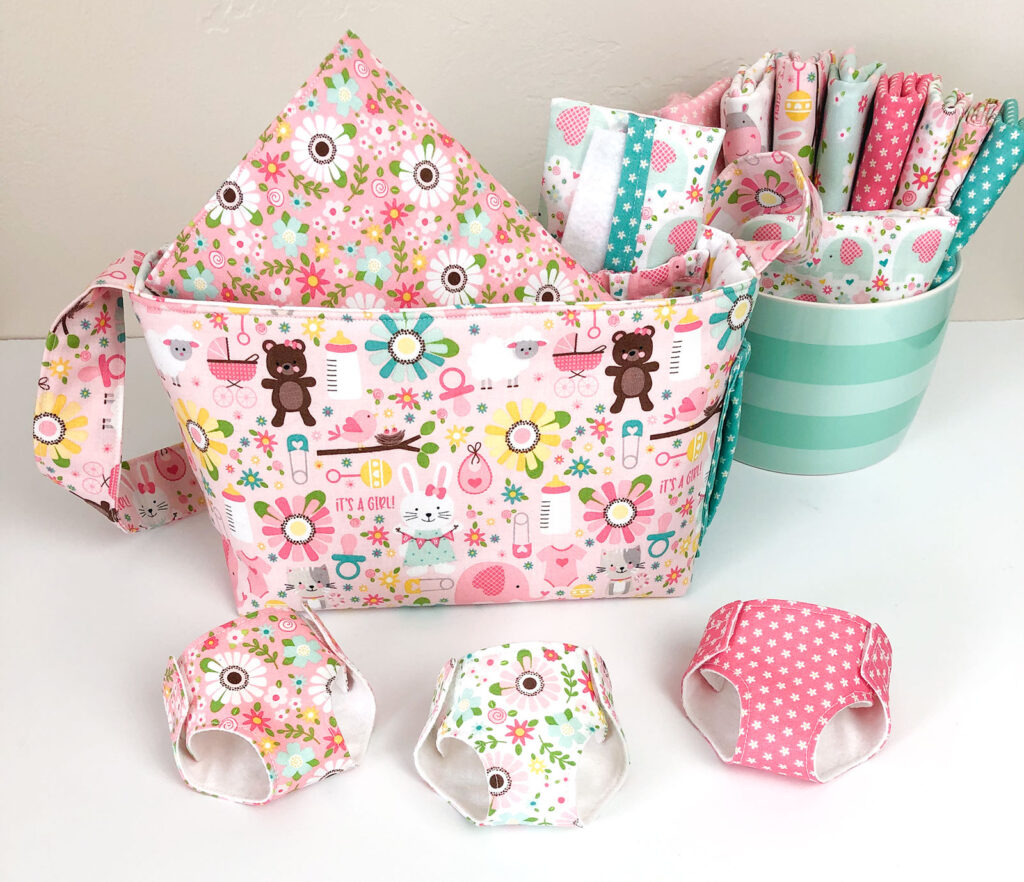 Now you have a set of accessories for your little one and her favorite doll! These diapers are sized to fit a medium sized doll, but are adjustable because of the hook and loop tape. You may want to test one out first on your particular doll to make sure it fits.
Now step back and watch your little one play!
If you are looking for more ideas to make for your sweet girl you might like this scalloped underskirt skirt tutorial. Or, this scalloped skirt has been a long time favorite!
Happy Sewing! xoxo, Amy