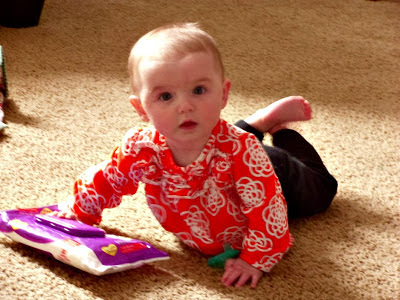 It's exhausting I tell you, being this cute.
And delightful, all at the same time.
I have been mulling over This post, and agree heartily with everything she said. But, then I read this post– and I also think she has a point. And today I stumbled upon the response the author of the first post wrote and I think she is brilliant. In case you don't want to do all the clicking and reading- I'll sum it up: the first is the "dear-mom-on-the-iphone" letter which basically said: Dear mom- get off your phone and pay attention already. (in a Much nicer and more beautifully written way). The second post is a letter also to said i-phone mom, basically justifying why she is on the phone- definitely written much better than I can give it credit. And the last response says that while she regrets that it may have been received in a way other than she intended it, she stands behind the premise that today's technology robs us of time that would otherwise be spent in more engaged ways.
And I agree, with all of it.
So why bring it up on my blog?
Because I feel like the bigger problem that this whole series of internet interactions has exposed is that as women we don't feel supported and uplifted by each other. We feel judged and criticized and attacked.
It makes me a bit sad.

Instead of finding hope, peace, strength to make positive changes, capacity to deal with life's challenges, love, compassion and understanding- we only see competition, judgement, isolation and intimidation.
We are missing out on so much.
There are always two sides to a story. Yours and hers. You know your side, but more often than not, you are only making a guess as to what her side might be.
I'd like to help.
No matter the circumstance, no matter the words said, no matter the perceived actions: assume the best. Assume misunderstanding, assume good intentions, assume trials or struggles unknown to you.
And you'll be right most of the time.
Very few people are mean on purpose. And I can pretty much guarantee that person you think "hates" you, doesn't. And the mean things you think other people think about you- are only in your mind. And however the situation may "look"- it very likely isn't exactly what you think.
Trust that everyone you meet is doing the very best they can, trying the very hardest they know how, and wanting to be encouraged and loved in exactly the same way you do.
Be the kind of friend you wish you had and you'll be amazed at how much light will flood your life- and the lives of the women who surround you.
Let's end the mommy-wars once and for all- one friendship at a time.
I want to be your friend. A safe place where you see not only the fun things I truly enjoy sewing, but the reality of life with 5 kids, of my failures and shortcoming and insecurities. It might make this blog a bit rougher around the edges than others you'll see, but I hope that it's flaws help you see that the woman behind it is flawed too.
But I'm trying.
XOXO,
Amy